2014 team preview: Pittsburgh Pirates
The Pirates won 94 games and went to the postseason last year for the first time in two decades. What does 2014 have in store?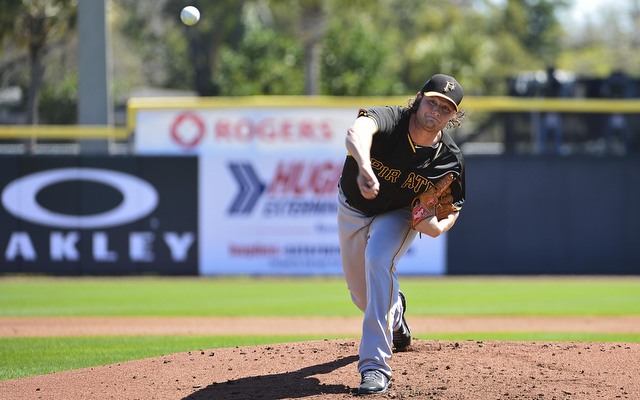 More: Likes, dislikes | Over/unders | All Team Previews | Spring Training
There are kids halfway through college who did not see their first winning Pirates team until 2013. The club finally snapped their 20-year losing season drought and they did it in style, with 94 wins and the team's first postseason berth since 1992. The Bucs beat the Reds in the NL wild-card game then pushed the Cardinals to a Game 5 in the NLDS before being eliminated. The performance earned Clint Hurdle and Andrew McCutchen the Manager of the Year and Most Valuable Player awards, respectively. What's in store for a follow-up? Let's preview the team's season.
Probable lineup
1. LF Starling Marte
2. SS Jordy Mercer
3. CF Andrew McCutchen
4. 3B Pedro Alvarez
5. 2B Neil Walker
6. 1B Gaby Sanchez
7. C Russell Martin
8. RF Jose Tabata
Bench - C Tony Sanchez, IF Clint Barmes, UTIL Josh Harrison, OF Chris Dickerson, OF Travis Snider
The Pirates looked for a left-handed platoon bat to pair with Sanchez at first all offseason but came up empty. Chris McGuiness, the most likely candidate for the job, was sent to minor league camp the other day. Seems like Gaby will be the everyday guy at the position, at least to start the year. Tabata (and Dickerson and Snider) are keeping right field warm for top prospect Gregory Polanco, who was marvelous this spring before being sent down and could be Pittsburgh's version of Wil Myers this summer, an impact outfielder who arrives at midseason. Of course, the Pirates already have two impact outfielders in McCutchen and the underrated Marte.
Probable rotation
1. LHP Francisco Liriano
2. RHP Charlie Morton
3. LHP Wandy Rodriguez
4. RHP Gerrit Cole
5. RHP Edinson Volquez
The Pirates have said Volquez will be the fifth starter despite a poor spring (9.64 ERA) and a terrible 2013 season (-2.4 WAR). I thought it was very surprising that they gave him $5 million guaranteed over the winter. Rodriguez missed most of last season with forearm/elbow problems while Morton came back from Tommy John surgery at midseason. Cole is poised to become a true ace, perhaps as soon as this season. He legitimately has top five starter in baseball potential and showed it late last season. Lefty Jeff Locke, who was an All-Star last year but faded down the stretch, is slated for Triple-A.
Probable bullpen
Closer - RHP Jason Grilli
Setup men - RHP Mark Melancon, LHP Tony Watson
Middle men - LHP Justin Wilson, RHP Bryan Morris
Long men - RHP Jeanmar Gomez, RHP Stolmy Pimentel
The Pirates have too many bodies for too few spots. Morris, Gomez, Pimentel and Vin Mazzaro are all out of options, meaning they can't go to the minors without first passing through waivers. Unless someone gets hurt before opening day, one of those guys figures to be traded. Rob Biertempfel of the Pittsburgh Tribune-Review says Mazzaro is likely to be the odd man out.
Under-the-radar offseason transaction
Aside from signing Volquez, the Pirates had a pretty quiet offseason. Acquiring backup catcher Chris Stewart in a minor trade with the Yankees was a nice little pickup, mostly because he is a defensive wiz and one of the top pitch-framers in the game. Stewart can't hit and he was exposed playing everyday for New York in 2013, but getting back to being a backup should help his production. He's elite when it comes to working with pitchers. Stewart had minor knee surgery this week and will start the season on the DL, but should return sometime in late April or May.
Underappreciated in Fantasy: Charlie Morton
"It's easy to look at the Pirates' projected rotation and think that Jameson Taillon -- when he's ready for the call-up (probably in mid-June) -- will take Morton's spot. But this may not be the case. Morton, 30, just signed a three-year extension with the team. He has a 3.75 ERA over the last three seasons, and these were all interrupted by injury: 2011 hip surgery (for a torn labrum) and June 2012 Tommy John surgery. If you look at what he was able to do in 2013, under the guidance of Searage and clear of the elbow and hip issues, we get a clearer picture of what Morton is capable of -- a 3.26 ERA and 1.28 WHIP over 116 innings pitched. His 6.6 K/9 is probably the ceiling for strikeout potential, but a full, healthy season from Morton could result in some Mark Buehrle-type value -- a steady, decent ratio with a handful of strikeouts, able to support a fourth or fifth spot in an NL-only rotation, with some intermittent use as a two-start waiver add in mixed leagues" - Nando Di Fino (Full Pirates fantasy preview)
Biggest strength
Run prevention. Losing A.J. Burnett to free agency hurts, there's no doubt about that, but full seasons from Cole and Morton will more than compensate. The Volquez signing was questionable but the club still has Locke and Brandon Cumpton in Triple-A, so there is pitching depth in place. Locke isn't quite as good as he was in the first half, nor is he as bad as he was in the second half. The truth is somewhere in the middle and that's a league average-ish guy. League average is valuable. The Pirates have a strong pitching staff from top to bottom with quality spare arms in the minors, plus they boast a strong team defense. Once Polanco arrives, they'll have three center field-capable defenders in their outfield. Few teams can keep runs off the board like the Bucs.
Biggest weakness
The offense. Hurdle's club scored only 634 runs last year, the sixth fewest in the league, and they did not make any significant additions over the winter. McCutchen is a stud and Alvarez is one of the top power hitters in the game, but it seems like any improvement will have to come from guys like Mercer, Marte and Polanco, whenever he gets called up. A left-handed platoon first baseman is not the most difficult thing in the world to find -- they did make runs at James Loney and Adam Lind, for what it's worth -- but they still came up empty. One more bat or two -- why not let Polanco start the season in the big leagues? Oh yeah, gotta manipulate that service time -- would have gone a long way.
Outlook
I get a very 2012-13 Orioles vibe from the Pirates. They exceeded expectations and came out of nowhere to win 90+ games, but they rested on their laurels over the winter and now may slide back to an 85-ish win team. Their run differential (+57) says they should have been an 88-win club in 2013 and there weren't enough moves made during the offseason to upgrade the roster.
Now, that said, I think the Pirates are set up very well for the future. McCutchen, Alvarez, Walker and Morton are right in the prime of their careers while others like Marte, Cole and Mercer are just getting their feet wet. The farm system is strong and it's not just Polanco, righty Jameson Taillon and shortstop Alen Hanson are among the best prospects in the game at their positions and could make their debuts in 2013. There is a very promising core in place in Pittsburgh.
The Reds are a weaker team now than they were a year ago, but the Cardinals are probably a bit stronger. I have a real hard time seeing the Pirates knocking St. Louis from the NL Central perch this summer, but I do think Pittsburgh will seriously contend for a wild-card spot again. I think they're no worse than the sixth best team in the NL right now, which puts them right in the postseason mix.
---
Coming Sunday: That's it! All 30 teams have been previewed. Here are the archives.
CBS Sports HQ Daily Newsletter
Get the best highlights and stories - yeah, just the good stuff handpicked by our team to start your day.
Please check the opt-in box to acknowledge that you would like to subscribe.
Thanks for signing up!
Keep an eye on your inbox for the latest sports news.
Sorry!
There was an error processing your subscription.
Cole allowed five runs for the first time in 2018

The Red Sox don't know who started it or why, but they like to shake

For the third time in six postseason games, the Red Sox used a starter as a setup man Sund...
The Red Sox took care of business at home in Game 2 of the American League Championship Se...

Springer continues to claim records and climb rankings in Astros postseason history

Sale's availability heading forward is unknown