2014 team preview: San Diego Padres
What lies ahead for the 2014 Padres? Let's preview this NL West combatant from every angle.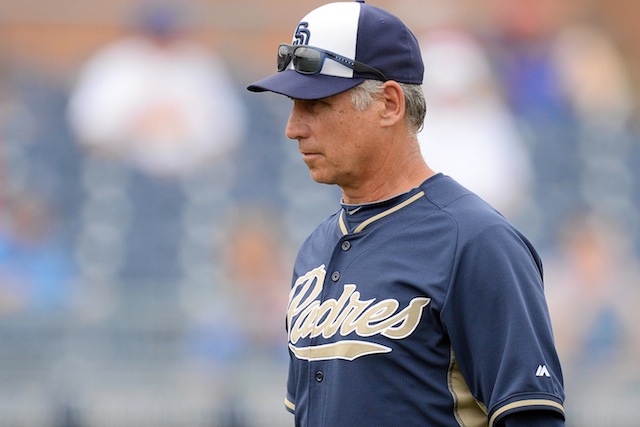 More: Likes, dislikes | Over/unders | All Team Previews | Spring Training
Last season, Bud Black's Padres were waylaid by injuries, but they managed a 76-86 record, which isn't bad in context. That record was helped by a 16-11 record in September. Can the Pads recapture that late-year momentum and notch their first winning season since 2010? Let's break it down for 2014 ... 
Probable lineup
1. Everth Cabrera, SS
2. Will Venable, CF
3. Chase Headley, 3B
4. Carlos Quentin, LF
5. Yonder Alonso, 1B
6. Jedd Gyorko, 2B
7. Seth Smith, RF
8. Nick Hundley, C
Bench: C Rene Rivera, OF/1B Kyle Blanks, INF/OF Alexi Amarista, OF Chris Denorfia, OF Reymond Fuentes
Note: Regular center fielder Cameron Maybin is likely out until at least early May with a biceps injury. 
Last season, the Padres ranked 12th in the NL runs scored. Petco Park, despite the fences being drawn in, still played as a pronounced pitcher's environment. On that point, it's worth noting that the 2013 Friars ranked a more respectable seventh in runs scored on the road. Also on the positive side, only the Giants achieved the offensive platoon advantage a higher percentage of the time. 
What will help the Padres in the season to come is if Headley, the lineup fulcrum, enjoys a bounce-back. His numbers last season certainly weren't bad in context (116 OPS+), but after his stellar 2012, expectations weren't quite met. There's no doubt that the fractured thumb he suffered in spring training dragged down his numbers. He maintained his base-level hitting skills, so now that he's fully healthy the power numbers should return. 
Speaking of injuries, the Padres put a player on the DL 22 times last season, and 12 of those were position-player transactions. Given better health, the offense should improve in 2014. 
Probable rotation
1. Ian Kennedy
2. Andrew Cashner
3. Josh Johnson
4. Tyson Ross
5. Eric Stults
In 2013, the Padres ranked 12th in the NL in rotation ERA and last in rotation WAR. Suffice it to say, you're not going to contend with starting pitching of such a low quality. Moving forward, it's worth noting that a good bit of the damage last season was done by Edinson Volquez and Clayton Richard, who combined to allow 144 runs in 195 innings. Volquez is now a Pirate, and Richard opted for free agency after being out-righted to the minors. Moreover, a full season of Kennedy, the breakout potential of Cashner and the upside of Johnson all portend better days. Expect improvement on this front. 
Probable bullpen
Closer - Huston Street
Setup men - Joaquin Benoit, Dale Thayer
Middle men - Alex Torres, Nick Vincent, Patrick Schuster
Long man - Tim Stauffer 
Last season, the Pads checked in at sixth in the NL in relief ERA but a disappointing 14th in relief WAR. With the latter said, this could be a solid corps in 2014. Benoit will provide a nice hedge against another injury to Street and a reliable bridge provided Street is healthy. There's good depth from the right side, and while they're thin on lefties, Torres is quite useful. Stauffer has the potential for a more high-leverage role. 
Under-the-radar offseason transaction
Josh Johnson. As implied above, signing John on the cheap provides real upside with limited risk for the Padres. The various projection systems available at FanGraphs tab Johnson for a 2014 in the mid- to middle-high 3.00s after his disappointing season in Toronto. Health will always be a concern with him, but keep in mind that Johnson boasted a career ERA of 3.15 coming into last year. He still misses bats, and his home run/fly ball percentage and strand rate should regress in a beneficial direction. Again, health will be the key, but the Padres are on the hook for just $8 million plus workload-based incentives. Consider this a nifty roll of the dice by GM Josh Byrnes. 
Fantasy sleeper: Will Venable
"Venable quietly became a top 30 Rotisserie outfielder in 2013, just one year after he barely cracked the top 60. Not only did he set a career-high with 515 plate appearances, but Venable shattered his personal best for home runs, clouting 22 (his previous high was 13 in 2010). Prior to last year, Venable's sole Fantasy asset was his moderate contribution to steals, and he didn't disappoint in that category, exceeding 20 for the fourth year in a row. The home run spike may not have been a fluke, though. He hit 15 homers at PETCO Park, which after bringing the right field fence in, now ranks as a top home run park for left-handed hitters, according to the 2014 Bill James Handbook. Owners may be used to viewing Venable as an afterthought in standard mixed leagues, but he could deliver tremendous value with a late-round pick, especially in Roto leagues." -- Al Melchior [Full Padres fantasy preview]
Biggest strength
The infield. You have Headley as the anchor, of course. As well, there's Cabrera at short (upward-trending bat plus elite base-running), Alonso at first (career OPS+ of 110) and Gyorko at second (113 OPS+, sixth in NL Rookie of the Year balloting). As well, each is at an age that lends itself to skills retention (Headley) or skills growth (the rest of them). Expect good things from this group in the season to come. 
Biggest weakness
Health. Again, note those 22 DL transactions referenced above. There's some bad luck in there, to be sure, but there's also the notion that health is in part a skill. Already, the Padres, as noted above, have lost Maybin for the first five weeks or so of the regular season (best-case scenario there), and Corey Luebke recently underwent Tommy John surgery for the second time in his career. There's also Headley's calf injury. Street and Quentin of course remain ongoing risks. The Pads have some skills, but a run of injuries like last season could land them in last place. 
Outlook
I expect improvement out of the Padres. They have a number of hitters at the right age, and the rotation figures to be substantially improved, at the very least on an "addition by substraction" basis. The records don't quite reflect it, but Black is a skilled manager who seems to understand the "first, do no harm" principle of dugout tactics. I don't foresee certifiable contention, and the division is a tough one. However, I'll say they narrowly eclipse the .500 mark and push the run differential into positive territory.  
---
Coming Sunday: Previewing the Colorado Rockies
The Nats will host the All-Star Game in 2018

The Orioles are looking to trade Machado heading into his walk year

The Cardinals have been linked for a while to the Baltimore star
Gallardo spent the first eight years of his career in Milwaukee

MLB revenues are at a record high right now, but teams aren't spending it on players

Chicago added Tyler Chatwood earlier this offseason but might not be done adding to the ro...