2014 Team Preview: Tampa Bay Rays
We continue our series on previewing each of the 30 teams with the latest installment: The Tampa Bay Rays.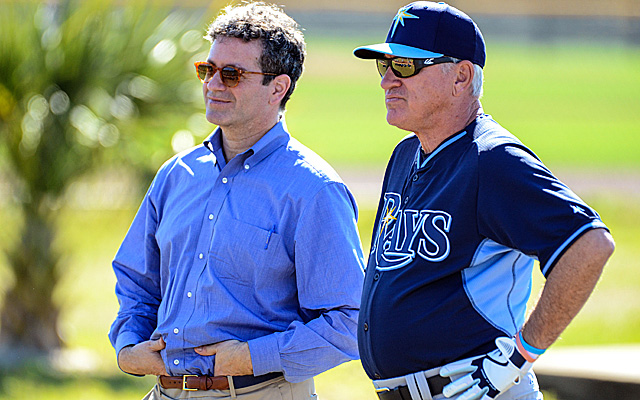 More: Team Previews | Spring Training 
More Rays: Likes, dislikes | Over/unders
Remember when the Tampa Bay Devil Rays were the embarrassment of baseball? Since becoming the Tampa Bay Rays, they've now reached the playoffs in four of six seasons, winning at least 90 games in five of those seasons and never having a losing record. Last season, the Rays topped the Rangers in Game 163 and then toppled the Indians in the wild-card game before losing to the Red Sox in the ALDS.
Still, the 92-71 record marked the second-best in franchise history and the Rays enter the 2014 season with high expectations. Let's take a look:
Probable lineup
1. David DeJesus, LF
2. Ben Zobrist, 2B
3. Evan Longoria, 3B
4. Wil Myers, RF
5. Matt Joyce, DH
6. James Loney, 1B
7. Desmond Jennings, CF
8. Yunel Escobar, SS
9. Ryan Hanigan, C
Bench - C Jose Molina, IF/OF Logan Forsythe, IF/OF Sean Rodriguez, OF Brandon Guyer
Full seasons of DeJesus and Myers along with natural improvement from Myers and Jennings should make the Rays better on offense this time around. They ranked ninth in the AL with 700 runs scored last season.
Probable rotation
1. David Price
2. Matt Moore
3. Alex Cobb
4. Chris Archer
5. Jake Odorizzi
Jeremy Hellickson is the sixth option here. Rays starters went 65-47 with a 3.81 ERA last season and appear to be just as good -- if not better -- this time around. Getting full, healthy seasons from Price, Cobb and Archer would be a huge plus.
Probable bullpen
Closer - Grant Balfour
Setup men - Joel Peralta, Jake McGee, Heath Bell
Middle men - Juan Carlos Oviedo, Brad Boxberger
Long man - Cesar Ramos
Fernando Rodney returned to being fickle last season and he's now been replaced with Balfour, who is likely bound to be more reliable as closer. Peralta and McGee make for solid, bat-missing setup men and the Heath Bell project should be very interesting -- considering the Rays' track record with reclamation project relievers.
Under-the-radar offseason transaction
As part of a three-team trade that landed the Rays Bell, Ryan Hanigan was acquired and he'll make for a quality addition. Yes, he only hit .198 last year, so that'll cause many to scream about how much he sucks. But he's a .262 career hitter and his walk rate is great, giving him a .359 career on-base percentage. He also works very well with pitchers and has led the majors in caught stealing percentage in each of the past two seasons -- having thrown out 47 of 99 would-be basestealers. Expect excellent defense and a very good OBP from a nine-hole hitter here. 
Fantasy sleeper: Chris Archer

"With seemingly more than enough starting pitchers to go around in standard mixed leagues, Archer could get lost in the shuffle in yours. He may not have quite the pedigree of Zack Wheeler, but he had the more impressive rookie campaign of the two. As if the season-long numbers weren't impressive enough, he compiled a 2.84 ERA, 1.01 WHIP and 6.9 strikeouts per nine innings over his final 16 starts. Yeah, the strikeout rate left something to be desired, but of greater note, he overcame the control issues that held him back in the minors, issuing more than two walks in only two of those 16 starts. With an average fastball velocity that would have ranked third, behind only Matt Harvey and Stephen Strasburg if he had the innings to qualify, Archer clearly has the stuff for more strikeouts once he learns to make better use of his arsenal. Will he make that leap this year? Hard to say. But even just sticking to the status quo, he's a top 40 starting pitcher with a top 80 price tag." -- Scott White [Full Rays fantasy preview]
Biggest strength
The top of the rotation. After returning from injury, Price was back to Cy Young form, going 9-4 with a 2.53 ERA. He struck out 102 while walking just 13 in those 18 starts. Cobb and Moore, meanwhile, combined to go 28-7. In fact, if Archer and Odorizzi perform up to their potential, the entire rotation here is the strength. It could carry the club.
The overall defense should also be mentioned, because the Rays will pick it with the best of them in 2014.
Biggest weakness
There isn't really a glaring weakness, as this is a well-rounded ballclub. The offensive firepower leaves something to be desired, I guess, so we'll go with that. Outside of Zobrist and Longoria, it could be argued there isn't a reliable bat in the order -- as Myers only has 88 career games under his belt. Everyone else is either inconsistent or not overly exciting.
To reiterate, I don't expect offense to be a huge problem; I just had to pick something for the "biggest" weakness.
Outlook
The small-market Rays are tasked with competing against the likes of the huge-market Yankees, the world champion Red Sox and formidable Orioles in the mighty AL East -- and, once again, they appear up to the task.
If they aren't, expect Price to be traded in July. But, again, I don't think that'll be on the table. These guys are contenders.
Outstanding defense behind a very good rotation and quality bullpen will limit the opposition and the offense should be able to perform around league average. Considering the run-limiting potential of the Rays with pitching and defense, league average offense will get them to the postseason. And I believe that's where they're headed again, for the fifth time under Joe Maddon's watch. Expect 90-plus wins and no worse than an ALDS exit.
---
Coming Monday: Previewing the Boston Red Sox
Wright was arrested at his home Friday

The former Tigers teammates were voted into Cooperstown by the 16-person Modern Era Commit...

The Yankees still have room for a good-sized signing even after Saturday's trade with Miam...
St. Louis gets some much needed help for their bullpen

Keep tabs on the top 50 free agents right here

Morrow thrived with the Dodgers last season