2014 Tigers preview: Likes, dislikes
What do we like about the Tigers? Well, Miggy and Verlander are a start. We'll have more and also include some dislikes, too.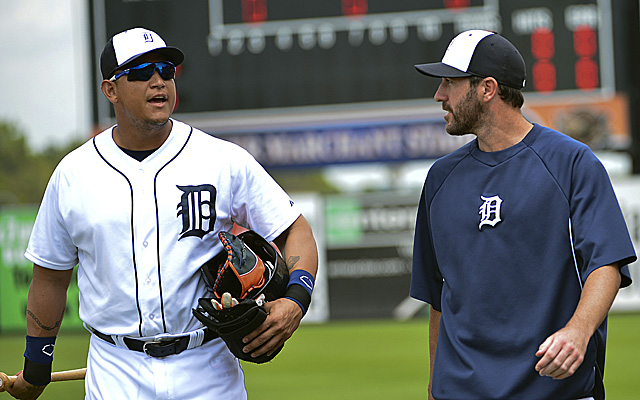 More Tigers: Team Preview | Over/unders
As part of our series in previewing each of the 30 MLB teams leading up to the 2014 season, we're hitting on a few "likes" and "dislikes" for each club. This installment brings us the Detroit Tigers, a team that has won the AL Central and at least one playoff series in each of the past three years. They've also failed to win the World Series, so they're still looking for that one last step.
LIKES
Justin Verlander's chances for a "bounceback" season: Here was a "down" season for Verlander last year: 13-12, 3.46 ERA (121 ERA+), 1.32 WHIP, 217 strikeouts, 218 1/3 innings and an All-Star berth. That's a career year for an ordinary pitcher. For Verlander, it marked his worst season since the disaster that was 2008. Make no mistake, though, because he closed things down in vintage JV form. In his last five starts -- two regular season starts and his three postseason turns -- Verlander had a 0.26 ERA, 0.74 WHIP and 53 strikeouts, with seven walks, in 35 innings. He was back. His modestly shortened spring training after core muscle surgery will only help his already-excellent stamina. He's in for a huge year.
Miguel Cabrera's bat: C'mon. Miggy led the majors in every major rate stat last season, hitting .348/.442/.636 (187 OPS+). He did this in spite of being injured throughout September. In fact, his line prior to the injury was .359/.450/.683 and he only managed one homer and seven RBI in all of September -- still finishing with 44 and 137, respectively. He appears healthy and at age 31 (he'll turn 31 on April 18), he's still in his prime. Beware (again), opposing hurlers.
Miguel Cabrera back to first base: According to many defensive metrics, Cabrera was among the worst defensive third baseman in baseball last season due to a lack of range. Using defensive runs saved, for example, Cabrera cost his team 18 runs while Manny Machado, for example, saved the Orioles 35 runs. Getting Cabrera back across the diamond will help his pitchers.
Up-the-middle defense: With Ian Kinsler at second and a full season of Jose Iglesias at shortstop, the infield defense will be an improvement while Alex Avila is plenty capable behind the plate and we've seen Austin Jackson post some stellar defensive seasons in the recent past.
DISLIKES
First-time manager on a contender: It absolutely can work, as we saw Mike Matheny take the Cardinals to Game 7 of the NLCS in his first year as a skipper. Brad Ausmus seems an impressive baseball mind, too. It's just that we don't know what to expect, especially if there's adversity early in the season. The unknown on a club that has been to the ALCS three straight years isn't fun.
Bullpen depth: The Tigers ended last season with an excellent back-end duo in Joaquin Benoit and Drew Smyly. Benoit is in San Diego and Smyly has replaced Doug Fister in the rotation. Joe Nathan was signed an is an elite closer, yes, but in front of him the bridge is littered with potential pratfalls. There's upside, certainly, but can the youngster Bruce Rondon be counted upon in high leverage situations on a regular basis yet? We can't be sure. Al Alburquerque misses bats (12.9 K/9 last season) but allows far too many baserunners (1.49 WHIP) and runs (4.59 ERA). Joba Chamberlain is a complete wild card and Ian Krol (97 ERA+, 1.32 WHIP in NL last season) is the top lefty -- unless the fickle Phil Coke is. Again, there is upside here and we have to remember the starting pitchers can work late into the game, but if they don't, the sixth through eighth innings could prove a major problem.
The weight of expectations: Three straight AL Central titles and three straight trips to the ALCS -- including one to the World Series -- have meant zero World Series championships. Might they be getting a bit antsy in the Motor City? Anything less than winning it all means the season was a failure. That's rough.
The Twins have already fortified the bullpen with Addison Reed, and now they want to address...

The Orioles likely want pitching, and the Indians have plenty of it

Halladay died in a November plane crash off the coast of Florida
The power-hitting outfielder is headed to Toronto

Martinez could add some power to a Boston lineup void of it

It's almost that time of the year again, time for the Tebow madness to return