2014 Twins preview: Likes, dislikes
What do we like and dislike about the Twins? Well, Joe Mauer's move to first base is covered.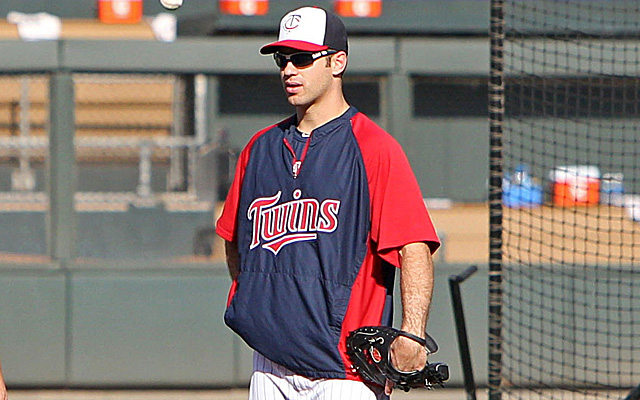 More Twins: Team preview | Over/unders
As we continue our trek through an examination of each of the 30 MLB teams for the 2014 season, the Minnesota Twins are next up under the microscope. Right here are our Likes and Dislikes, where we tell you things about the club in question that we, um, like and dislike. Keepin' it simple and all that ...
LIKES
Joe Mauer, first baseman: While it's true that Mauer's power -- or relative lack thereof -- plays much better from a catcher than first baseman, his health is far more important. Mauer simply had trouble keeping himself 100 percent the past several years and the concussion issues were most notable. Now that he's at first base, he'll have a much lower injury risk. His career high in games played is 147 and he only managed 113 last season. He may be in for a career high now that he won't be catching any longer. If that happens and he hits anywhere close to what he did last season (.324/.404/.476), the Twins get to enjoy extra production.
Phil Hughes escaping the Bronx: Not only had Phil Hughes worn out his welcome in terms of performance with the fans and the media monster of the Big Apple, but he was pitching in one of the toughest parks for right-handed pitchers in the majors. Hughes at home last season was abysmal: 1-10, 6.32 ERA, 1.55 WHIP, 17 homers allowed in 78 1/3 innings. On the road? 3-4, 3.88 ERA, 1.35 WHIP, seven homers allowed in 67 1/3 innings. There's no reason to expect Hughes to all of a sudden become a frontline starter, but he'll improve the Twins rotation now that he's escaped. Giving up on his slider won't hurt, either. 
The Farm: According to pretty much every reputable outlet, the Twins have a top three minor-league system in all of baseball and many of those same outlets have the Twins ranked as the top system. Center fielder Byron Buxton was the consensus top overall prospect in baseball, too, but he's not alone. Miguel Sano unfortunately had to have Tommy John surgery, but he's a slugger and not a pitcher, so it's not as dire as it could be. Pitchers like Alex Meyer and Kohl Stewart make this a deep bunch, too.
DISLIKES
The rotation: Yes, still. Hughes and Ricky Nolasco will improve things, but they are better suited as three or four starters for teams planning on contending. And even if/when they do improve things, the Twins had a 5.26 rotation ERA last season. The next worst in all of baseball belonged to Toronto at 4.81. That's a pretty drastic gap. Hughes, Nolasco and possible internal improvement can't make that much a dent in that ugly number.
The offense: The Twins were 12th in aveage, 11th in on-base percentage, 11th in slugging percentage and 13th of 15 in runs in the AL last season. Mauer is a plus and a healthy Josh Willingham will provide some more power -- and he better, as 18 homers led the team last year -- and it's reasonable to believe some younger players will get a bit better. Overall, though, the lineup is unimposing and still figures to be among the worst in the AL.
Chances of contention: The Tigers, Royals and Indians are all substantially better heading into the season. The White Sox are probably even marginally better, too. Yes, the season isn't decided on paper and strange things have happened in recent memory in terms of surprising playoff teams, but as things stand on March 16, it would be pretty shocking to see a team with a weak lineup, weak rotation and poor defensive range all of a sudden become a contender this season.
No other rookie in baseball history has hit more home runs than Judge has this year

Jays have said goodbye to Encarnacion and will to Bautista. Should they move on from Donaldson,...

Judge's big September means Jose Altuve has some serious competition for the award
Goldschmidt? Rendon? Blackmon? Stanton if he hits 62 HR? Who would be your pick?

Bruce Maxwell of the A's has been kneeling during the national anthem

Iowa and Missouri are two programs mixing technology and analytics