2014 White Sox preview: Likes, dislikes
What do we like and dislike about the 2014 Chicago White Sox? Hint: Chris Sale is involved.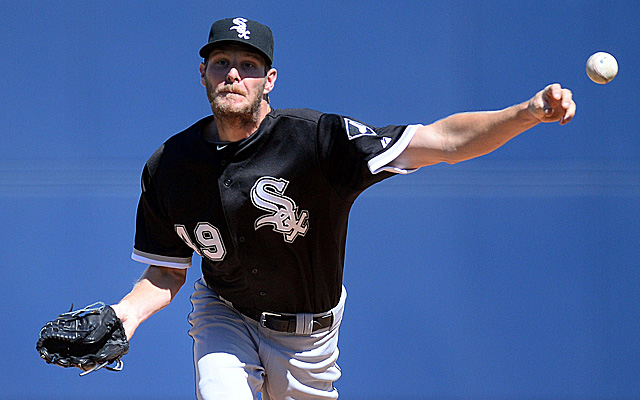 More White Sox: Team preview | Over/unders
As we continue our trek through an examination of each of the 30 MLB teams for the 2014 season, the Chicago White Sox are next up under the microscope. Right here are our Likes and Dislikes, where we tell you things about the club in question that we, um, like and dislike. Keepin' it simple and all that. Onward!
LIKES
Chris Sale: In two full seasons in the rotation he's twice been an All-Star and twice rightfully been in the Cy Young picture -- even if on the outskirts (sixth place in 2012, fifth place last year). He's still not even 25 (he turns 25 on March 30), either. And yet, I believe he's actually underrated when it comes to national recognition. I have an idea why: In 2013 he was pitching for a last-place team and his record -- much more a reflection on the team than himself -- was 11-14. Only four pitchers in the majors received worse run support than Sale's 3.20 runs per game. So the record means very little to me and other than that, he either got better or sustained his excellent 2012 season. The top left-hander in the game is Clayton Kershaw, but Sale isn't far behind.
The power potential of Jose Abreu: He's never played in the majors before, so it's damn near impossible to accurately surmise what to expect. Most projection systems have him between 25 and 35 homers, which is rather exciting -- even if that doesn't mean a whole lot in the grand scheme of things. He's flashed some pretty solid power in camp thus far and his ceiling appears sky-high. Taking home Rookie of the Year honors in the AL seems to be a realistic goal.
Paul Konerko's career: This will be Konerko's 16th and final season with the White Sox -- after 81 games elsewhere -- and then he'll call it quits. We aren't going to see the Retirement Tour that was given to Mariano Rivera or that will be given to Derek Jeter, but Konerko deserves lots of praise. A six-time All-Star and consummate professional, Konerko would be a fine entry into a fictional "Hall of the Very Good."
DISLIKES
Defense: The White Sox ranked 14th in the AL in fielding percentage last season and were well below average in most metrics with a range component. They don't appear to be substantially improved, either, so the help provided to the pitchers from the guys dotting the diamond won't be up to par, in all likelihood.
Out-making machine: Adam Eaton should improve things here and by all accounts Abreu probably can, but the White Sox ranked 14th in the AL in on-base percentage last season, due in part to ranking last in walks. Thus, it's no coincidence they ranked last in runs scored. The offense as a whole was lacking last season, but it has to start with the simplest of concepts: Getting on base.
Rotation depth: Sale is awesome, but we already covered him. Jose Quintana isn't bad, either. After that, there are question marks and guys who just aren't very good. Can Erik Johnson progress in his age-24 season? He does have the upside, but sometimes prospects take time to achieve success. John Danks hasn't been healthy and productive since 2010. Felipe Paulino is an injury risk. Dylan Axelrod is bad. Then there's Andre Rienzo and Charlie Leesman. There's upside in Paulino and Johnson behind Sale and Quintana and it's always possible Danks again finds his way, but this is a thin bunch.
Gallardo spent the first eight years of his career in Milwaukee

MLB revenues are at a record high right now, but teams aren't spending it on players

Chicago added Tyler Chatwood earlier this offseason but might not be done adding to the ro...
The Dodgers and Braves pulled off a whopper on Saturday

Sabathia will reportedly spend a 10th season in the Bronx

Fowler suffered a knee injury at Chicago's Guaranteed Rate Field