2014 Yankees preview: Likes and dislikes
Here's what one EOB scribe likes and doesn't like about the Yankees headed into the 2014 season.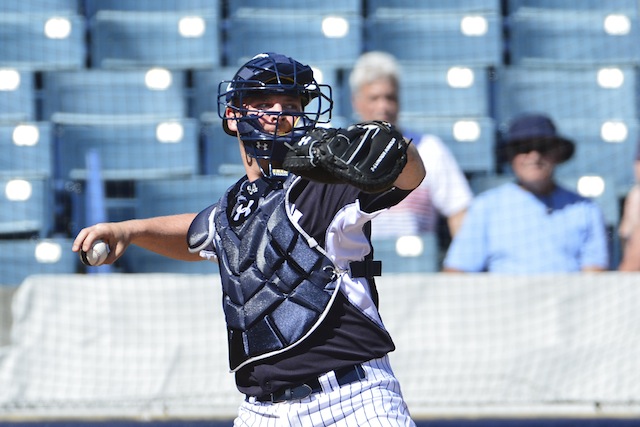 MORE: Spring Training | Yankees team preview | Yankees over/unders
The hi-beams of the 2014 season are just now visible in the murky distance, and that means it's time to start pondering how this 2014 season will unfold. On this day, the team of note is the Yankees, so let's run down a very preliminary list of what this particular scribe likes and dislikes about them as we barrel toward Opening Day ... 
LIKES
Upgrade at catcher: The Yanks paid dearly for letting Russell Martin walk, as last season Yankee catchers combined to hit a miserable .213/.289/.298. This winter, though, they addressed that sinkhole in a big way by signing Brian McCann to a five-year, $85-million deal. When healthy, McCann is among the very best catchers in the game -- with the glove and the bat -- and his substantial left-handed pull power should play very well in Yankee Stadium. Getting Francisco Cervelli back healthy will also help matters. 
Masahiro Tanaka: Tanaka has the scouting pedigree and the record of success to make it in MLB. The full repertoire plus the wipeout splitter mean he's capable of posting an ERA in the mid-3.00s, and that's precisely what the Yankee rotation needs moving forward. 
Joe Girardi: Girardi has long been regarded as a very capable skipper, but last season he reached new heights, at least in my estimation. His team toiled in the brutal AL East, they were waylaid by injuries, and they were out-scored on the season. Still and yet, Girardi somehow wrung 85 wins out of this bunch. It may have been his finest season in the dugout. 
Infield depth: While the Yankees' infield situation can hardly be called optimal, they do have enough pieces. There's Derek Jeter, of course (more on him in a moment), and he pairs nicely with slick-fielding Brendan Ryan. Brian Roberts, when healthy, can hold down second, and Kelly Johnson is a fit at second or third. Backing all of them up will be Eduardo Nunez. There's enough offense-defense pairings in their for Girardi to pull off a "greater than the sum of its parts" job with this corps. 
DISLIKES
Middle relief: David Robertson should be just fine in Mariano Rivera's stead, but the bullpen drops off quite a bit after him. Shawn Kelley's solid, and Matt Thornton's a credible LOOGY. The depth, though, simply isn't there. GM Brian Cashman will have some in-season work to do. 
Derek Jeter's outlook: Jeter is entering his age 39 season and coming off an injury-riddled 2013. Jeter's already compromised range could approach brutal status, and an offensive repeat of 2012, when he led MLB in hits, seems most unlikely. There's no choice but to play him regularly in his final season, but one wonders how much Jeter, as great as his career has been, has to offer at this stage. 
Age of the roster: This is sort of an evergreen complaint about the Yankees, but it's worth making again. Last season, they had the oldest pitching staff and the oldest roster of position players in all of baseball, and they didn't get appreciably younger over the winter. 
The schedule: In 2013, the Yankees played 97 games against teams with winning or .500 records. Such is life in the AL East and with the unbalanced schedule. Things won't be much different this time around.
The slugger had shoulder surgery in November

Tebow reported to spring training with Mets position players on Sunday

Santa Clara senior Jake Brodt did the honors Saturday
Eric Hosmer's eight-year contract with San Diego has wide-ranging ramifications

Keep tabs on the top 50 free agents right here

The Padres have been heavily connected with Hosmer all offseason