2015 MLB team preview: Minnesota Twins
Up next in our 2015 season preview series: the Minnesota Twins.
For only the second time since the Washington Senators moved to Minnesota in 1961, the Twins have lost 90-plus games in four consecutive seasons. They first did it from 1997-2000, and after going 70-92 in 2014, they've now done it from 2011-14 as well. Long-time manager Ron Gardenhire was fired after the season and was replaced by Hall of Famer Paul Molitor, a rookie big-league manager. He does have some coaching experience, however. Will the Twins break the streak of 90 losses in 2015? Time to preview.
More: Likes, dislikes | Over/unders | All team previews | Spring training
Probable lineup
1. SS Danny Santana
2. 2B Brian Dozier
3. 1B Joe Mauer
4. DH Kennys Vargas
5. RF Torii Hunter
6. 3B Trevor Plouffe
7. LF Oswaldo Arcia
8. C Kurt Suzuki
9. CF Aaron Hicks
Bench: C Josmil Pinto, IF Eduardo Escobar, OF Jordan Schafer, UTIL Eduardo Nunez
Molitor has toyed with the idea of batting Mauer second and Dozier third, which would make sense giving Mauer's superior bat control skills. There has been talk about Vargas starting the season at Triple-A with Escobar as the regular DH, but yeesh, I'm going to have to see that one to believe it. Pinto is currently working his way back from a concussion, and if he's unable to go on Opening Day, Chris Herrmann figures to get the nod as the backup catcher.
Probable rotation
1. RHP Phil Hughes
2. RHP Ervin Santana
3. RHP Ricky Nolasco
4. RHP Kyle Gibson
5. RHP Mike Pelfrey
The fifth spot is still up for grabs, with lefty Tommy Milone and righty Trevor May serving as Pelfrey's main competition at this point. We do know top prospect Alex Meyer will not be getting that fifth spot. The 25-year-old righty has already been reassigned to minor-league camp. Apparently the Twins feel one season at Triple-A wasn't enough. Santana was the team's big free-agent signing this offseason with a four-year, $54 million contract.
Probable bullpen
Closer: LHP Glen Perkins
Setup men: RHP Casey Fien, LHP Brian Duensing
Middle men: RHP Blaine Boyer, LHP Caleb Thielbar
Long men: RHP Tim Stauffer, RHP J.R. Graham
Pelfrey would wind up in the bullpen if the Twins hand a rotation spot to Milone or May. Other bullpen candidates include righties Michael Tonkin, Lester Oliveros and Stephen Pryor. They might not make the Opening Day roster, but Twins fans will see all of them at some point in 2015. Also, expect to see RHP Nick Burdi too. He was the 46th pick in last year's draft and his 100 mph heat won't stay in the minors long.
Under-the-radar offseason transaction
Graham. The Twins plucked him from the Braves in the Rule 5 Draft after some injury riddled years in the minors, but the 25-year-old righty is finally healthy and has looked strong in spring, with reports indicating his mid-90s fastball has returned. Graham's days as a starting pitcher figure to be over, though he can still be a power middle reliever, and the Twins don't have many of those. Did you know the entire Minnesota staff threw one pitch at 97-plus mph in 2014? One! Graham (and Burdi) should change that in 2015.
Fantasy sleeper: Kennys Vargas
Via Scott White's fantasy outlook:
"Really, you could apply the same logic to Vargas as Arcia: He's a flawed hitter, but ... where else are you going to get that kind of power late? And he may not be as flawed as you think. He made an immediate splash after getting the call Aug. 1, hitting .295 and nine home runs in his first 190 at-bats, but then his poor plate discipline caught up to him, making him just 3 for 25 the rest of the way. Or at least, that's how the story goes, and his overall numbers -- specifically, his 63 strikeouts to 12 walks -- would seem to support it. But would you believe eight of those walks came during that poor eight-game stretch to end the season, giving him a near 1-to-1 ratio that was more in line with his minor-league numbers? Can't fault him for swinging at pitches he was knocking out of the park. Considering he wasn't exactly an automatic out during that eight-game slide, too much is made of it. "
Biggest strength
I'm going to say the rotation with the caveat that I don't love the Opening Day rotation and am expecting it to be better later in the season, when May and Meyer figure to be holding down spots. Hughes and Santana are a serviceable 1-2 punch -- I would like them more as a 2-3 punch, but I digress -- and a healthy Nolasco should improve on last season's hideous 5.38 ERA (73 ERA+). Gibson has a fantastic arm but seemed to wear down in the second half last year. The experience should help him. Milone, May and Meyer are nice depth too. It's not a dominant rotation, but there are plenty of quality arms here, especially if Nolasco rebounds.
Biggest weakness
The outfield. Look at the ZiPS WAR projections for the outfield (via FanGraphs):

Hunter is a fan favorite in Minnesota, I get that, but he is neither the hitter nor the defender he was in his prime. ZiPS projects Hunter and Hicks to be replacement level and Arcia to only be a 1 WAR player. Even the best-case scenario in 2015 is what, 2 WAR for each player? That still makes this unit one of the worst in the game. Arcia can hit but not defend, Hicks can defend but not hit, and Hunter can't do much of either at this point.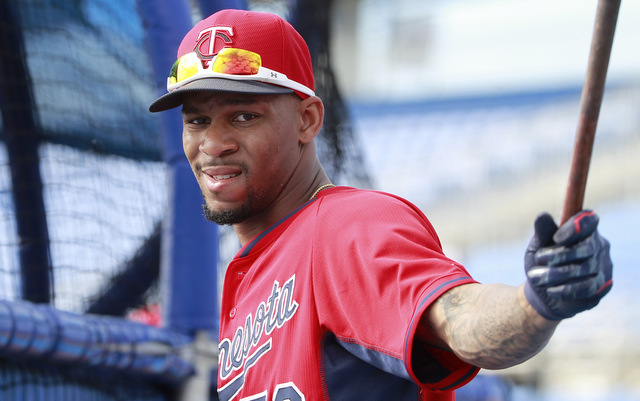 Outlook
The AL Central might be the deepest division in baseball. The Royals won the pennant last season, the Tigers are always competitive, the White Sox are much improved and the Indians are a trendy World Series pick. The outlook isn't so good for the Twins.
Right now Minnesota is in rebuilding mode. Meyer and power-hitting third-base prospect Miguel Sano should make their MLB debuts this season, and outfielder Byron Buxton figures to be up in 2016. (He might even make the show in 2015.) Mauer, Hughes, Perkins, Gibson, Arcia, Dozier and the two Santanas are prime-age big leaguers who could be a part of the next contending Twins team.
There are now four years left on the over-hated Joe Mauer contract -- seriously, you wouldn't believe how many Twins fans dislike Mauer because of his injuries and perceived lack of clutchiness -- and I hope the team can get him to the postseason again. It certainly won't happen in 2015 and probably not 2016 either. Minnesota looks like a lock for the AL Central cellar this year.
---
Coming Saturday: Previewing the Chicago White Sox.
And the team that first drafted Cole is interested

This scout was SUPER into Jeter

Stanton warned Marlins fans about the lean years that are forthcoming
The World Series champions aren't complacent

Stanton swiped at his old team on his way out

Your one-stop shop for all things MLB Winter Meetings-related