22 years after passing on Jeter, Astros have franchise SS in Correa
The Astros are in the middle of a massive rebuilding project, and at the center of that rebuild is top shortstop prospect Carlos Correa.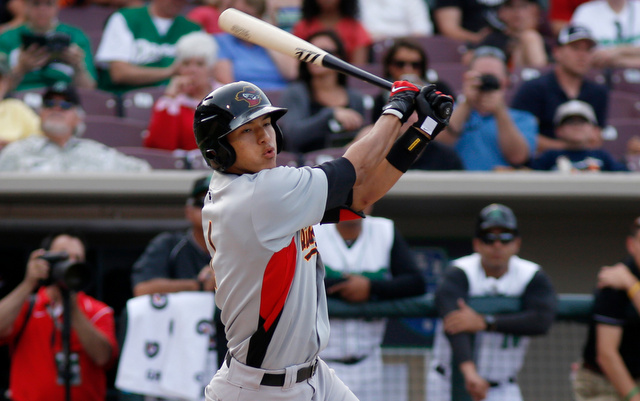 MORE ASTROS: All-Time Single-Season Team
Back in the day, the AL and NL would alternate the top pick in the annual amateur draft regardless of record. That's how the 65-97 Astros secured the top selection in the 1992 draft over the 57-105 Indians. Houston used that pick on Phil Nevin, who went on to have a lengthy and productive big league career, but in the process they passed on Derek Jeter, who went sixth overall to the Yankees.
"We had come off that bad year in 1991 and had a .500 record that year in '92, and we felt like we were an improving ballclub and looking for players that would get to the big leagues more quickly. That was part of our thinking," said Bill Wood, Astros GM from 1988-93, to MLB.com's Brian McTaggart in 2012. "Looking back, the ballclub and organization would have been better off had we listened to (scout and Tigers Hall of Famer) Hal Newhouser, not succumbed to the pressure to get over the hump, and had taken Jeter."
The Astros passed on Jeter and lost a prime opportunity to land a franchise shortstop, something the team has not had since joining the league as the Houston Colt .45's in 1962. The franchise leader in games played at shortstop is Roger Metzger, who posted a weak 67 OPS+ in 989 games at the position from 1971-78. Dickie Thon leads all Astros shortstops with 16.1 WAR, or a touch more than what Jeter amassed from 1996-98 alone (15.8).
A franchise shortstop is something every team seeks and Houston blew the opportunity to land one in 1992, which is easy to see in hindsight. The team was determined not to make that mistake again. Two years ago, when they held the first overall pick in the 2012 draft, the team selected shortstop Carlos Correa out of a high school in Puerto Rico. Twenty years after passing on Jeter, the Astros finally appear to have their franchise shortstop.
After receiving a $4.8 million bonus, Correa rewarded the team by hitting .320/.405/.467 with 33 doubles, nine home runs and 10 stolen bases in 117 games for their Low Class-A affiliate last summer, his first full professional season. He played the entire regular season at age 18, and earlier this week Correa was ranked as the fifth best prospect in baseball by Baseball Prospectus. Here's a snippet of a recent scouting report from Baseball America, who ranked him the team's top prospect:
Correa combines exceptional tools and outstanding knowledge and feel for the game ... Correa is more sure-handed than most young shortstops, with soft hands and a refined internal clock that lets him know when to charge a ball, when to stay back and when to put the ball in his back pocket. At the plate, he should hit for above-average power and average. He has the bat speed to rip fastballs, but his advanced pitch recognition means he also has excellent plate coverage and lays off breaking balls out of the zone ... Though he hit just nine home runs in his first full season, he has 20-25 homer potential.
Obviously Correa, who turned 19 in late September, has a long way to go before becoming that franchise shortstop in Houston. He'll move up to High Class-A this coming season and is at least two but more likely three years away from reaching the big leagues, nevermind having an impact. Even Jeter didn't stick during his first trip to the show in 1995.
A lot can still go wrong, but Correa has everything you want to see in a potential franchise cornerstone. The Astros are in the middle of a massive rebuild and he is the center piece going forward.
Neither Josh Donaldson nor Brian Dozier have talked about a new contract extension

Francisco leads the Dominican Winter League with seven home runs

Thome deserves enshrinement and here's why the case against him does not hold up
The Twins have already fortified the bullpen with Addison Reed, and now they want to address...

The Orioles likely want pitching, and the Indians have plenty of it

Halladay died in a November plane crash off the coast of Florida