3 to Watch: 'Can the Mets heal an ailing Doc?' edition
Roy Halladay always pitches well against the Mets. He always has, anyway. Now we wonder whether Halladay can pitch well against anyone. He gets his chance against the Mets on Monday night, in a game that leads off this edition of 3 to Watch.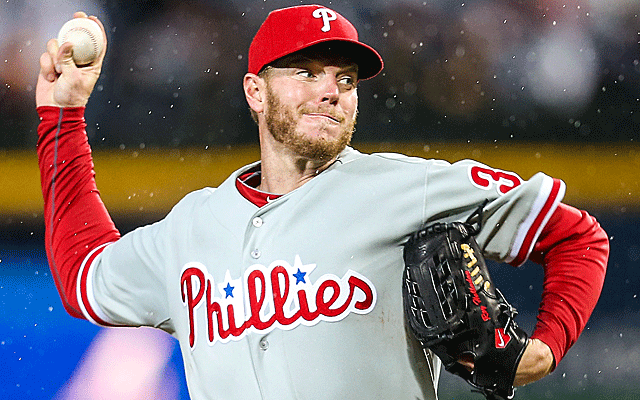 Whether he's throwing well or not, Roy Halladay never loses to the Mets.
(Getty Images)
When he was great, Roy Halladay never lost to the Mets.
Even last year, when he wasn't great, Halladay went seven innings against the Mets and gave up two runs. He didn't lose.
Monday night, Halladay pitches against the Mets. Any guesses how he'll do?
Didn't think so. Once perhaps the most dependable starter in the game, Halladay has now become one of the biggest question marks.
The Phillies keep insisting he'll be fine. Everyone else watches skeptically and wonders.
He had a bad spring, for the second straight year. His velocity hasn't reappeared, despite the new workout regimen that was supposed to fix the lower back pain he said was the problem last year.
And last Wednesday in Atlanta, in his first start of the season, Halladay needed 95 pitches to get through just 3 1/3 innings. It was just the third time in 91 Phillies starts that Halladay didn't finish the fourth inning.
The other two, of course, came last season.
This spring, there were people ready to believe in the Phillies again, because Chase Utley and Ryan Howard were back on the field, and because the front end of their rotation still had a chance to be excellent.
But it was always going to be hard to believe if Roy Halladay wasn't going to be Roy Halladay.
In his first start, he wasn't anything close, despite nine strikeouts. Monday, perhaps things will be different.
After all, he'll be facing the Mets.
Halladay hasn't lost to the Mets since 2001, back when he was just trying to establish himself as a big-league pitcher. He 8-0 in nine starts since then (the no-decision came last year), and he has a 2.12 ERA against them. He's completed seven innings in every start but one (he went six in that game), and in six of the nine games he gave up zero, one or two runs.
Can he ever be that good again, or even close? Maybe we'll find out Monday night.
On to 3 to Watch:
1. The Mets would like to think they and the Phillies are going in opposite directions as organizations, and they'd love to think a Halladay vs. Matt Harvey pitching matchup helps prove it. While we all wonder whether Halladay's struggles show that he's far into the downhill side of his career, Harvey seems to be one of a few young Mets starters on a promising way up. In Harvey's first start of the season, he pitched seven shutout innings against the Padres, allowing just one hit and striking out 10. His next start comes against Halladay, in Mets at Phillies, Monday night (7:05 ET) at Citizens Bank Park.
2. Josh Beckett's fall hasn't been as steep as Halladay's, and baseball people don't talk about him nearly as much. But Beckett had a rough spring, and scouts who watched him in Arizona said he was as unimpressive as the numbers (a 7.79 ERA) would suggest. Beckett, who made it through six so-so innings in his first regular-season start, makes his second start in Dodgers at Padres, Tuesday night (6:40 ET) at Petco Park.
3. I'm tired of writing about pitchers who have looked bad. How about a matchup of two guys who look good? I found one, in White Sox at Nationals, Tuesday night (7:05 ET) at Nationals Park. Gio Gonzalez, who starts for the Nats, had a great year in 2012 and didn't allow a run in his first start of 2013. Jake Peavy, who starts for the Sox, also had a strong 2012, and gave up just one earned run in six innings in his 2013 debut. Also worth noting Tuesday: Adam Dunn returns to Nationals Park for the first time since leaving Washington as a free agent after the 2010 season. With National League rules in effect, Dunn will likely be out of the lineup Tuesday, but manager Robin Ventura told reporters Dunn could play the outfield either Wednesday or Thursday.
Here are the bullet-points of what went down Tuesday regarding MLB and the Braves' punishm...

The owners need to ratify on the new system in place, but the takeaway here is Ohtani is coming...

A preliminary report National Transportation Safety Board has shined some light on details...
John Coppolella was placed on the permanently ineligible list by MLB on Tuesday

Among other sanctions, Atlanta lost the player who was deemed the No. 1 international signing...

Among other penalties, No. 1 international prospect Kevin Maitan is now a free agent