3 to Watch: The 'Are these guys all No. 1s?' edition
Every team has an opening day starter. Not every team has a true No. 1 starter. So even though opening day is the one day when the pitching matchups should all be great, this year's list reminds you that isn't the case. 3 to Watch picks the best.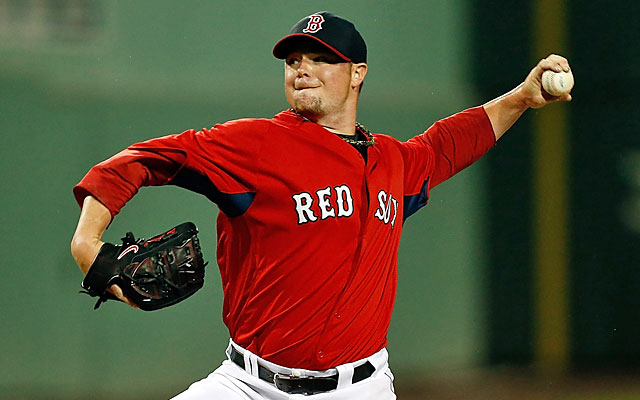 Opening day is the one day when the pitching matchups should be great.
It's the one day when every team's rotation matches up, the one day when theoretically every manager starts the best pitcher he has. There's something special about being named an opening day starter.
So why does this season's list of opening day pitching matchups feel so un-special?
While there are 13 Cy Young winners on opening day rosters, not one game on opening day will feature both teams starting a Cy Young winner. There are just four opening day matchups in which both guys are coming off 200-inning seasons.
Look at the list of opening day starters, and it's easy to understand why teams are so willing to pay true No. 1s $25 million or more a year. And it's easier to understand why teams keep trying to turn relievers into starters (Aroldis Chapman, Daniel Bard, Neftali Feliz , Joba Chamberlain, etc.).
Of the 15 opening day matchups, I count two in which both teams have someone you'd call a true No. 1. Maybe three.
I'm going to call it three because, otherwise, I can't call this 3 to Watch:
1. Red Sox at Yankees, Monday (1:05 ET) at Yankee Stadium: Here's a good one ... if we can turn the clock back two or three years, and if CC Sabathia really has recovered from the elbow problems that slowed him at the end of 2012 and required offseason surgery, and if Jon Lester really has bounced back from a subpar 2012, as it appeared this spring he had. And if Red Sox vs. Yankees isn't what it once was, Lester vs. Sabathia still could be outstanding. Imagine if we'd seen it two years ago, when they were coming off third- (Sabathia) and fourth-place (Lester) finishes in AL Cy Young voting, and when their teams were considered two of the best in the game (rather than two of the worst in the division).
2. Giants at Dodgers, Monday (4:10 ET) at Dodger Stadium: Best pitching matchup of the day? That's easy. Best overall matchup of the day? That's probably just as easy. It's Matt Cain vs. Clayton Kershaw. Cain and Kershaw both have received Cy Young votes in each of the last two years. Kershaw owns a Cy Young. Cain owns two World Series rings. The Giants have the trophies. The Dodgers have the cash. Should be fun.
3. Angels at Reds, Monday (4:10 ET) at Great American Ball Park: Remember, with the new scheduling, there's going to be an interleague matchup just about every day of the season. If they were all like this one, not many would complain. You've got two teams with big expectations, and you've got the first stop on Josh Hamilton's two-city return-home trip (the Angels visit the Rangers next). Oh, and that pitching matchup? It's not at all bad, with Jered Weaver facing Johnny Cueto. But scouts in Arizona said Weaver's velocity was down this spring. And are we really ready to declare Cueto (19 wins, 217 innings and a 2.78 ERA last year) as a true No. 1?
Get 15 percent off any order of more than $75 at CBS Sports Shop

Get your sports fans something that they'll wear all year

No, you're not imagining things. This MLB offseason has been very slow compared to the last...
Francesa will retire from radio next month, so he'll have plenty of free time next summer

The Twins need help in the rotation, and they may look to the trade market to find arms

Here are the bullet-points of what went down Tuesday regarding MLB and the Braves' punishm...