3 to Watch: The 'Biggest series [Braves-Nats] in 79 years!' edition
You wouldn't think it's possible, but it is. The Braves-Nationals series that begins Monday night really could be the biggest baseball series in Washington since the 1933 World Series. And the funny thing, 3 to Watch notes, is that it's actually a bigger series for the Braves than it is for the hometown Nats.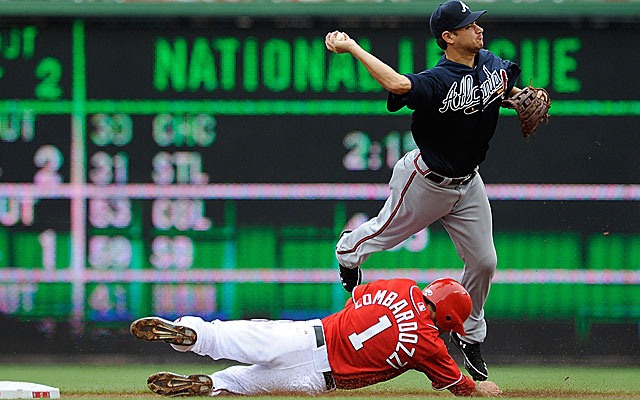 The Braves-Nats series that begins Monday may be the biggest in D.C. since the 1933 World Series.
(Getty Images)
At first, you think it's not possible.

This Braves-Nationals series, the one that begins Monday night at Nationals Park, can't be the biggest baseball series in Washington since the 1933 World Series.

Seriously, that's 79 years ago.

Seriously, that can't be true.

Except that it might be.

You could make an argument that it's actually the biggest series in 67 years, because the 1945 Washington Senators were in second place with a week to go when they hosted the first-place Tigers. But they didn't win that series, they didn't catch the Tigers, and if 1945 was memorable in Washington, it's only because the war ended.

So maybe it has been 79 years.


And you thought the people in Pittsburgh have waited forever for a season like this.

The Pirates were a first-place team in the 1990s. Washington last had one in the 1930s.

It's true that Washington didn't have a team for 33 of those 78 years since 1933. But it's also true that in the other 45, no Washington team spent a single day in first place in August or September. And it's true that this is just the third time since 1952 that a Washington team had a winning record on Aug. 20.

You can understand why people in Washington said that the atmosphere was great for the weekend series with the Mets. And why it should be even better the next three nights, with the second-place Braves in town.

And yet . . . this series really is more crucial for the Braves than it is for the Nats.

The Braves begin the series five games back, knowing that if they don't start closing that gap soon, the Nationals may never really feel any pressure.

The Braves know that they have gained a full game on the Nationals on just one of the first 19 days of August. They know that after Wednesday, they'll have just three head-to-head chances to make up ground, and they know that at this point it's hard to count on the Nationals losing too many games against anyone else.
They also know that in the new playoff setup, it's more important than ever to win the division.
"We need to go in there and win two out of three," Braves manager Fredi Gonzalez told the Atlanta Journal-Constitution.

It's been years since any manager went to Washington saying something like that.

Maybe 79 years.

On to 3 to Watch:

1. A lot has been said and will be said about Stephen Strasburg, who faces the Braves Tuesday. But if the Nationals maintain anything like their current five-game lead, the much-discussed Strasburg shutdown will have little effect in the regular season. As of now, the Nats expect Strasburg to miss only two or three starts. The playoffs are another story, but it's worth noting that the Nationals are 34-15 in games started by Gio Gonzalez and Jordan Zimmermann, who will become their first and second starters in October. The way the rotation works out, Zimmermann gets the Game 1 assignment in this "biggest series since 1933," going against Tim Hudson in Braves at Nationals, Monday night (7:05 ET) at Nationals Park.

2. I'd hate to even attempt to count the number of big series the Giants and Dodgers have played against each other since 1933. The one that begins Monday in Los Angeles is big, but definitely not biggest. But here's what would be huge for the Giants: If Tim Lincecum continues what has been something of a second-half revival, when he starts in Giants at Dodgers, Tuesday night (10:10 ET) at Dodger Stadium. Lincecum is coming off a bad start against the Nationals, but in seven starts since the All-Star break, he's 3-3 with a 3.30 ERA. Not bad for a guy who had a 6.42 ERA at the break. It's a lot better than his Tuesday opponent, Joe Blanton, who is 0-2 with an 8.22 ERA in three starts since coming to the Dodgers.

3. In four starts since the trade deadline, Cole Hamels has a 1.38 ERA and a .570 opponents OPS. Yes, he could have been a difference-maker, if things had been different and he hadn't signed a new contract. Instead, as Hamels starts in Reds at Phillies, Thursday night (7:05 ET) at Citizens Bank Park, his only impact on the pennant race is when he faces a contender like the Reds. Otherwise, the only question is whether Hamels, now 14-6 with a 2.94 ERA can push his way into the Cy Young race. Johnny Cueto (16-6, 2.44), his Thursday mound opponent, is one contender that Hamels will need to push past. So is Reds closer Aroldis Chapman.
Could catcher J.T. Realmuto be the next Miami player to be traded?

If the slow-play for Martinez, Hosmer and Arrieta sounds familiar, it should

The Nats will host the All-Star Game in 2018
The Orioles are looking to trade Machado heading into his walk year

The Cardinals have been linked for a while to the Baltimore star

Gallardo spent the first eight years of his career in Milwaukee