3 to Watch: The 'Can LA hate the Padres?' edition
The Dodgers and Padres meet again Monday night at Dodger Stadium, just four days after the big brawl that got Zack Greinke hurt and got Carlos Quentin suspended. But Quentin is serving his suspension and will miss this week's series. Is this the start of a true Dodgers-Padres rivalry? 3 to Watch is skeptical.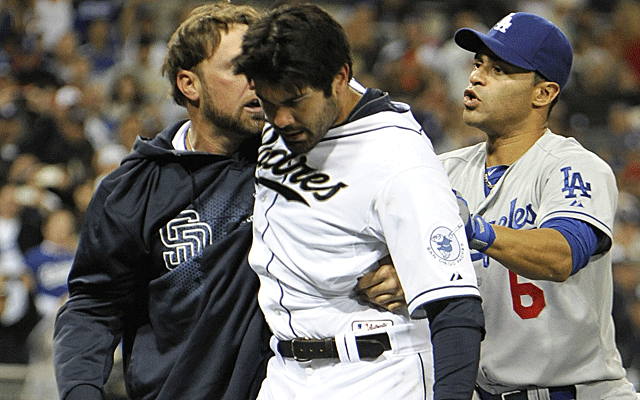 The Dodgers have always been the hated team in San Diego. The Padres have never been the hated team in Los Angeles.
Do you really think that changes now?
Do you really think last week's brawl, and the unfortunate Zack Greinke injury that came with it, are going to turn this into a real, two-sided rivalry?


Sorry, but even this week's series at Dodger Stadium doesn't feel like must-see TV, not after Carlos Quentin made the correct decision Sunday and announced that he would start serving his eight-game suspension immediately.
No Quentin means no real hatred, for the Dodger players and no doubt for Dodger fans.
"Our problem is with one guy, not with their team," Dodgers catcher A.J. Ellis said Sunday, according to the Los Angeles Times.
So what, the Dodgers are supposed to throw at Yonder Alonso because they're mad at Quentin for hurting Greinke? What, Dodger fans are supposed to boo Kyle Blanks because he's the guy taking over for Quentin?
And what, Dodger fans are supposed to work up a real anger at a Padres team that is off to a 2-10 start and appears to be absolutely no threat in the National League West?
The only way this series becomes heated is if the Padres show up at Dodger Stadium wearing orange and black, with "SF" on their caps.
Baseball teams (and some baseball fans) have long memories, so you can bet that the Dodgers won't forget how much they now dislike Quentin. Check back in seven weeks, when the Padres come to Dodger Stadium on June 3, presumably with Quentin in the lineup.
Quentin told reporters Sunday that he hoped his suspension would be the end of this story. That's unlikely, especially given the almost-total lack of remorse shown in Quentin's quotes from the weekend.
"It's unfortunate that someone got hurt in this circumstance," he said Sunday, according to U-T San Diego. "But I do believe I did what I had to do. I had to protect myself. I will stand by that statement and begin my suspension."
He did what he had to do. Eventually, perhaps the Dodgers do what they feel they have to do.
You can bet it won't be this week.
On to 3 to Watch:
1. The best thing about Quentin taking his suspension now? The focus can be on Jackie Robinson, as it should be, for Padres at Dodgers, Monday night (10:10 ET) at Dodger Stadium. All of baseball is celebrating Jackie Robinson Day this week, with every player wearing No. 42. But it means more with the Dodgers (even though Robinson never played at Dodger Stadium), and it means a little more this year, with the release of the movie "42."
2. Apparently the Braves' weekend sweep in Washington didn't convince everyone, because when I asked my editor about their nine-game winning streak, his response was, "Six of those wins came against the Cubs and Marlins." But the last three came on the road against the Nationals, and if the streak continues, it'll be against a Royals team that is in an early-season first-place tie in the American League Central. The Braves are in a stretch where they play 16 of 18 games on the road, but they're home for Royals at Braves, Tuesday night (7:10 ET) at Turner Field. A win Tuesday would give the Braves their first 10-game winning streak since 2000 (when they won a club-record 15 in a row). The Reds and the Yankees had baseball's only double-digit winning streaks in 2012, and neither made it past 10 games.
3. Terry Francona's return to Fenway Park next month (May 23-26) holds some interest. What about this week's series in Cleveland, where Francona manages against the Red Sox for the first time? It doesn't feel nearly as big, which is just fine with Francona. The Indians players "don't need to be worrying about me having nostalgia week," Francona said Sunday, according to MLB.com. Francona will no doubt be happy to see some old friends, although he'd probably rather miss seeing Jon Lester on the mound. Lester is 2-0 with a 1.42 ERA in his first three starts in what could be a bounce-back season. His next start comes in Red Sox at Indians, Thursday night (7:05 ET) at Progressive Field. Zach McAllister, who has a 2.19 ERA in his first two starts, will pitch for the Indians.
In the last two votes, Clemens has gained nearly 17 percent in Hall of Fame voting

The results of the BBWAA Hall of Fame vote are revealed Wednesday, Jan. 24

Does the Jackson signing mean the Giants are out on Lorenzo Cain?
Acuna edged out Shohei Ohtani and Vladimir Guerrero Jr.

There's no reason to run over the cases for and against Bonds, so let's have fun instead

The coveted right-hander would certainly be a fit in Milwaukee