3 to Watch: The 'CBSSports.com World Series' edition
Before the season, CBSSports.com said the Tigers and Nationals would meet in the World Series. Now 3 to Watch tells you they meet this week.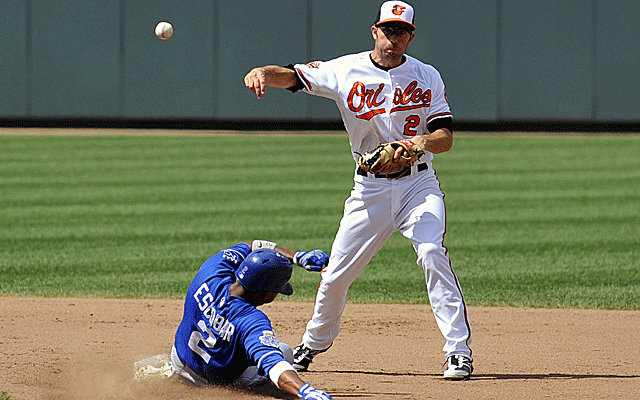 Look, we got it right!
Most of us did, anyway. I have no idea what Dayn Perry was thinking, when the boss asked us all to tell him which two teams would be meeting at Nationals Park in the second week of May.
Tigers and Nationals, of course.
I couldn't figure out why the boss was asking that question. I can't figure out why he took those answers and made them our World Series picks for this year.
When the boss asks, you do it.
Oh well, we could have made worse picks. What if we'd all ended up with the Blue Jays and Phillies?
How bad would that have been?
Tigers and Nationals?
A month in, the Tigers are half a game behind the Red Sox and Rangers for the best record in the American League. The Nationals, despite some early stumbles, are two games out of first place and one game out of a playoff spot.
Are they baseball's two best teams? I'll let you know in October. But there's still no doubt that they're two of baseball's best teams.
Six weeks ago, all of us (except Dayn) told you they'll be meeting in the World Series.
Right now, we'll only tell you that they're meeting in the CBSSports.com World Series -- this week at Nationals Park.
The Tigers have won nine of their last 10 games (with a little help from the schedule-maker, who set them up for this series with four games against the Astros). The Nationals have won four of their last five, and just as importantly have answered some of the early-week concerns about Stephen Strasburg.
It's too bad that neither Strasburg nor Justin Verlander will pitch in this week's two-game series. But Bryce Harper and Miguel Cabrera will be there.
The Tigers will bring with them questions about their bullpen, although the return of Jose Valverde has helped answer them (for now). The bullpen cost them the second game of the season, but thanks in part to Valverde and even more to all the runs they're scoring, it hasn't hurt them very much since.
The Nationals will bring with them questions about Ryan Zimmerman's throwing. He threw another ball away on Sunday, his fifth of the season, in just his third game off the disabled list.
They'll only play two games this week, two games that aren't any more significant than any other two they'll play from now through September.
And who knows, maybe they'll meet again in October.
Just as we said they would.
On to 3 to Watch:
1. There's no way we would have told you that the Rangers and Cubs would be playing this week -- because they weren't supposed to. But baseball's messed-up schedule had the Rangers at Wrigley Field in mid-April, and (surprise, surprise), it rained. So they're back there for Rangers at Cubs, Monday night (8:05 ET) at Wrigley Field. People in the commissioner's office insist there's no way to fix the schedule, but complaining about it has become the favorite topic of conversation around the game. It's not just that there have been so many postponements. It's that so many of them came on a team's only trip to the other city, requiring a return one-day trip. The Yankees will be back in Cleveland next week. The Mets need to return to Minnesota, and also to Colorado. The Rays must return to Kansas City. And this week, for one day, the Rangers are in Chicago.
2. Sunday, for the 107th consecutive time, the Orioles won after leading a game at the end of seven innings. Also Sunday, for the major-league leading fourth time this season, the Royals won a game after trailing at the end of seven innings. So what happens if the Orioles lead after seven innings in Royals at Orioles, Tuesday night (7:05 ET) at Camden Yards? Your guess is as good as mine.
3. If this really were the World Series, the Tigers would obviously love to have Verlander starting in Game 1. But if the opponent is the Nationals, they shouldn't be too upset if it sets up for Anibal Sanchez. Sanchez is 8-0 in his career against Washington, the most wins without a loss for any pitcher against the Nationals. His career ERA against the Nats isn't bad, either: 1.97 in 19 starts. Sanchez's ERA this season is even better (1.82), going into Tigers at Nationals, Tuesday night (7:05 ET) at Nationals Park. Jordan Zimmermann, who goes for the Nationals, is off to an even better start, with a 1.64 ERA.