3 to Watch: The 'Coming together at Fenway' edition
Friday night at Fenway Park, the Boston Red Sox play their first home game since Monday's bombings at the Boston Marathon. We go overboard sometimes with the thought that sports teams can heal communities, but Friday figures to be an emotional night at Fenway. 3 to Watch looks at that and two other key matchups.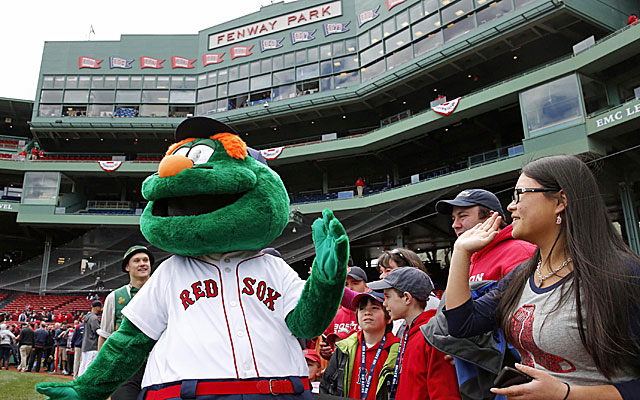 Ballparks aren't just about baseball. Ballgames don't just count in the standings.
We go overboard sometimes with the thought that sports teams can heal communities, but it's not hard to think this weekend at Fenway Park will have a special feeling to anyone in Boston. It's not hard to think the moving scenes at Wednesday night's Boston Bruins game will be repeated on a much bigger scale when the Red Sox return to Fenway for the first time since Monday's bombings.
Fenway is a part of Boston, perhaps more than any ballpark is a part of any city. New England gathers at Fenway, more than any region gathers at any park.
Walk into Fenway, and you feel the emotions of a community.
Yes, those emotions are often tied to the success of the Red Sox. Maybe it wouldn't matter this weekend if the Red Sox were struggling, but it can't hurt that they're not. They'll come home in first place after what has been an encouraging start to what could be a bounce-back season.
General manager Ben Cherington said this spring he and his staff focused over the winter on adding players who could thrive with Boston, rather than be defeated by the heavy scrutiny. Boston is different, and playing for the Red Sox is different.
The current group seems to get that. It seems fitting that Jonny Gomes, one of those new Red Sox, was behind the move to hang a jersey with Boston's 617 area code and the mantra "Boston Strong" in the dugout this week in Cleveland.
"It's just letting people know we have a heavy heart over here," Gomes told reporters, according to the Boston Herald.
The Red Sox haven't always felt at one with the city they represent. Carl Crawford complained this spring about the Boston media, and admitted that almost from the moment he arrived, he couldn't wait to get out of town.
It's a little early to say this year's team will be one the fans will embrace. It's not hard to imagine the fans would love to find something to embrace, something to get them cheering again.
Friday night's game won't just be about the Red Sox. It'll be about Boston.
But in a way, the Red Sox are Boston. Fenway Park is Boston.
And Friday figures to be a special night.
On to 3 to Watch:
1. The Royals and Red Sox were 12th and 13th in the American League in rotation ERA last year. Both knew they had to improve. The Royals improved by completely changing their rotation. The Red Sox improved by keeping most of the same pitchers and watching them get better. James Shields is the symbol of the Royals' improvement. Clay Buchholz, with a 3-0 record and 0.41 ERA, could be the symbol of the new Red Sox rotation. Shields and Buchholz meet in Royals at Red Sox, Friday night (7:10 ET) at Fenway Park. It would have been a big night for the Red Sox, anyway, with David Ortiz expected to make his 2013 debut.
2. Before Matt Harvey, the last guy to make three starts of at least seven innings and no more than three hits within the first 11 games of a season was Bob Feller in 1947. Not even Feller did it four times within the first 14 games of a season. Thanks to rain, snow and the Mets' desire to keep the 24-year-old Harvey on close to normal rest, Harvey gets a chance in Nationals at Mets, Friday night (7:10 ET) at Citi Field. Harvey is eight months younger than Stephen Strasburg, his mound opponent Friday night.
3. The Angels said they didn't have enough money to keep Torii Hunter. Then they spent much bigger money to sign Josh Hamilton. Hunter entered play Thursday leading the American League in hitting. Hamilton was tied for 79th in the league, with Emilio Bonifacio. You think anyone will mention that when Hunter returns to Southern California, for Tigers at Angels, Friday night (10:05 ET) at Angel Stadium?
The Yankees may plug their third base hole with a familiar face

Darvish's poor World Series hasn't scared the Dodgers away

GM Sandy Alderson said he followed his manager's recommendation
A report indicates the Rays are listening to trade offers on Chris Archer and Evan Longori...

Scott missed almost all of last season after a concussion

The superstar is one year away from free agency