3 to Watch: The 'Farrell comes back, but will the Jays?' edition
The last time that John Farrell took his Boston Red Sox to Toronto, Blue Jays fans booed him non-stop. The Jays and their fans have other things to worry about now, with the team off to a 9-17 start. The Blue Jays aren't buried yet, but as 3 to Watch points out, they could be soon.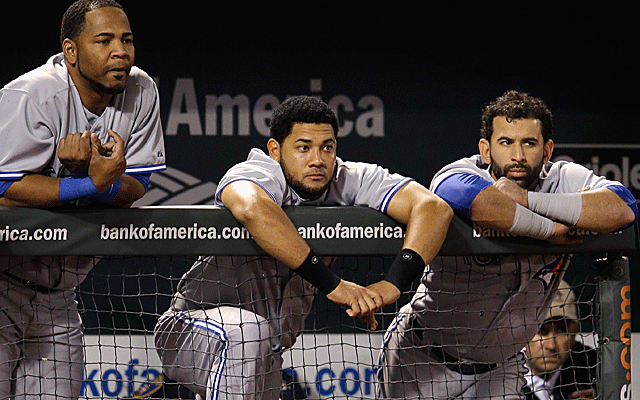 It won't be about John Farrell this time.
Can't be. The Blue Jays and their fans have much bigger concerns.
Farrell's Red Sox are back in Toronto this week, back to the place where Farrell managed for two years, back to the place where he was the focus of all the attention -- and all the booing -- just 3 1/2 weeks ago.
The booing didn't seem to bother him then. You can bet it won't bother him now -- if they even bother to boo (or if they even bother to show up).
Last time, the people up north of the border were feeling pretty good about themselves and pretty good about their team. And now?
Now, the Blue Jays are 9-17, with a worse record than any American League team but the Astros. Now, the Jays are 9 1/2 games out of first place and 6 1/2 games out of third place.
"Right now, we're not good enough," manager John Gibbons said over the weekend.
We're not out of April, but it's not too early to wonder if the win-now Blue Jays have already played their way out of a real chance to win. A few teams have recovered from 9-17 starts -- the 2001 A's started 9-17 and went on to win 102 games -- but most teams that start this bad never get turned around.
In fact, of the last 52 teams to start 9-17 or worse, only two finished the season above .500. Both did it in 2001, with the White Sox (who finished 83-79) joining those 102-win A's.
The Blue Jays would seem to be a candidate to get things turned around. They're talented, they'll get Jose Reyes back sometime in June or July, and it's not like they've been seriously outmatched so far.
While the Blue Jays went 1-6 on their just-completed trip to Baltimore and New York, every game was decided by one or two runs. The Jays led in all four losses over the weekend against the Yankees, and they've been tied or in the lead in the seventh inning or later of eight of their 17 losses.
"I still think they're going to be a good team," said one scout who watched them get swept by the Yankees. "They're just in a funk right now. The thing is, they can't have another bad week."
The Blue Jays are already 9 1/2 games behind the Red Sox, whose 18-7 record is the best in baseball (and the best 25-game start by any team since the 2010 Rays).
It's not too much to make up, not yet. Longtime Blue Jays fans might remember that their 1989 team also started 9-17, then came back to win the division (after Cito Gaston replaced Jimy Williams in the manager's office). But that 9-17 team was only 4 1/2 games out of first place and never fell behind by more than 10 games.
This team needs to beat Jon Lester and Farrell's Red Sox on Tuesday night to avoid falling 10 1/2 games out before the end of April.
On to 3 to Watch:
1. What is it about the Reds and Busch Stadium? The Reds have won the National League Central twice in the last three years, but even in those seasons they couldn't win a series in St. Louis. They've already lost a series there this year, making it 23 of the last 28 (with two other series split, and just three ending up as Reds wins). And they didn't even face Adam Wainwright the first time around. They'll see Wainwright this time, in Reds at Cardinals, Monday night (8:15 ET) at Busch Stadium. Wainwright has won four straight starts, allowing just five runs in 31 1/3 innings while striking out 31 and walking just one.
2. Remember the little spring training back-and-forth between Evan Longoria and James Shields? It might not be anything serious, but it does make Shields' first start against his former team just a little more interesting. We'll find out, in Rays at Royals, Tuesday night (8:10 ET) at Kauffman Stadium. One more interesting thing to think about as you watch Shields pitch for the Royals: Before they completed that deal, the Royals had talks with the Red Sox about getting Jon Lester instead. Shields isn't off to a bad start (1-2, 3.09), but Lester is 4-0 with a 2.27 ERA for the Red Sox.
3. Lester is off to a great start, but Clay Buchholz has been even better. Bad news for the Blue Jays: After they see Lester on Tuesday, they'll get Buchholz in Red Sox at Blue Jays, Wednesday night (7:07 ET) at Rogers Centre. Buchholz has won each of his first five starts, has gone at least seven innings in each of them, and has a 1.19 ERA. His mound opponent Wednesday is Mark Buehrle, who has gone seven innings just once in five starts, and has a 6.35 ERA. "He probably went from the American League to the National League at the right time [after 2011]," one rival executive said. "So it probably wasn't a good time for him to go to the American League East."
The Nats will host the All-Star Game in 2018

The Orioles are looking to trade Machado heading into his walk year

The Cardinals have been linked for a while to the Baltimore star
Gallardo spent the first eight years of his career in Milwaukee

MLB revenues are at a record high right now, but teams aren't spending it on players

Chicago added Tyler Chatwood earlier this offseason but might not be done adding to the ro...