3 to Watch: The 'It can't happen again, can it?' edition
The final night of last season gave us some of the most incredible moments in baseball history. There's no way to predict that happens again. But as 3 to Watch points out, the situation with six games remaining is a lot more interesting than it was with six games left a year ago.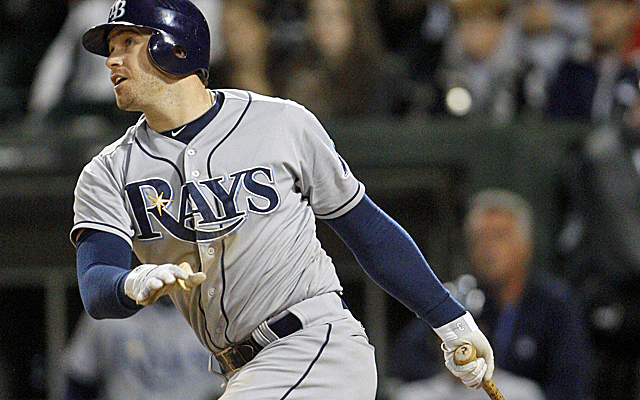 Can Evan Longoria and the Rays pull another late-season shocker?
(Getty Images)
There's no way to guarantee another night as exciting as last Sept. 28.

There's no way we should even expect it.

But just remember this: With six days to go in the baseball season, there's a lot more chance of a fantastic finish than there was at this point a year ago.

With six days to go in 2011, we were down to basically the two wild-card races. Three of the six division titles had been clinched, and the other three had a magic number of either one or two.

At that point, the Red Sox led the Rays by two games. The Braves led the Cardinals by two games.

We were on collapse-alert, but we weren't at all sure we were watching anything special.

Now here we are, with six games to go this year. Only two of the six division titles have been clinched, and none of the other four have a magic number of less than three (in other words, no more clinching parties until at least Saturday).

Meanwhile, in part because of the addition of an extra playoff spot, we still have four teams alive for the two American League wild-card spots.

Last year at this point, the only series that really mattered were the ones involving the Red Sox, Rays, Braves and Cardinals.

This year, as many as nine of the final 15 series could impact who makes the playoffs.

Will any of these races go down to the final day? Will any of them go to the final inning? Will any of them bring us the twists and turns of last Sept. 28?

"That situation was probably a once in a lifetime opportunity," said Evan Longoria, whose wild-card clinching home run provided maybe the most exciting one of those turns. "But this year we have a good opportunity to make more memories -- kind of create a new memory."

On to 3 to Watch:

1. The Rangers' Thursday win over the A's gave them a four-game lead over Oakland with six games to play -- and turned the A's into Rangers fans this weekend. Instead of thinking they can catch the Rangers for first place, the A's now need help holding off the Angels for a wild-card spot. The Rangers and Angels were thought to be rivals of a sort. Would the Rangers now take any extra delight in potentially ending the Angels' postseason hopes? The series opens with Jered Weaver facing Ryan Dempster in Angels at Rangers, Friday night (8:05 ET) at Rangers Ballpark. Dempster's Rangers career didn't begin well, but they've now won six of his last seven starts, and he has a 2.93 ERA over that span. Apparently, the switch to the American League has been easier than some (including me) thought it would be.

2. One National League executive said to me this week that he really hopes that the Orioles and A's hold onto their playoff spots, because the story of their surprise seasons has been such a good one. Both face tough final series, the Orioles at Tampa Bay and the A's at home against the Rangers. That makes this weekend super-important for both. The Orioles host the Red Sox. Meanwhile in Oakland, it's a series that begins with Mariners at A's, Friday night (10:05 ET) at the Coliseum.

3. If the Rays weren't on their usual late-season run towards the playoffs, all they'd just be talking about David Price's chances at the Cy Young. Yes, they still talk about that, but now they also mention that Price would be lined up to start the wild-card play-in game, if the Rays make it there. His final regular-season start (and final chance to impress Cy Young voters) comes in Rays at White Sox, Sunday afternoon (2:10 ET) at U.S. Cellular Field.
Does the Jackson signing mean the Giants are out on Lorenzo Cain?

Acuna edged out Shohei Ohtani and Vladimir Guerrero Jr.

There's no reason to run over the cases for and against Bonds, so let's have fun instead
The coveted right-hander would certainly be a fit in Milwaukee

We rate the best mustaches from random baseball cards because, why not?

Colon wants to break a Dennis Martinez record