3 to Watch: The 'Lackey returns (to a first-place team)' edition
In the three weeks that John Lackey has missed with a biceps injury, the Boston Red Sox have gone 12-5 and have shown signs of being a serious contender to win the American League East. But while Jon Lester and Clay Buchholz have been brilliant, the rest of the rotation hasn't. 3 to Watch says Lackey's return on Sunday could make a difference.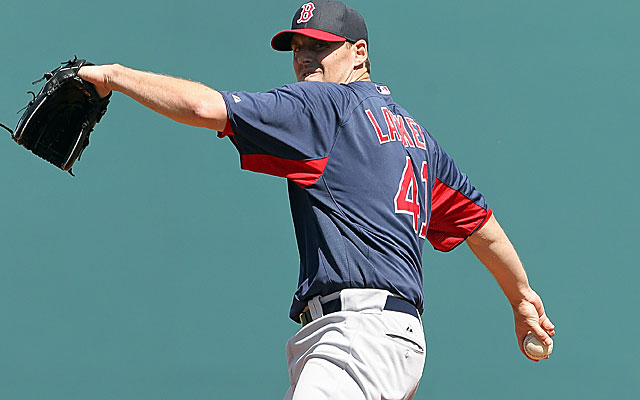 John Lackey's return to the mound would be a good story regardless of the American League East standings.
Lackey, you might remember, missed all of last year recovering from Tommy John surgery. He had a good spring, was pitching well -- and then, 76 pitches into his first big-league start in 17 months, he walked off the mound grabbing at his right arm.
That was on April 6. This Sunday is April 28, and Lackey is expected to return to the mound for the Red Sox after missing just three weeks with what turned out to be a strained right biceps.
What makes this more than just a nice story of recovery is that in those three weeks, the Red Sox have gone 12-5.
When Lackey left that start in Toronto, not many gave the Red Sox a realistic chance of winning the American League East. In the three weeks since, in part because of how they've played and in part because of what has happened in the rest of the division, that opinion has changed.
"A lot depends on Lackey," said one scout who has been following the AL East.
The Blue Jays are off to a slow start and lost Jose Reyes to injury. The Rays' lineup looks at least as weak as feared. The Orioles are winning some games that they shouldn't but not as consistently as they did a year ago. The Yankees' makeshift lineup has outperformed expectations, but now we know Derek Jeter will miss at least the first half of the season.
"They can't survive with this lineup," the scout said.
The Red Sox have questions, too, of course. And the biggest one right now might be how many starting pitchers they can count on.
Overall, the Red Sox rotation leads the American League with a 3.10 ERA, which is pretty impressive (especially compared to last year's 5.19).
Look a little closer, and you see that while Jon Lester and Clay Buchholz are a combined 9-0 with a 1.69 ERA, the other five starters the Red Sox have used have gone 3-4 with a 4.52.
Just this week, the Red Sox became so fed up with Alfredo Aceves that they sent him to Triple-A Pawtucket.
If Lackey becomes a good third starter or even combines with Ryan Dempster to give the Red Sox a decent three and four, it gets much easier to consider the Red Sox a serious contender.
After Sunday, perhaps we'll have a better idea.
On to 3 to Watch:
1. This week at Citi Field, Dodgers catcher Tim Federowicz was remembering that Matt Harvey, Rick Porcello and Madison Bumgarner were in the same recruiting class at North Carolina in the spring of 2007. Porcello and Bumgarner ended up signing pro contracts out of high school, and Harvey was the only one who went on to become Federowicz's Tar Heels teammate. Six years later, Harvey is the talk of baseball, but he's also just 15 starts into his big-league career. Porcello, who is exactly three months older than Harvey, has four full big-league seasons and 123 starts -- and we're still debating how good he is. The evidence this spring seemed to be that he's ready to have his best year. But his first three regular-season starts haven't gone well. Last Saturday in Anaheim, Porcello gave up nine runs and didn't make it out of the first inning. Porcello has an 11.08 ERA and a challenging assignment coming up in Braves at Tigers, Saturday afternoon (1:05 p.m. EDT) at Comerica Park.
2. One impossible-to-answer question about the Phillies is how much different the first four weeks of the season would have gone if catcher Carlos Ruiz hadn't been serving a suspension for failing a drug test. It's fairly obvious that there has been some effect. Phillies catchers (mostly Ruiz) led the majors with a .861 OPS last year; with no Ruiz, they're 24th in the majors with a .613 OPS this year. How much has Ruiz's absence affected the pitchers? It's easy to believe it has, but much harder to say how much. In any case, Ruiz's suspension ends this weekend, and he's set to return in Phillies at Mets, Sunday afternoon (1:10 p.m. EDT) at Citi Field. Ruiz will catch Cole Hamels, who has rebounded from two horrible starts to begin the year and has a 2.57 ERA over his last three starts. Even so, the Phillies have yet to win a Hamels start.
3. Lackey's most recent major-league win was against the Rangers, on Aug. 23, 2011. His next two starts should be against teams from Texas, beginning with Astros at Red Sox, Sunday afternoon (1:35 p.m. EDT) at Fenway Park. Bud Norris, who starts for the Astros, could be of interest to any team seeking a starting pitcher this July. If Lackey proves he can do well, the Red Sox might not need to be in that market.
Opening Day will be Thursday, March 29 -- the earliest opening day in MLB history

The World Series champion and big-time wrestling fan was on hand Sunday night

The Brewers have very few payroll commitments moving forward
The new, lighter hats will replace embroidered logos with beveled rubber badges

Chipper Jones and Jim Thome join holdovers Trevor Hoffman and Vladimir Guerrero

Another team rumored to be interested in Stanton has confirmed their interest