3 to Watch: The 'Longoria returns' edition
When Evan Longoria was hurt, the Rays were 15-8 and looked like a certain playoff contender. Now he has missed more than three months with a torn hamstring, and his team has struggled along with a sub-.500 record in the games he has missed. Longoria will return to the Rays Tuesday night, and 3 to Watch wonders what he and his team will look like.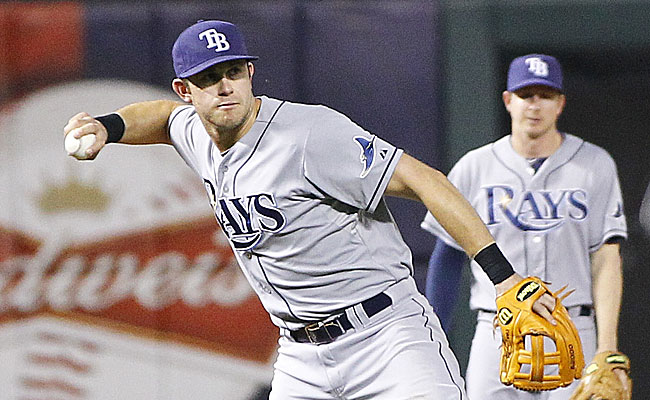 Rays manager Joe Maddon says Evan Longoria will return to the lineup on Tuesday.
(US Presswire)
In the games Evan Longoria has played this year, the Tampa Bay Rays won at a .652 pace, a 106-win pace. The Rays scored runs at a 4.6 a game pace, a top-seven-teams-in-baseball pace.

With Evan Longoria in the lineup, the Rays looked like an absolute contender.

Can they look like that again?

We're asking, and they're asking. In fact, rival clubs who spoke to the Rays in the final weeks of July said they seemed almost paralyzed because they weren't able to answer exactly that question.
More on MLB
Related links
Two questions, really: When will Longoria return? What will he and the Rays lineup look like when he does?

The first question has been answered. The Rays announced that Longoria will return to the lineup for Tuesday night's home game against the Toronto Blue Jays .

The second question could take longer.

Here's what we do know: The Rays have played the last three months-plus without Longoria, who tore his left hamstring on April 30. Not surprisingly, they've suffered without their best hitter in the lineup, going 41-44 and seeing their run production drop from 4.6 to 3.8 runs per game.

Longoria now feels good enough that he made it through nine games in a rehabilitation assignment at Triple-A Durham. He felt good enough that he played four days in a row through Sunday.

He hasn't felt good enough to play third base. Longoria has strictly been a designated hitter in the minor leagues, and he's expected to return to the Rays as a full-time DH.

Oh, and he went 6 for 30 in those nine games with Durham, after a two-hit game Sunday. And those six hits were all singles.

Because the Rays' pitching has been so good (both the rotation and the surprising bullpen), and because the American League wild-card contenders are still so bunched up, Longoria returns to a team that is still very much in it.

The Rays begin this week just two games behind the Detroit Tigers and A's, who are tied atop the wild-card standings. Two spots are available, which means the Rays would need to pass at least three of the four teams ahead of them (Tigers, A's, Los Angeles Angels , Baltimore Orioles , as of now).

With a healthy and productive Longoria, that hardly seems impossible. Without Longoria, or with a Longoria who can't really contribute, the Rays look like a team that can hang around, but probably can't win.

The Rays don't know what to expect. We can't know what to expect.

This is the week when we'll begin to find out.

On to 3 to Watch:

1. If the Rays hadn't thought Longoria would return, perhaps they would have been more serious about trading James Shields . As it was, they kept Shields, and a few hours after the non-waiver trade deadline he threw a three-hit shutout in Oakland Athletics . Shields' next start comes in the game when Longoria will return, Blue Jays at Rays, Tuesday night (7:10 ET) at Tropicana Field. That will be two years to the day since Shields' last loss to the Jays. He's 3-0 with a 1.10 ERA.

2. The Texas Rangers were one of the teams that at least considered a trade for Josh Beckett before the deadline, even though it was always seen as a long shot. Beckett's big contract (he makes $15.75 million each of the next two years) likely means he would make it through waivers, but a deal this month would seem to be a long shot as well. Perhaps that changes just a little if Beckett does well in Rangers at Boston Red Sox , Wednesday afternoon (1:35 ET) at Fenway Park. Beckett's return to the Boston rotation, for his first start in eight days, comes a day after an interesting Ryan Dempster - Jon Lester matchup.

3. The most fascinating series of the week is in Oakland, between the second- and third-place teams in the American League West. That's the second-place A's, who spend almost no money, and the third-place Angels, who spend plenty of it. Sure enough, when the series concludes with Angels at A's, Wednesday afternoon (3:35 ET) at the Coliseum, it will be Zack Greinke for the Angels and Dan Straily for the A's. That's Greinke, the big-name starter the Angels just acquired from the Milwaukee Brewers (and hope to sign for perhaps $23 million a year), and Straily, the little known but highly talented kid the A's just called up from Triple-A.