3 to Watch: The 'Returning to Fenway' edition
Kevin Youkilis will be back at Fenway Park on Monday night. Carl Crawford is also expected back at Fenway that night. Youkilis didn't fit with this Red Sox team, and they were right to trade him. Crawford could still fit, and could still help the Red Sox to the playoffs. 3 to Watch looks at two returns.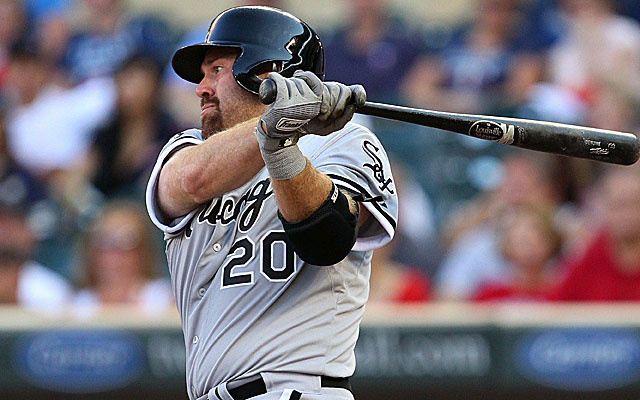 Kevin Youkilis, who's hitting .295 for Chicago, returns to Fenway Park Monday for the first time since his trade.
(US Presswire)
Kevin Youkilis fits with the White Sox. Kevin Youkilis has done well with the White Sox.

That doesn't mean the Red Sox were wrong to trade him.

He didn't fit, not anymore, not on a team that needed to let Will Middlebrooks play every day at third base, a team that needed to keep Adrian Gonzalez where he belongs at first base, a team that has David Ortiz as the best designated hitter in the game. And not on a team with Bobby Valentine as the manager.

Youkilis didn't fit. Carl Crawford could.

And that's why Monday, when there will be plenty of attention on Youkilis' return to Fenway Park with the other Sox, the more significant news for the Red Sox could be the expected arrival of Crawford.

It's easy to forget Crawford, whose first season in Boston was basically a disaster, and whose second season is just now getting started because of two (or is it three?) different injuries. It's entirely possible that his impact will be minimal, if only because his left elbow is still enough of a problem that he says he'll eventually need Tommy John surgery.

It's also easy to overestimate what it means to a team to get players back from the disabled list. The Phillies lost 11 of their first 12 games after Chase Utley returned (and four straight after Ryan Howard came back). The Dodgers got Matt Kemp and Andre Ethier back over the weekend, and still lost two of three at home to the Padres.

But the Red Sox have already seen Jacoby Ellsbury go 6 for 14 in his first three games back from the disabled list, and they've already seen the second half begin with two wins in three games at Tampa Bay.

For all the drama and all the disappointment of the first half, the Red Sox are just 1 1/2 games out of a playoff spot as they welcome Youkilis to Fenway.

At this point, the American League playoff race looks like this:

The Yankees should win the AL East. The Rangers and Angels should both make the playoffs, one as the AL West champion and one as one of the two wild-card teams.

Somebody has to win the AL Central.

That leaves one spot. Who do you like, an Orioles team that had serious pitching issues even before Jason Hammel needed knee surgery? A Rays team that has serious trouble scoring runs, and no indication that Evan Longoria is returning anytime soon? A Blue Jays team with serious rotation questions?

A second-place team from the Central? The A's, who still think of themselves as possible sellers, and will play 23 of their remaining 73 games against the Rangers, Angels and Yankees?

You have to say the Red Sox have a real chance. You might even call them a favorite for one of the two spots.

And if it comes down to them vs. the White Sox for the final spot (or in a playoff series), then at that point they may regret trading Kevin Youkilis to Chicago.

But not this week.

On to 3 to Watch:

1. Kevin Youkilis' batting average for the White Sox: .295. Red Sox third basemen since he's been gone: .304. Number of questions Bobby Valentine will be asked about Youkilis before White Sox at Red Sox, Monday night (7:10 ET) at Fenway Park: Far too many to count. Valentine stirred things up again on Sunday, saying that Youkilis never got over a critical remark Valentine made in April. "I don't think he ever wanted to get over it," Valentine told reporters.

2. The computers at coolstandings.com claim that the A's have as good a chance to make the playoffs as the Red Sox do (better than the Rays, Indians and Orioles, and nearly the same as the Tigers). I'm not sure I believe that, even if Bob Melvin has done a great job getting that team to three games over .500 and half a game out of the second wild-card spot. I'm not sure the A's believe that, given how they've talked about selling off players this month. They'll no doubt believe more if they do well in six games against the Rangers and Yankees, beginning with Rangers at A's, Tuesday night (10:05 ET) at the Coliseum. The A's hit four home runs in each of their last two games over the weekend in Minnesota, the first team in three years to hit four or more home runs in back-to-back road games. Only one team in the last 10 years has hit four or more home runs in three straight games. That team was the Rangers, last year against the Royals and Rays.

3. Roy Halladay comes back this week. The Phillies are also expected to try for a new contract with Cole Hamels this week. Which one is a more significant event? I think you can figure that one out. Those coolstandings.com computers say the Phillies have a 0.8 percent chance to make the playoffs, so it's hard to say that Halladay's return in Phillies at Dodgers, Tuesday night (10:10 ET) at Dodger Stadium, is a momentous event. By the way, those same computers gave the Rays a 0.5 percent chance early last September.


The Grapefruit League and Cactus League seasons started on Friday

Data will be collected and then used to determine whether humidors are necessary in 2019

Spring training play began on Friday, and the Stoneman Douglas tragedy was on the mind of MLB...
Baseball players forced to take pictures usually lead to fun for all of us

One of the most celebrated programs in baseball is looking to continue its run

A closer look at the teams in the Cactus League and Grapefruit League