365 days of Yasiel Puig
Yasiel Puig made his MLB debut one year ago today. He has been one of the best players in the game ever since.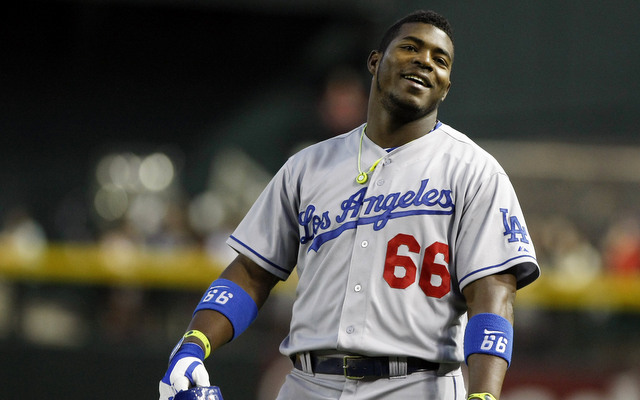 More MLB: Power Rankings | Expert Picks | Latest news & notes | Fantasy news
One year ago today, the Dodgers recalled outfielder Yasiel Puig from Double-A to bolster their unproductive and injury-riddled outfield. The team signed him to a seven-year, $42 million contract in June 2012 -- Baseball America, the best in the prospect business, called it a "puzzling deal" -- and watched him hit .328/.405/.611 with 13 home runs and 21 stolen bases in 63 minor league games.
Puig, now 23, went 2-for-4 with a jaw-dropping, game-ending outfield assist in his first game for Los Angeles, which came on this date in 2013:
Puig went 3-for-4 with two home runs the next game. Two days after that he went 2-for-4 with another homer and this ridiculous throw to cut a runner down at third base:
Through his first 45 major league games, Puig was hitting .370/.410/.580 with nine home runs. While he hasn't quite kept up that pace, he has been one of the very best hitters in all of baseball since his debut. Here are his ranks among the 137 qualified hitters over the last calendar year:
• .326 batting average (fourth behind Victor Martinez, Miguel Cabrera and Robinson Cano)
• .405 on-base percentage (seventh)
• .559 slugging percentage (sixth)
• .964 OPS (fourth behind Cabrera, Mike Trout and Troy Tulowitzki)
• .232 isolated power (12th)
• 191 hits (seventh)
• 36 doubles (20th)
• 30 home runs (11th)
• 98 runs scored (eighth)
• 82 runs batted in (31st)
• 16 stolen bases (34th)
• four outfield assists (sixth)
• 7.1 WAR (fourth behind Trout, Andrew McCutchen, and Josh Donaldson)
According to Bill Shaikin of the Los Angeles Times, Puig is only the fifth player in history with 30+ home runs and 190+ hits in his first full calendar year in the big leagues. The last two to do it were Ryan Braun and Albert Pujols.
And, of course, all of Puig's production has come with quite a bit of flair. Here is the incredibly necessary array of GIFs: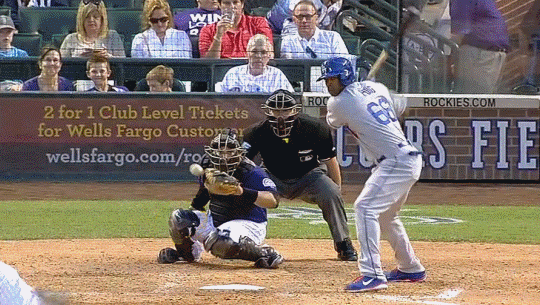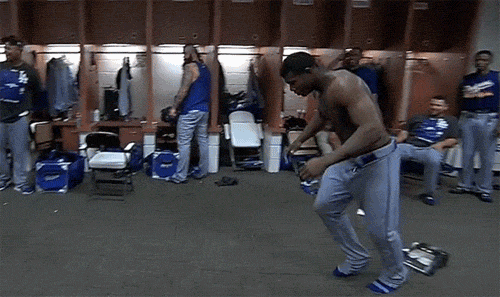 Puig certainly has his flaws as a player, just like everyone else. He tends to overthrow the cutoff man and make bone-headed mistakes on the bases, but stuff like that is a minor nuisance compared to everything else he provides.
There is no more polarizing player in baseball today than Puig. Either you love him or you hate him. I haven't seen many people in the middle. He is also one of the very best players in baseball today, and definitely one of the most exciting players. Few can do what he does both at the plate and in the outfield.
In this increasingly dull and business-like world of Major League Baseball, Puig has been a breath of fresh air over the last calendar year. The game needed someone exactly like him.
(GIFs via SBNation, Bleacher Nation, Chad Moriyama, The Big Lead)
deGrom is set to become a free agent after the 2020 season

Perkins missed most of the last two seasons due to injury

Jonathan Singleton was suspended after a third positive test for a drug of abuse
Rodriguez will join Jessica Mendoza and Matt Vasgersian on the "Sunday Night Baseball" boo...

Jeff Wilpon talked about payroll on Tuesday, and it won't make any Mets fan happy

Yelich's agent recently asked the Marlins to trade him before the spring