5-foot-6 Jose Altuve bats cleanup for Astros
The Astros have the smallest player in the league hitting cleanup Wednesday night.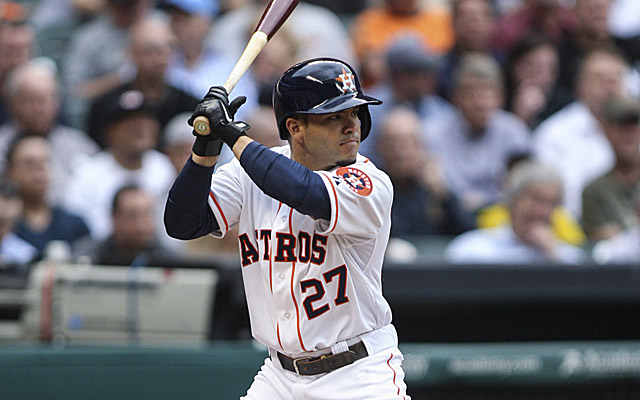 More MLB: Scoreboard | Standings | Probable Pitchers | Sortable Stats | Odds
Remember when you first started paying attention to baseball and someone explained to you what "cleanup hitter" meant, regarding the player slotted fourth in the batting order? I remember hearing something like this from my father:
That's where the big power hitter goes, because he's there to clean up the bases by driving the runners home.
In light of that, the Astros lineup Wednesday night is rather funny. That's because Eye On Baseball favorite Jose Altuve is slotted in the cleanup spot. That is, 5-foot-6, 175-pound, smallest-player-in-the-league Jose Altuve.
The diminutive Altuve isn't without gap power, as he had 34 doubles in 2012 and 31 last season. Of course, he only has 14 homers in 1,540 career plate appearances (entering Wednesday) -- so the prototypical cleanup man he is not.
Astros manager Bo Porter explained the move to MLB.com:
"Obviously, Altuve and [Jason] Castro are arguably our two best hitters, and having Fowler and Grossman at the top, those two guys are switch-hitters who can get on base," Porter said. "When you hit Castro third and a right-hander is pitching, you're basically making sure the left-hander gets the extra at-bat given the matchup scenario.

"When it's a left-hander pitching, you put Altuve in the three-hole to make sure the right-hander gets the extra at-bat given the matchup scenario."
I like thinking outside the box when it suits one's ballclub. Just because tradition says you must have someone resembling Adam Dunn in the cleanup spot doesn't mean everyone must fall in line. Altuve's a good hitter, even if he's not what we're used to seeing in the four-hole, and his manager likes him in the middle. More power to him.