$6 ticket to World Series Game 1 turns out to be fraudulent
One lucky fan found a ticket for World Series Game 1 listed for only $3 on StubHub. Too bad it was fake.
UPDATE: We have an update courtesy of ESPN's Darren Rovell:
StubHub says the $6 World Series ticket sale was fraudulent. The transaction has been canceled and the buyer has been refunded.

— darren rovell (@darrenrovell) October 22, 2013
Makes sense. Sounded too good to be true.
* * *
Talk about a steal. Thanks to what I can only assume was a massive screw up, a fan was able to purchase a ticket to Game 1 of the World Series for only $6 on StubHub on Monday. The buyer sent Deadspin a copy of his email confirmation for proof: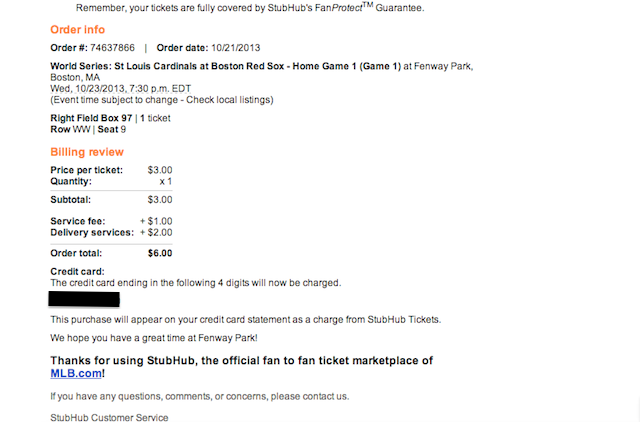 The ticket itself was only $3 with the StubHub service fee accounting for the other $3. Pretty sweet deal. The best available price for that section -- Right Field Box 97 -- is $759.00 right now, with most tickets over $850 and closer to $1,000. Here is the obligatory seating map: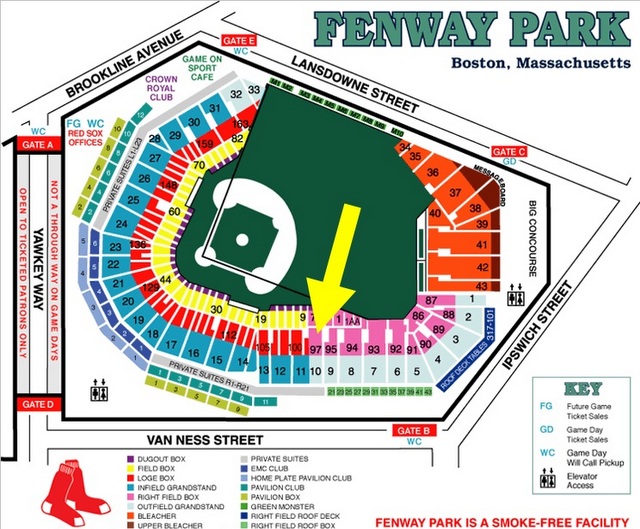 Someone really, really screwed up. I'm guessing they misplaced a decimal point, but even in that case the ticket was either way underpriced ($300.00?) or way overpriced ($3,000.00?). I legitimately feel bad for the seller, assuming this was a mistake and not just an act of kindness.
If I was the buyer, I'd resell the ticket for a massive profit, then buy a ticket in a lower priced section and pocket whatever was leftover. But that's just me and I'm kind of a jerk.
(Again, h/t to Deadspin)
Plus the Cubs can clinch the NL Central title. Keep it locked right here for the latest from...

The club is expected to part ways with Collins after the season

Here is a preview of what's on the line Tuesday
Jerry Dipoto will have his hands full

Otani is said to be coming over this offseason, though nothing has been made official yet

What do the Mets need to do to get back to the postseason next year? Well, a lot