A (Dusty) Baker's Dozen storylines as October launches, memories beckon
You never know when the memorable moments will avail themselves in October, nor who will emerge into stars. Just one piece of advice: Grab yourself a hot dog and settle in for a delicious month. ...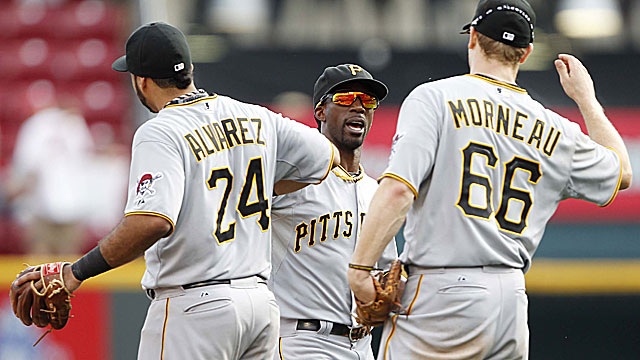 In four postseason plate appearances combined during the 1968 World Series and 1972 ALCS, Gates Brown drew one walk and scored one run for the Tigers.
And this is relevant to this year's playoffs because?
Three reasons.
One, Brown was a pinch-hitter extraordinaire, a specialist before the age of specialists, and a cult hero whose lineage very well could lead this year to pinch-runner extraordinaire Billy Hamilton of Cincinnati or even the Dodgers' Dee Gordon.
Two, this side of the song you fell in love to or the movie that changed your life, nothing freezes time like October moments. Thirty or 40 years from now, you may remember David Ortiz, Miguel Cabrera, Andrew McCutchen, Justin Verlander or Matt Carpenter as fondly as others recall Gates, Bert Campaneris or Bucky Dent.
Three, sadly, the Gator died the other day at 74, and if you did not read this anecdote in his obituary in the New York Times, then your life is seriously lacking: Brown was known for munching hot dogs early in games almost as much for his pinch-hitting. And once, he was eating away when he suddenly was summoned to pinch hit earlier than usual. So Brown finished one hot dog and slipped the other -- fixins already on it -- inside of his uniform.
"Wouldn't you know, Gator hits a double and slides headfirst into second," former Tigers pitcher Jon Warden told The News Journal. "Boom, mustard and ketchup all over him. The umpire said: 'Stay there, Gator. You're bleeding.' "
Now go load up your hot dog, pour yourself a cold beverage and follow along as we zip through the most entertaining storylines this October has to offer. There is no avoiding heartbreak along the way ... but let's hold the blood, OK?
1. And who is YOUR homecoming opponent? If the Indians beat the Rays in the American League Wild Card game Wednesday night, it sets up manager Terry Francona and his team facing the Red Sox in a Division Series. Quick, get to your local library before "Francona: The Red Sox Years" is checked out. You can read all about the time Boston owner John Henry complained about declining television ratings and told Francona, then-general manager Theo Epstein and others that "We need to start winning in more exciting fashion." And about the marketing people the Sox owners hired that advised them to sign more "good-looking stars" who could be sex symbols. Not sure whether Ryan Dempster and Mike Napoli fit, but check out those beards! Francona's book is an excellent read, by the way. And this series could be even more fun.
2. Rust Belt comeback: Detroit, Cleveland, Pittsburgh, Cincinnati all are still playing baseball in October, so pick your blue-collared Cinderella carefully. The Tigers last won a World Series in 1984, the Indians in 1948, the Pirates in 1979 and the Reds in 1990. As you may have heard, Pittsburgh hasn't even splashed into the playoffs since 1992 -- the last time the Pirates had a winning record -- so one of the coolest moments of this entire postseason will be the Pirates cracking open their very own home playoff game Tuesday night in the NL Wild Card game against the Reds.
3. Hollywood on Ice: That 42-8 streak the Dodgers rolled off midseason never seemed so far away. Andre Ethier (shin splints) already was doubtful for the Division Series against Atlanta, and then the Dodgers shut Matt Kemp (ankle) down for the season on Sunday. That's cold, and now the equation changes yet again for manager Don Mattingly. His club has gone from the possibility of having to squeeze four outfielders into three positions -- Ethier, Kemp, Carl Crawford and Yasiel Puig -- to suddenly having to decide whom will play alongside Crawford and Puig. Say hello to October veteran Skip Schumaker, formerly of the Cardinals, who most likely will play center.
4. Atlanta on Air: Everybody knows the Braves whiff like nobody's business. Now, how will that play in October? During the regular season, they finished with the third-highest strikeout rate among all 30 clubs (22.6 percent) and they were the only team employing three players with 150 or more strikeouts: Dan Uggla and the Brothers Upton, Justin and B.J.). Dodgers pitchers ranked second in the NL with 1,292 strikeouts. Clayton Kershaw ranked first in the NL with 232 strikeouts. On the other hand, the Braves did win 96 games this year, so some of those swings sent some baseballs a long way.
5. A penny wise, a pound foolish: Of the game's top 10 payrolls to start this season, only the Dodgers, Red Sox and Tigers qualified for the playoffs. The Yankees, Phillies, Giants, Angels, White Sox, Blue Jays and Nationals are all sitting home. Of the game's bottom 10 payrolls, the Pirates (No. 21), Indians (22), Athletics (27) and Rays (28) all made it.
6. Cardinal rules: Adam Wainwright is a force and Yadier Molina has helped guide a bevy of rookie pitchers -- starters Shelby Miller and Michael Wacha, relievers Trevor Rosenthal and Seth Maness -- through another impressive season in St. Louis. Allen Craig will not play in the Division Series, which increases the Cardinals' degree of difficulty. But there is a reason why this is the 10th time in 14 seasons the Cardinals have made the playoffs, and this year one of those reasons is MVP candidate Matt Carpenter. The Cardinals (2006, 2011) and Red Sox (2004, 2007) each have won two World Series this century. None of the other eight clubs has won even one since 2000.
7. Will speed rule? Among the very earliest of fascinating postseason moments: Will the Reds put Hamilton on their playoff roster? (They should). Will the Dodgers decide Gordon can help them in a pinch-running situation? (Tougher call). Hamilton has swiped 13 bases in 14 attempts since his September recall, and at least two of those steals directly led to wins. In close games against good pitching, every run counts in October. Versatile teams win. Hamilton can score a late run that could make a huge difference for the Reds. Just ask the 2004 Red Sox about Dave Roberts.
8. Boston strong (and swift): Nobody is more versatile than the Red Sox, who can slug with David Ortiz (27 homers) and Mike Napoli (22) and run with Jacoby Ellsbury (major-league leading 52 steals) and others. Boston finished the season with 39 consecutive steals without being caught, the longest in club history and the longest for any team since the 1993 Blue Jays swiped 38 bases in a row without being caught (no Boston runner has been thrown out attempting to steal since Aug. 9). And, the Sox's 86.6 percentage for the season (123 for 142) is the best by an AL team since the statistic has been tracked beginning in 1920. The Red Sox's 123 steals wound up just three short of the club's single-season record in the live-ball era (1920), set in 2009 (126). Somewhere, as the leaves begin to turn in October, Roberts is smiling.
9. Move 'em over: Look for starting pitching to dominate the Tigers-Athletics Division Series. Max Scherzer, Justin Verlander, Anibal Sanchez, Bartolo Colon, Jarrod Parker, A.J. Griffin ... the Tigers' rotation led the AL during the regular season with a 3.44 ERA, the Athletics were No. 2 at 3.72. Moving runners over will never seem so important.
10. PNC Park's beauty: When the Pirates host their first-ever playoff game in PNC Park ... you will see one of the most gorgeous settings in all of major-league baseball. That river just beyond the outfield fences? The Allegheny. The yellow bridge crossing it into the city of Pittsburgh? The Roberto Clemente Bridge. No matter how many television shots they continually feed you of the scenery, you will be amazed and never tire of it.
11. O.co Coliseum's sewage: Twice this season, the pipes in this dump backed up and sewage flowed into the clubhouses and dugouts. If Oakland advances to the World Series and the place is flooded with people, look out. Hey ... is that a Baby Ruth bar floating there in the dugout? Or something else?
12. Look out, Cleveland: Including Game 163, Rays All-Star Evan Longoria is batting .579 (11 for 19) with seven home runs, 10 RBI and eight runs scored in Tampa Bay's final five games of the regular season. "That's why he is who he is," Rays ace David Price says. "He steps up when we need it the most." And how does he have the knack for doing it in the clutch? Said Price: "He's not scared of it."
13. Bringing the heat: The Indians may not be a division winner, but nobody is hotter than this crew as the playoffs open. Cleveland finished the season by winning 10 games in a row and went 21-6 in September. Ubaldo Jimenez went 4-0 with a 1.09 ERA and 51 strikeouts over 41 1/3 September innings. The key to their success? "We stayed away from chicken and beer," Francona quipped.
Which, by the way, is another terrific trait to have in October: Humor. But if you prefer the chicken and beer -- or hot dogs like the Gator -- that's your call.
Dodgers manager Dave Roberts on Sunday announced his World Series rotation for the first four...

How should the Astros play it when one of their two aces isn't on the mound against the Do...

The former big-league infielder also worked as GM of the Puerto Rico national team
The Indians pitching coach would be getting his first MLB managerial job

In the last several years, lots of droughts have ended in MLB

The most likely scenarios are Dodgers winning in five or six games