A few 'A' names return, but CC Sabathia means more to Yankees
CC Sabathia wasn't one of the many Yankees on the disabled list, but his performance Friday against the Red Sox felt like a return, too.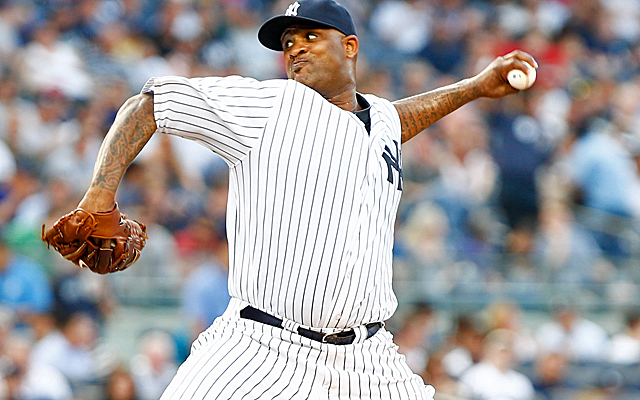 NEW YORK -- The Yankees look more recognizable with Mark Teixeira in their lineup. They somehow look more recognizable with Kevin Youkilis in there, even if Brennan Boesch has played more games for them than Youkilis have.
But as much as the Yankees need their "A team" lineup back -- and they do -- the most promising thing the Yankees saw Friday night was the return of a guy who hasn't spent a minute on the disabled list this season.
CC Sabathia wasn't hurt. He wasn't even bad. For all the talk about the velocity on his fastball, that had actually been on the way up, too, even before Friday.
No, what the Yankees saw from Sabathia on Friday was more than just a tick higher readings on the radar gun (even if manager Joe Girardi reacted to a question about his fastball by saying, "He was throwing it harder").
This was about more than that. This was about Sabathia looking like a guy who could once again go out and take control of a game against a first-place team.
"Stepped up like a No. 1 should," said one scout who was watching.
Exactly. And while the Yankees have survived two surprising months with their "B team" lineup because their pitching has been good, the road from here to October will depend more on having some nights when their No. 1 looks great.
Sabathia did look great in the Yankees' 4-1 win, for the first time in a while, maybe for the first time this season.
"Hopefully, something clicked," catcher Chris Stewart said.
We still don't know how much will click the rest of the way for either of these teams, and a scout who follows the American League East regularly hesitated Friday afternoon when asked whether the Red Sox or Yankees had the better chance of staying at the top of the division (where they're now separated by a game, with the Red Sox on top).
The scout picked the Red Sox, in part because they have the younger team, but also because Clay Buchholz and Jon Lester have looked like a more steady pair atop the starting rotation than Hiroki Kuroda and Sabathia have for the Yankees.
The questions about the Yankee lineup will remain, even with Teixeira and Youkilis back in it. It's hard to know how much to expect from Teixeira, coming off a significant wrist injury, and it's hard to feel that Youkilis can stay healthy enough to stay in the lineup with any regularity.
Meanwhile, there are no more big returns planned for anytime soon. The rest of the "A team," from Derek Jeter to Alex Rodriguez to Curtis Granderson, will remain on the DL for a while.
Even the best of Sabathia might not be enough to keep the surprising Yankee season afloat. But it's hard to imagine them winning with much less than that.
Before Friday, Sabathia had a 4.85 ERA for the month, and hadn't won in five May starts. Wins can obviously be overrated, but it's still notable that Sabathia hadn't gone six starts without a win in 10 years (and had never gone more than six).
"I understand why people might have cause for concern," Girardi said, which basically meant he had some cause for concern, too. "But a lot of times, when the weather warms up, he gets on a roll. This was the first warm night he's really pitched.
"For whatever reason, when it gets hot, he gets better."
He was better, without a doubt. In previous starts, Sabathia always seemed to leave the opponent with the feeling they could come back on him. Friday, everything about him suggested that he was in full control.
The numbers were great (10 strikeouts, no walks and just six hits in 7 1/3 innings). The radar-gun readings were good, with his best fastball of the year (94.35 mph, according to mlb.com's PitchFx) and his best average velocity (92.58, according to Brooks Baseball).
But the 94.35 was barely above where Sabathia topped out in his previous start (94.22). If it looked a lot harder to Girardi, it's probably just because the rest of Sabathia's game on this night said "ace."
The Yankees needed that, as much or more than they needed a few more recognizable names in the lineup.
From 1 to 25, the L.A. Dodgers have the squad to overcome the pitfalls of October baseball

After Tuesday night's win over the Cubs, the Dodgers are now 6-0 in the 2017 playoffs

Los Angeles beat Chicago once more in Game 3 of the NLCS in Chicago
The 2017 World Series begins Oct. 24

The Astros will need Dallas Keuchel and Justin Verlander to take the pressure off in Games...

Judge and Sanchez played huge roles in the Game 4 comeback