A five-out save? Two years ago, Koji Uehara couldn't even get five outs
Koji Uehara was so bad in the 2011 ALCS that the Rangers left him off their World Series roster. Now he's so good that if the Red Sox make the World Series, he'll be one of the biggest reasons.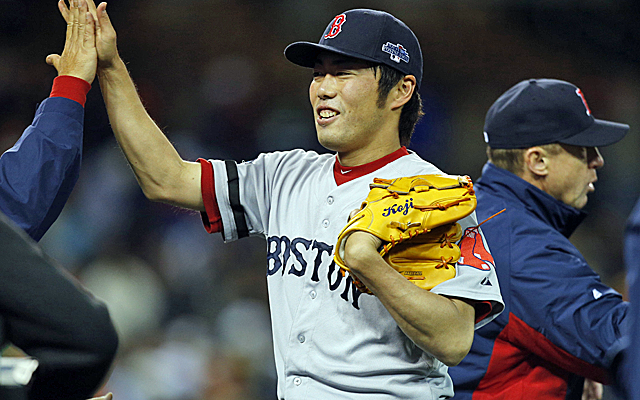 DETROIT -- Closers need short memories, so maybe Koji Uehara really has forgotten 2011.
I doubt he has. I wouldn't blame him if he's tried.
He pitched for the Rangers then, but he didn't pitch well. The Rangers left Comerica Park in the same spot the Red Sox did Thursday night -- heading home, up three games to two over the Tigers in the American League Championship Series -- but Uehara left Comerica in a totally different spot.
He was so bad then that when the Rangers made it to the World Series, they dropped him from the roster. He's so good now that if the Red Sox make it to the World Series, he'll be one of the biggest reasons.
In this Game 5, he did what Fredi Gonzalez wouldn't let Craig Kimbrel do, what no other closer in this entire postseason had done.
Koji Uehara got a five-out save!
The last time he was in the ALCS, he couldn't get five outs total, allowing two home runs in 1 1/3 innings and becoming a guy the Rangers didn't even want to use. This time, he has a four-out save and a five-out save, and he's the guy the Red Sox most want to use.
"There was a fan before the game yelling at [Red Sox starter Jon] Lester," catcher David Ross said. "He was saying, 'Start Koji.' Well, we'd have a pretty good shot if we did."
Given all the closers the Red Sox had this year before Uehara took the job in late June (Joel Hanrahan, Andrew Bailey, Andrew Miller), it wasn't exactly predictable that he would become as important as any closer in the playoffs. And given the way he performed two years ago at this stage, his success this week could tell a redemption tale appropriate for a team that went from 93 losses to 97 wins (and maybe to the World Series).
Good story, if only he could provide a few details.
"That's in the past," Uehara said through an interpreter. "So I've completely forgotten it."
Uehara is an emotional guy, and seems like a pleasant guy. When a reporter brought up his age (38), he looked over and said, in English, "Yeah, old."
Then he added (through the interpreter), "I feel like I'm in my 20s."
Why wouldn't he? He had a spectacular season with the Red Sox (his 0.565 WHIP was the lowest ever for a pitcher with at least 20 innings, and he pitched 74 1/3). He's having a great postseason (even though the one run he allowed came on Jose Lobaton's game-winning home run in Game 3 of the Division Series).
And while the entire Red Sox bullpen has been good (setup man Junichi Tazawa has twice been crucial against Miguel Cabrera), Uehara is the key guy.
He's the one that manager John Farrell trusted for the final five outs in Thursday's 4-3 Red Sox win, five outs that took Uehara just 27 pitches to get.
"He continues to be so efficient," Farrell said. "And in games here against the Tigers, it's been with his back against the wall, and he's been outstanding."
Uehara had gotten five outs in a game many times before, including four times for the Red Sox this season. But only one of those was in a save situation, and it wasn't with a one-run lead in a playoff game.
"Maybe it's the same five outs numbers-wise," he said. "But it's completely different."
When it was over, Uehara and Ross embraced.
"I just felt exhausted," Uehara said. "I'm too tired to even look back on it."
No need to look back, not on this week and certainly not at 2011.
Not now, not for Koji Uehara, not this time, not when there could be a World Series to look forward to.
The Astros scored seven runs in Game 6 after scoring nine runs total in Games 1-5

The Astros are still alive, and Justin Verlander is the reason why

With a six-run lead in the ninth, the Astros used closer Ken Giles for 23 pitches
On Saturday night in Houston, it'll be CC Sabathia against Morton

The ALCS will go the distance after all with the Astros offense coming back to life in Game...

Verlander's stuff was insane during Game 6 of the ALCS