A Game of Inches: How ALCS Game 6 was nearly very different
The Red Sox are going to World Series thanks to their Game 6 win, but the game could have very different at several different points.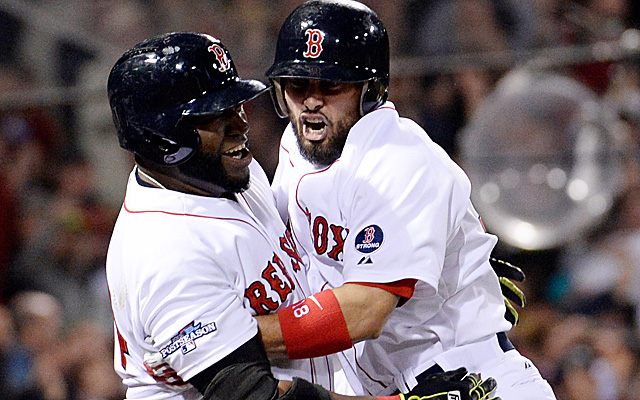 More ALCS: Game 6 quick hits | Game 6 grades | Eye on Photos
BOSTON -- I don't think there's a truer adage in sports than baseball being a game of inches. We see examples every game, every inning, every at-bat. It's uncanny. We see it when a pitch is poorly located, when a ball barely stays fair, when a throw is slightly off-line. Every single day, without fault, there's a reminder.
The whole game of inches idea was on full display multiple times in ALCS Game 6 on Saturday night. The Red Sox won the game 5-2 thanks to Shane Victorino's seventh inning grand slam, but the game could have been much different on several other occasions. You know, if the ball had been placed just a few inches differently.
THIRD INNING
Max Scherzer and Clay Buchholz were trading zeroes early in Game 6, but the Red Sox were threating to break through in the third inning after Xander Bogaerts and Jacoby Ellsbury started the inning with back-to-back walks. Victorino popped up a bunt attempt for the first out, but Dustin Pedroia and David Ortiz were still due to bat in the inning.
Pedroia, the 12th Red Sox batter of the game, was the first to swing at the first pitch. He clobbered Scherzer's mistake first pitch slider down the left field line and over the Green Monster, but the ball was foul by a matter of inches. Here, look:
Like I said, inches. Pedroia would go on to hit an inning-ending double play later in the at-bat to keep the game scoreless. That early in the game, a three-run homer off Scherzer would have been complete disaster for the Tigers. Instead, Detroit was still alive. (GIF via @BuzzFeedSports)
Tigers Win Expectancy At Start Of At-Bat: 40.3%
Tigers Win Expectancy At End Of At-Bat: 50.0%
Tigers Win Expectancy Had It Been A Three-Run Homer: 16.1%
Win Expectancy Swing: 33.9% in favor of Tigers
SEVENTH INNING
I don't think I'm alone in saying I thought the rookie Bogaerts consistently had the best at-bats of any player on either team in the ALCS. Every time you looked up the kid was laying off nasty slider and working the count full, which he did in each of his three at-bats in Game 6.
In the seventh inning, with one out and Jonny Gomes at second base following a leadoff double, Bogaerts took a nasty 3-2 changeup from Scherzer for ball four to put men at first and second for the top of the order. Here's that 3-2 pitch (GIF via handsome Dayn Perry):
If you don't trust FoxTrax, here is the PitchFX plot of the strike zone for that at-bat, courtesy of Brooks Baseball (pitch six is the pitch in question)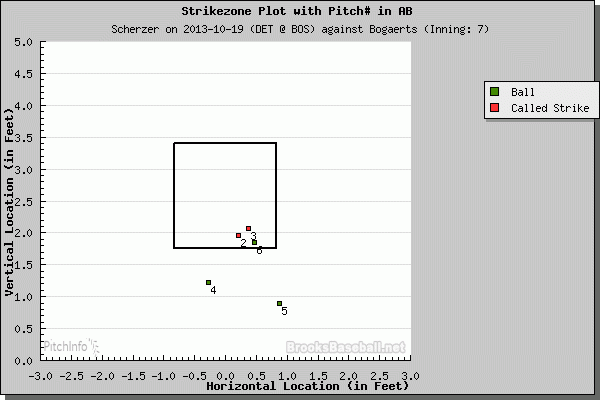 "Is it a strike? Probably. But it never gets called because the catcher is setting up inside and he has to reach across his body," said Scherzer after the game. "Umpires just never call that. That's just the way it goes sometimes. You've got to give him credit for taking that pitch, because that pitch is in the zone moving downwards."
That pitch could have very easily been called strike three and, based on the strike zone plot, it should have been called a strike. Instead, the call went to the ultra-impressive rookie and the Red Sox were set up for the big inning. Rather than having a man on second with two outs, they had men on first and second with one out.
Tigers Win Expectancy At Start Of At-Bat: 59.4%
Tigers Win Expectancy At End Of At-Bat: 55.6%
Tigers Win Expectancy Had It Been A Strikeout: 67.4%
Win Expectancy Swing: 11.8% in favor of Red Sox
SEVENTH INNING
After Bogaerts drew that walk, Jose Iglesias booted a hard-hit ground ball from Ellsbury to load the bases with one out. Iglesias is a defensive whiz, his glovework is the reason he's in the big leagues, but he couldn't make the play to get at least one out if not two to end the inning and the rally. He said after the game he believes it was hit hard enough to turn two.
The error brought Victorino to the plate with the sacks full, and he eventually jumped all over a hanging Jose Veras curveball for the go-ahead grand slam. This was not a bomb though, the ball scooted over the wall by a matter of -- you guessed it -- inches (GIF via Dayn):
That is only the third grand slam hit in an 0-2 count in 2013, joining the Tigers' Andy Dirks (off Bud Norris in May) and the Red Sox's Will Middlebrooks (off Roy Oswalt of the Rockies in September). Some neat symmetry there.
Anyway, that ball could have very easily been a two-run double instead of a grand slam, and although the Red Sox would have taken the lead anyway, those two extra runs were back-breakers. We're talking about being down one run versus being down three runs. Huge, huge difference. Victorino got just enough of the pitch to plate all four runs.
Tigers Win Expectancy At Start Of At-Bat: 43.7%
Tigers Win Expectancy At End Of At-Bat: 6.4%
Tigers Win Expectancy Had It Been A Two-Run Double: 39.8%
Win Expectancy Swing: 33.4% in favor of Red Sox