A look back at the 2012 spring training standings
Are you worried about the spring training standings right now? You shouldn't be.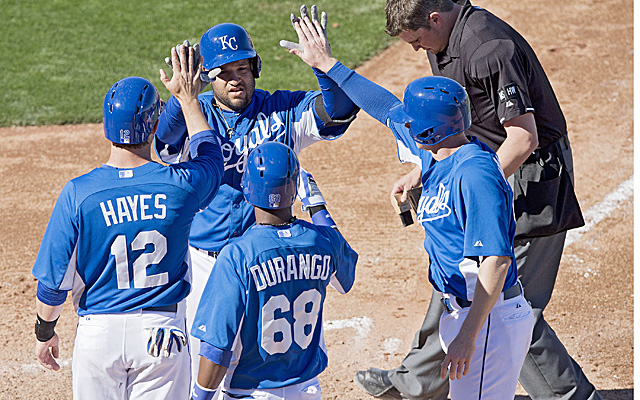 Spring Training Coverage: Spring training home page with Camp Tour | Live scoreboard
We're into March. And with the World Baseball Classic underway, all 30 big-league clubs have played either double-digits worth of games or will get there within the next day or two. And while the overwhelming majority of the public knows not to put much (or any) stock into the results of the spring training games, it's still a fun exercise to see if the spring records had any bearing on the standings last season.
As usual, they didn't.
Some teams were good in spring training and the regular season (A's, Tigers and Cardinals, to name three).
Some ballclubs were terrible in spring training and good in the regular season (Braves, Rangers and Nationals, to name three).
Some were good in the spring and not so good during the season (like the Blue Jays, Red Sox and Mariners).
And, of course, some teams were bad in the spring and the regular season (like the Indians and Mets).
Here is how last season's 10 playoff teams fared last spring, from best record to worst:
Tigers 20-8
A's 15-7
Cardinals 16-9
Yankees 18-12
Giants 18-15
Reds 15-17
Orioles 11-13
Nationals 12-17
Rangers 12-17
Braves 10-18
Some other anomalies: The Cubs (17-16), Rockies (17-15) and Twins (18-15) were above .500, the Astros (14-17) weren't awful and the Mariners (16-9) and Blue Jays (24-7) were awesome.
This happens every season. In 2011, only one of the top five teams in spring winning percentage -- the Brewers -- made the playoffs. The Giants, Royals, Rockies and Twins played over .600 ball in the spring and failed to varying degrees in the regular season. The eventual NL West champion Diamondbacks, on the other hand, were 12-25 in the spring.
To reiterate, we could do this with every season.
So when you see the Royals at 9-0, the Mariners at 10-1, the Reds at 2-10 and the Angels at 1-8 -- just to name a few -- in spring play in 2013, don't overreact. In fact, don't even react. No conclusions can be historically drawn from results in the spring. The only thing that we know is that they mean nothing.
Now, this doesn't mean to ignore everything. Injuries and how players respond to said injuries matters. Young players and how they perform while fighting for jobs is intriguing. A veteran player coming off a big-time down year (such as Adam Dunn's in 2011) should show signs that he has shaken off things mentally and physically. Pitcher velocity also starts to matter late in the spring.
But if you're a Rangers fan and worried about the 3-7 start, please back away from the keyboard. The record right now means nothing, just as it will mean nothing come March 31.
For more baseball news, rumors and analysis, follow @EyeOnBaseball on Twitter, subscribe to the RSS feed and "like" us on Facebook. Also, individually interact with us on Twitter: @MattSnyder27, @daynperry and @mikeaxisa.

Marcell Ozuna figures to be the next Marlins star on the move

Several relievers have signed in the last two days

Several teams are interested in the switch-hitting first baseman
Neshek and the Phillies are closing on a two-year contract

And the team that first drafted Cole is interested

This scout was SUPER into Jeter