'A lot of artistry about this boy': Branch Rickey scouts Drysdale in 1954
Here's the scouting report that Branch Rickey, then of the Pirates, filed regarding a young right-hander named Don Drysdale.
Via the most excellent John Thorn, official MLB historian, comes this 1954 scouting report filed by the luminous Branch Rickey, then baseball-ops boss of the Pirates. His subject? A 17-year-old right-hander out of Van Nuys, California, name of Don Drysdale ...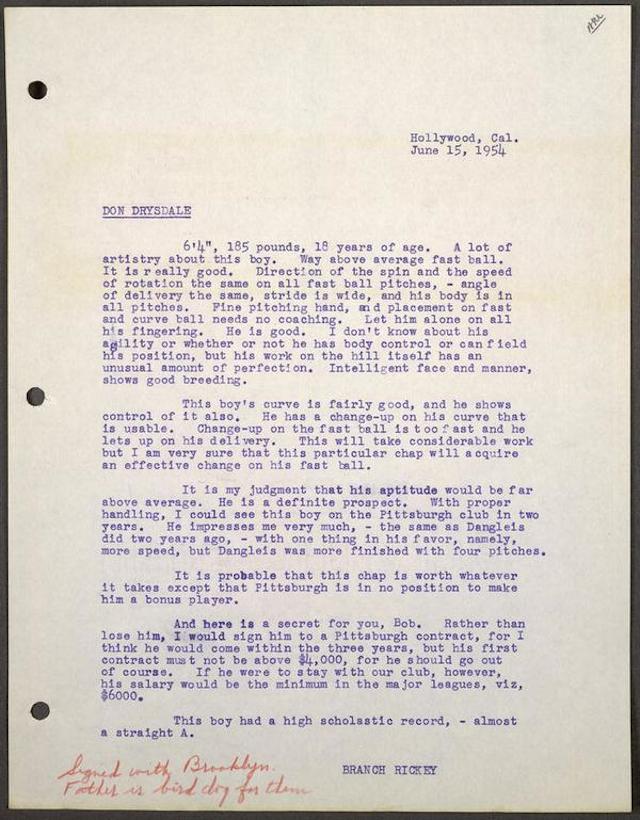 (Note: Contrary to the text, Drysdale was 17 at the date of this report.)
"A lot of artistry about this boy"! "Let him alone on all his fingering"! He's a "chap"! 
As the handwritten note reminds us, Drysdale eventually signed with the Dodgers, thanks in part to his father's steering him there. He went on to win 209 games, post a lifetime ERA of 2.95 and make the Hall of Fame in 1984. 
Branch Rickey, you see, was on to something. 
The World Series champions aren't complacent

Stanton swiped at his old team on his way out

Your one-stop shop for all things MLB Winter Meetings-related
Matt Harvey could be on his way out of New York

The Nationals are looking to improve on the edges of their roster

Ellsbury is due at least $68 million over the next three seasons