A mistake the Dodgers, and manager Don Mattingly, could not afford
Don Mattingly's decision to pinch run for Adrian Gonzalez in the eighth inning of a tie game looked wrong at the time, and didn't work. That's not good for a manager with questionable job security.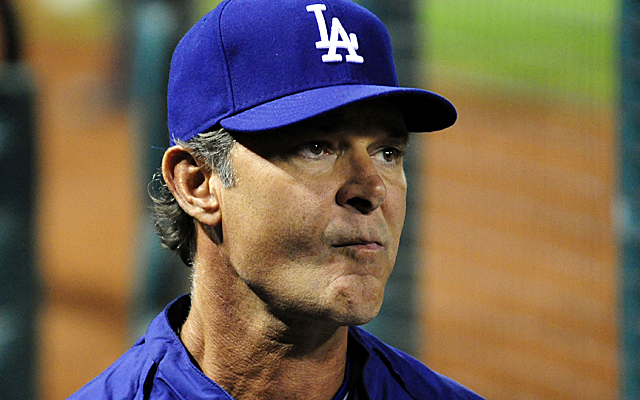 ST. LOUIS -- If the people running the Dodgers are still trying to judge Don Mattingly, this won't help.
Not this. Not a huge playoff game that the Dodgers lost, with a huge move that never should have been made and didn't end up working.
You can list all the reasons you want that the Dodgers lost 3-2 to the Cardinals Friday night, in a wild 13-inning thriller in Game 1 of the National League Championship Series. Not all of them are on Mattingly.
But one huge one is, and if the Dodgers don't come back and win this series, Mattingly's decision to pinch run for Adrian Gonzalez in the eighth inning of a tie game will live on as long as he manages the Dodgers.
Whether that's for days or years.
As colleague Jon Heyman detailed the other day, the people running the Dodgers keep saying that Mattingly's job is a "non-issue." They also keep avoiding doing the one thing that could make it a non-issue, either picking up his 2014 option or giving him a new long-term deal.
I'm not saying Mattingly will be fired for how he managed Friday's game. I'm not saying he should be.
I am saying that a manager without true job security can't afford games like this, games where too much of the focus is on what he did rather than on what his players did.
And that's exactly where the Dodger focus was Friday night and into early Saturday morning. That's exactly what everyone was screaming, right from the moment Mattingly sent Dee Gordon out to run for Gonzalez in the eighth inning of a 2-2 game.
It didn't help that Gordon never attempted a steal of second base, and that he was immediately erased on a force play. It didn't help that Gonzalez's cleanup spot came up two more times, in the 10th inning and again in the 12th, both with a runner in scoring position.
It didn't help that in both those instances, the situation called for Cardinals manager Mike Matheny to intentionally walk Hanley Ramirez to get to Michael Young, who was in Gonzalez's spot in the lineup. It didn't help that both times, Young hit into an inning-ending double play.
"Part of the game," Gonzalez would say, when asked about being pinch-run for.
"Part of the game," he would say again, this time with a hint of a grin, when asked about watching Young bat in that spot.
"The outcome is the only thing that matters," Gonzalez said.
So true. Had the Dodgers won Friday's game, Mattingly still would have been criticized, but the criticism wouldn't have mattered. If the Dodgers go on to win the NLCS, and especially if they win the World Series, Mattingly will be hailed as the man who led them there, even if he made some moves that flopped.
Mattingly talked after the game about how "you've got to shoot your bullet when you get a chance." He mentioned that if Yasiel Puig had doubled into the gap and Gonzalez had to stop at third and was stranded there, someone would no doubt ask why he didn't pinch run.
He's right that someone would have asked. He's still wrong that his move was the right one.
"We can look back on every decision," Mattingly said. "If it doesn't work, you can decide to go the other way. But we're trying to win a game, and that's why we used Dee."
That's also why he had Mark Ellis bunt in the 12th inning, another move that seemed wrong at the time -- and didn't work. Carl Crawford had led off the inning with a single, but by having Ellis bunt him to second, Mattingly invited Matheny to take the bat out of Ramirez's hands -- and set up Young's double-play grounder.
It was all so predictable. You probably saw it coming, and so did I.
And Don Mattingly was still saying he was comfortable with his call.
"You get a guy on in that inning, you have to take a shot at scoring him," Mattingly said.
You have to take a shot, but it can't be by taking the bat out of the hands of maybe your two best hitters. Not in a tie game.
It can't happen, but it did.
In the last two votes, Clemens has gained nearly 17 percent in Hall of Fame voting

The results of the BBWAA Hall of Fame vote are revealed Wednesday, Jan. 24

Does the Jackson signing mean the Giants are out on Lorenzo Cain?
Acuna edged out Shohei Ohtani and Vladimir Guerrero Jr.

There's no reason to run over the cases for and against Bonds, so let's have fun instead

The coveted right-hander would certainly be a fit in Milwaukee