A new season brings hope for all 30 MLB teams
Pitchers and catchers have now reported to camp for all 30 MLB clubs, so let's take a stroll around the league and provide an example of hope for each team.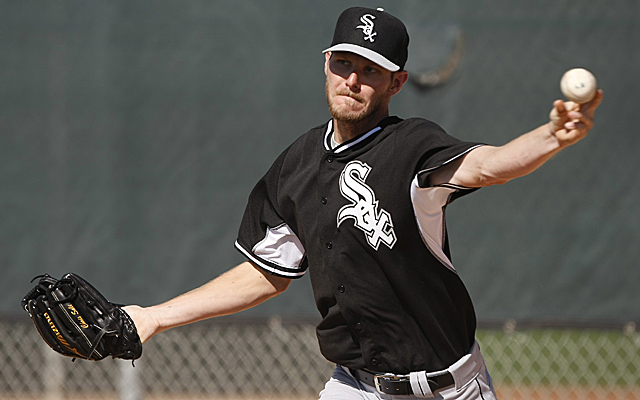 MORE: FA tracker: position players | FA tracker: pitchers
My calendar shows February 16. If we head on over to our handy list of reporting dates, that shows me that every single Major League Baseball team has now had pitchers and catchers report to camp.
So spring training is officially upon us, which means it's time for me to cite my annual refrain that this is a time for hope.
Remember, Red, hope is a good thing. Maybe the best of things. And no good thing ever dies.
- Andy Dufresne
As we come off a season in which the Pirates made the playoffs with their first winning record since the Bush administration (the first one) and the Red Sox went from last place to a World Series championship, this rings especially true. No matter which team you cheer for, you are entitled to hope right now.
In fact, I'll give you a little kick-start here in the form of just one reason for each of the 30 fan bases to be hopeful for the 2014 season -- in reverse order of last season's league-wide standings. Obviously this isn't an exhaustive list for most of the teams. It is, as I said, a simple kick-start.
Dexter Fowler, Jose Altuve and Jason Castro form an exciting offensive core and Mark Appel will be with the big-league club soon.
The easy answer would be to simply list Giancarlo Stanton and Jose Fernandez, but going deeper gives us Christian Yelich, Jacob Turner, Nate Eovaldi and more. The young core is very solid here.
Adam Eaton and Jose Abreu will inject some life into the offense. Oh, and Chris Sale's presence alone is worthy of celebration. 
I'm fully on board with bounce-backs from Anthony Rizzo and Starlin Castro while the wait for Javier Baez's arrival is a huge reason for hope.
Joe Mauer's head should be safer and the starting pitching isn't embarrassing anymore.
Obvious? Yes, but it matters: They now have a marquee, middle-of-the-order bat in Robinson Cano.
It appears Ryan Howard, Chase Utley and Jimmy Rollins are all entering the season uninjured. In fact, the entire offense is unscathed thus far, which is quite a departure from years' past.
Quality veteran newcomers like Bartolo Colon and Curtis Granderson mesh well with developing up-and-comers Travis d'Arnaud and Zack Wheeler. There's talent here.
The offense can be as powerful as any in the bigs. Keep a particular watchful eye on Brett Lawrie, as he's primed for a breakout season.
I've already given my thoughts on reasons for optimism here.
We've seen the glove, now it's time for Nolan Arenado to show his skills with the bat, joining Troy Tulowitzki to form a stellar left side of the infield.
The candidates to exceed expectations here are plentiful: Everth Cabrera, Yonder Alonso, Jedd Gyorko, Ian Kennedy, Josh Johnson, Andrew Cashner, etc. Lots of upside in San Diego this year.
Win the World Series in 2010, miss the playoffs in 2011, win the World Series in 2012, miss the playoffs in 2013 ... it's a pattern, right?
Bounce-back seasons from Albert Pujols, Josh Hamilton and Jered Weaver get this team right back in contention.
Bronson Arroyo has led the NL in home runs allowed in two of the past three seasons, and he now escapes homer-friendly Great American Ball Park for the more-neutral homer yard that is Chase Field. He's good for 200 innings every single season, and now his home runs allowed will drop.
This is the year Kevin Gausman breaks through as a legitimate frontline starter.
Lyle Overbay, Vernon Wells and Jayson Nix combined for 1,247 plate appearances, CC Sabathia led the majors in earned runs allowed -- things can't be worse than that -- and the team still won 85 games last season.
The lineup is more well-rounded and it's time for Mike Moustakas to make good on his offensive potential. The next step forward marks the end of the longest playoff drought in the majors. 
After Aug. 7 last season, the Nationals were 32-16, which was good for the best record in the majors. They'll pick right up where they left off.
Run, Billy, run!
Runner-up no more, Yu Darvish wins the Cy Young this season.
They appear to be holding onto David Price, which means they're still one of the best teams in the AL.
The Tribe had 22 blown saves last season, but that's going to decrease now as John Axford solidifies the back-end of the bullpen.
Take the team that went 67-28 after it woke up from an early-season slumber and add in a healthy Matt Kemp. Hello, L.A.
Guess who is going to bounce-back from a (still pretty great) down year and again pitch as a legitimate staff ace? Justin Verlander.
What can Gerrit Cole do in his first full season? I'm definitely excited for that.
Speaking of which, let's throw Sonny Gray in with Cole.
They won 96 games last season with the B.J. Upton and Dan Uggla black holes in the lineup. Those two can't possibly be that bad again. No chance. (Right?)
In addition to many other reasons for optimism, they're getting Jason Motte back. That's a scary-good bullpen.
Guess who has the highest-projected team WAR this coming season? Yep, the champs.
---
Go ahead and add in as many reasons as you want for your favorite team, hoping that 2014 is a World Series championship year. Don't let anyone tell you otherwise, because it's a fresh start -- and hope is a good thing.
Marcell Ozuna figures to be the next Marlins star on the move

Several relievers have signed in the last two days

Several teams are interested in the switch-hitting first baseman
Neshek and the Phillies are closing on a two-year contract

And the team that first drafted Cole is interested

This scout was SUPER into Jeter