A-Rod amends lawsuit against MLB, calls Selig's actions 'cowardly'
Alex Rodriguez's lawsuit against MLB for his 211-game suspension has been added to, and it now accuses commissioner Bud Selig of acting in a 'cowardly' manner.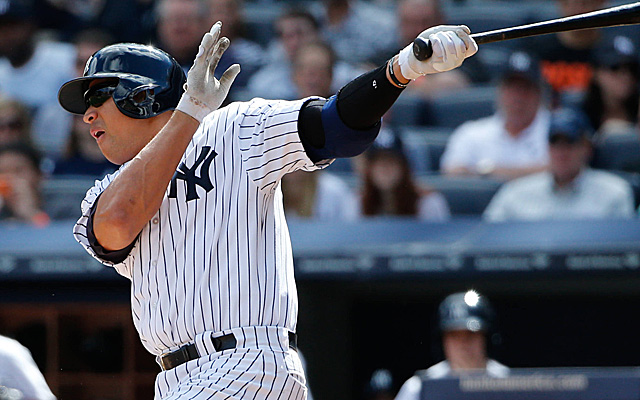 A-Rod storms out of appeal hearing, calls it a farce | Defends himself on Francesa show
The attorneys of embattled Yankees third baseman Alex Rodriguez have amended their lawsuit on his behalf against Major League Baseball, with the juicy part being the accusation of cowardice regarding MLB commissioner Bud Selig.
The attorneys filed a 33-page amended complaint in federal court Tuesday, which expanded upon the original complaint from Oct. 3 -- stemming from MLB's suspension of A-Rod for 211 games. The suit stems from A-Rod's belief that MLB conducted a "witch hunt" against him, as the other players connected to the Biogenesis scandal received either 50- or 65-game suspensions.
From the complaint, via Associated Press:
"Mr. Selig chose to hide in his office in Milwaukee rather than come testify at the grievance hearing in New York. In Mr. Selig's world, apparently the 'buck' does not stop with Bud. Mr. Selig lacked the courage of his convictions to explain under oath the reasons for the suspension and the conduct of his investigators. His silence on these issues speaks volumes and leads to only one logical conclusion -- his actions, and those of the MLB personnel he controls, were aimed at destroying the reputation, career and business prospects of Alex Rodriguez."

--snip--

"Sadly, this cowardly stance by Mr. Selig is consistent with his past and highly inappropriate conduct in posing, smilingly, with a young fan wearing a T-shirt with a derogatory message directed at Mr. Rodriguez. One cannot imagine the Commissioner of any other professional sport -- or indeed the CEO of any business -- doing something similar with respect to one of his or her players or employees."
The shirt in question? Here it is, thanks to deadspin.com posting it:
A-Rod's lawyers are working to have the lawsuit heard in state court while MLB is pushing for it to be heard in federal court.
In the meantime, in terms of the 211-game suspension, it's a waiting game.
The Pirates recently shipped Gerrit Cole and Andrew McCutchen to Houston and San Francisco,...

Surely, Martinez and his agent are holding out for more

The reliever had a very good 2017 season with the NL Central champs
We don't need to discuss Chipper's Hall of Fame case, so let's have fun instead

Dioner Navarro still hopes to return someday

Christian Yelich's agent says his client's relationship with Marlins is 'irretrievably bro...