A-Rod drops silly lawsuit, setting up a very intriguing spring training
Alex Rodriguez will give it a shot next spring, and the Yankees will surely let him try. Does he have anything left? Is he even working out?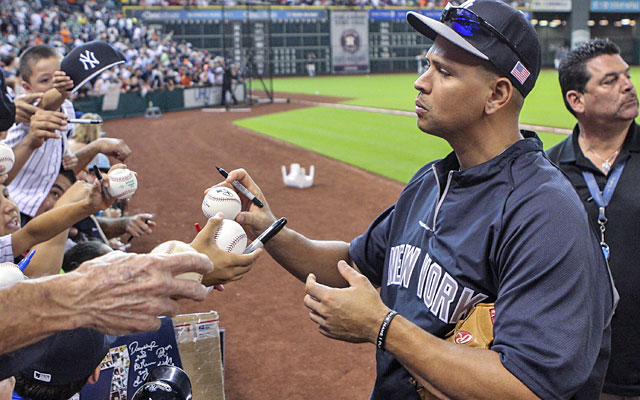 More MLB: Power Rankings | Expert Picks | Latest news & notes | Fantasy news
There's little doubt now where the most interesting spring training site will be next year. Alex Rodriguez just clinched that for the Yankees on Friday by dropping his lawsuit against Yankees team doctor Chris Ahmad.
Now it has become clear A-Rod will try to come back for the Yankees, and guess what, word is, the Yankees will let him give it a try.
"He has full intentions on playing in 2015," A-Rod spokesman Ron Berkowitz said Friday afternoon. (Reached on Thursday, Rodriguez said he is leaving the comments to Berkowitz for now.)
The Yankees haven't said anything yet, but really, they have no choice but to let him back on the field.
For one, their infield as it stands is thin, brittle and not too young, and the retirement of A-Rod's famed frenemy Derek Jeter, the amazing Yankees icon, clears a little extra space.
For another, the Yankees don't have a starting third baseman lined up.
Lastly, it would be financial idiocy to simply cut A-Rod. The Yankees stand to collect squat of the remaining $61 million if they don't at least let him give it a go. Whereas, if he can't physically make it, they may get back as much as 80-plus percent of the remaining monies via their big insurance policy.
Like the rest of America, Yankees people probably wonder whether Rodriguez, as talented as he is, has any shot to contribute. Like the rest of us, they read the Biogenesis papers, and let's just say he appeared to do quite a bit of extracurriculars to keep it going as an above-average producer the past few years.
Now, after a season off in the year he is turning 40, and with the two repaired hips, it's quite a mystery what he may produce. He was a real talent at one time, maybe one of the best two or three talents of the past half century, but that's a lot to ask and wonder about, even for him.
A-Rod has seemingly gone underground these few months away, so we don't know what kind of shape he's in. We know he is tending to his business, and we read he was flying to Omaha to attend Warren Buffet's conference. But we haven't seen or heard anything about him working out. Maybe he has done it in quiet, and we just haven't heard about it.
Beyond all that talent, A-Rod always was a great worker, so maybe he has a miracle left in him. It will be interesting to find out.
The lawsuit would have made a sticky situation incredibly uncomfortable. Now with A-Rod no longer in litigation with his employer, it will only be very uncomfortable around Yankees camp, which at least makes for great intrigue.
The lawsuit never made much sense, anyway, as it never seemed believable the Yankees and/or their esteemed doctor were in cahoots conspiring against A-Rod even before MLB's arbitrator made it clear who he felt was to blame for this mess with his ruling for the season-long suspension. A-Rod is a conspiracy theorist, and he bats nowhere near 1.000 in that endeavor.
Some may and will speculate that A-Rod also might not have wanted to open himself up for questions about the Tony Galea episode in his life. But let's just assume maybe A-Rod is doing the smart and right thing now. It's possible that was the impetus.
America loves a comeback story, and maybe A-Rod can write an improbable one. At least now, this guarantees him the opportunity to try.
"All legal matters have been resolved," Berkowitz said.
Now comes the interesting part. We will find out next February and March whether a clean and almost-40 A-Rod is still a major-league ballplayer.