A-Rod miffed at being named, hopes MLB follows PED rules; not talking
In a statement, Alex Rodriguez notes he is unhappy about being named in the media, and hopes MLB will follow the proper procedures according to what's laid out in the Joint Drug Agreement.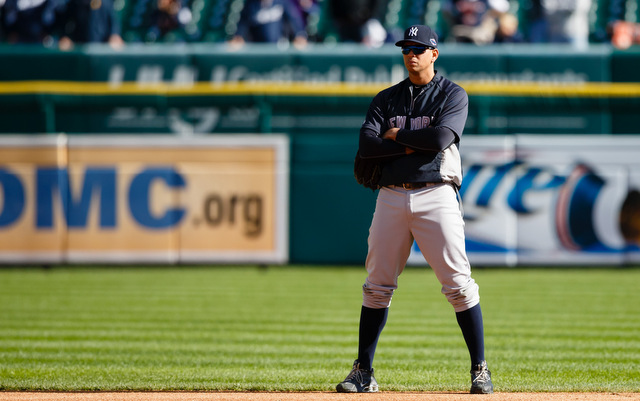 More MLB: Scoreboard | Standings | Probable Pitchers | Sortable Stats | Odds
Two days ago we learned Anthony Bosch, the chief at the South Florida anti-aging clinic Biogenesis, had an agreement to assist MLB in its investigation into performance-enhancing drugs in the region. The league is said to be seeking suspensions for approximately 20 players, including Alex Rodriguez of the Yankees.
The players union responded on Wednesday by saying it has "every interest in both defending the rights of players and in defending the integrity of our joint program" in a statement. On Thursday, A-Rod released a statement of his own:
"Myself and others are being mentioned in a media report before the process is even concluded. I would hope this thing would follow the guidelines of our Basic Agreement. I will monitor the situation and comment when appropriate. As I have said previously, I am working out every day to get back on the field and help the Yankees win a championship. I am down here doing my job and working hard and will continue to do so until I'm back playing."
Between MLB reportedly allowing some of the player's names to reach the media, and Bosch trying to extort A-Rod before agreeing to cooperate with the investigation, this whole thing is becoming one giant mess. There are a lot of reasons to be skeptical about how the investigation is going down, and you wonder if the shady nature of these dealings will leave MLB looking more like unscrupulous wheelers and dealers and less like heroic defenders of baseball's integrity.
The Nats will host the All-Star Game in 2018

The Orioles are looking to trade Machado heading into his walk year

The Cardinals have been linked for a while to the Baltimore star
Gallardo spent the first eight years of his career in Milwaukee

MLB revenues are at a record high right now, but teams aren't spending it on players

Chicago added Tyler Chatwood earlier this offseason but might not be done adding to the ro...