A-Rod on trusting the Yankees: 'I'd rather not get into that'
The Alex Rodriguez saga continued on Thursday afternoon, when the embattled third baseman ducked a question about trusting the team.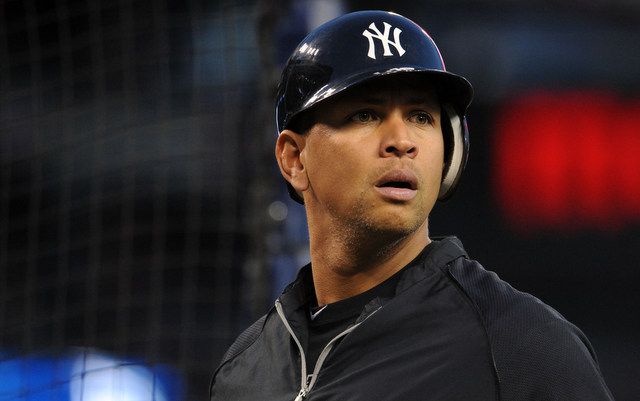 More: A-Rod: Let me play | A-Rod won't return before August | Heyman: A-Rod likely to be suspended
The odd story of Alex Rodriguez took another unexpected turn on Thursday afternoon. During a radio interview with Mike Francesa on WFAN, the embattled third baseman declined to respond to a question about whether he trusts the Yankees. The audio is here.
"I'd rather not get into that," said Rodriguez when asked flatly if he trusts the Yankees. "I'm just frustrated I'm not going to be on the field tomorrow. I'll leave it at that."
A-Rod, 37, received a third opinion on his injured quad earlier on Thursday, and afterwards he discussed the next step with team officials on a conference call. Rodriguez's lawyer was also on the call, which is not common, to say the least.
"I just want to make sure everything is documented properly," said A-Rod when asked why his lawyer was on the call. "I know there were reports out there that I didn't ask for permission [to get a second opinion], but actually on Tuesday night I had a conversation with [team president Randy Levine] and told him that I was going to get a second opinion. I wanted to be very clear on that. That's it, I just want to make sure everything is properly documented so there are no more mix ups."
Rodriguez confirmed the team gave him two rehab options: a five-day plan and a seven-day plan. He took the five-day plan for obvious reasons -- he wants to get back on the field as soon as possible. A-Rod said he made it clear to the team that he feels healthy and ready to play as soon as Friday.
Between this very public feud with the Yankees and the ongoing Biogenesis investigation, the Alex Rodriguez saga has definitely taken a turn for the weird recently.
Stanton warned Marlins fans about the lean years that are forthcoming

The World Series champions aren't complacent

Stanton swiped at his old team on his way out
Your one-stop shop for all things MLB Winter Meetings-related

Matt Harvey could be on his way out of New York

The Nationals are looking to improve on the edges of their roster