A-Rod on Yankees: 'I'll be back'
Whether or not the Yankees want to trade Alex Rodriguez, and whether or not anyone wants to trade for him, no trade happens unless he says yes. As the Yankees season ended in disaster Thursday in Detroit, A-Rod insisted that he'll be back in 2013.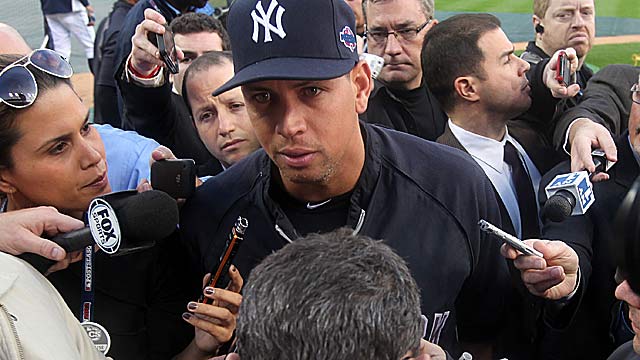 Alex Rodriguez will have to say yes before the Yankees can trade him.
(US Presswire)
DETROIT -- Remember this about any possible Alex Rodriguez trade:

It doesn't just take two sides to make a deal. It takes three.

It doesn't just take the Yankees wanting to dump him and another team standing ready to take him. It takes A-Rod saying yes.

If you believe what he says, he won't.

He was asked the question repeatedly in the wake of the Yankees' sweep-ending 8-1 loss to the Tigers on Thursday.


More playoff coverage
ALCS: Tigers vs. Yankees
NLCS: Cardinals vs. Giants
He said several times that he "plans" to come back, which could be taken either way. He said several times that he loves the Yankees and that he loves New York, which could mean a lot or could mean nothing.

Finally, the question was asked in a way where it was harder for A-Rod to equivocate.

Was he saying he's going to be a Yankee in 2013?

"That's correct," Rodriguez said. "I will be back. And I will be on a mission."

Rodriguez also said he will "come back with a vengeance." He referenced the disappointment of the 2006 playoffs (the one that ended with him batting eighth), and his recovery in 2007, when he won the MVP for a third time.

Of course, he was 31 then, and coming off a year in which he hit 31 home runs and drove in 121 runs. He's 37 now, coming off a regular season in which his slugging percentage fell to .430, the lowest since his teenage years.

In his final 107 plate appearances, dating back to the middle of September, A-Rod managed just one extra-base hit, a double off Clayton Mortensen of the Red Sox on the final day of the regular season.

In the postseason, he showed a complete inability to hit right-handed pitching (or even to put the ball in play). He was benched three times and pinch-hit for three other times.

Do the Yankees want him back? The company line is that they do.

"I expect Alex to be here," general manager Brian Cashman said. "I expect Alex to come back and be our third baseman. I don't think what happened [the last two weeks] is reflective of Alex's abilities.

"I fully expect Alex to be here."

Cashman no doubt understands that it won't be easy to move A-Rod, even if he wants to. CBSSports.com's Jon Heyman reported Thursday that as of now, the Marlins and Dodgers (two teams that are logical landing spots) aren't interested.

And even if they were, A-Rod can't be dealt unless he says yes. As a 10-5 player (10 years in the big leagues, the last five with the same team), he has complete veto power over any deal.

As with everything Rodriguez says, you can choose to believe it or not believe it.

Just remember, this is what he said: "I will be back."
Where might the Orioles third baseman land?

Kinsler will slot in at second base for the Angels

The Marlins got a better return for Ozuna than Stanton or Gordon
The two teams are going about things in very different ways

The Marlins are indeed in teardown mode under new ownership

The Marlins still have more attractive pieces