A-Rod plans appeal of 211-game ban; others to accept suspensions
Alex Rodriguez is expected to appeal his suspension in the Biogenesis case and play Monday night in Chicago.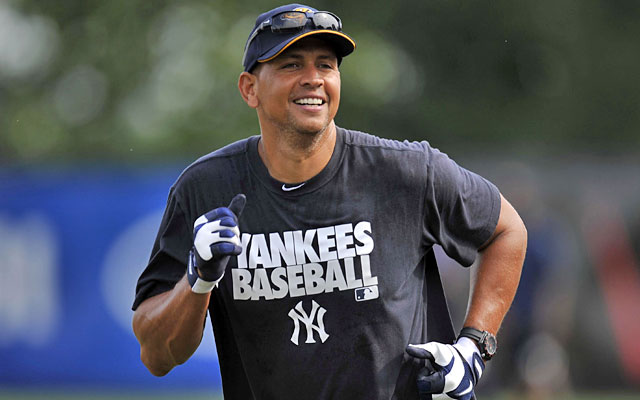 Alex Rodriguez plans to appeal a 211-game drug suspension related to the Biogenesis case and play Monday night for the Yankees against the White Sox, according to people involved the case. He will be the only one of the 13 players to appeal.
While a couple of Biogenesis-linked players suggested behind closed doors they were seriously considering appeal, none will be joining A-Rod in appealing his suspension.
Rangers outfielder Nelson Cruz will not appeal after some earlier reports suggested he might. He is said to have received encouragement to possibly appeal from some teammates who are concerned about their pennant push, but he must have understood it would be difficult to fight this case. At the same time, Cruz has fired his longtime Brooklyn-based agent, ACES (the Levinson brothers), who represented many of the Biogenesis-linked players, and hired another veteran agent, Adam Katz.
Rodriguez was announced as suspended through the 2014 season for what is described as "massive violations" of the baseball's Joint Drug Agreement. The other players all received 50-game bans, which will contain their penalty within the 2013 season.
Rodriguez has told people he doesn't believe he deserves a ban for more than the 50 games the others are receiving since he has never previously been suspended, and further suggested he deserves "less than [Ryan] Braun," referring to the Brewers star who agreed to a 65-game ban in the case.
The evidence is said to suggest Rodriguez bought or used steroids in 2010, '11 and '12. However, all of it will be heard at a hearing certainly within 20 days; the JDA actually calls for the "panel to convene a hearing as soon as practicable and, absent good cause show, no later than 10 days after grievance is filed.'' With only one case presumably to be heard, perhaps the hearing could be expedited.
Baseball's arbitrator, Fredric Horowitz, will then have 25 days to render a verdict.
MLB made the announcement Monday afternoon, though it didn't lay out its case against Rodriguez. Word is that there's corroborating evidence, including texts, well beyond the testimony of former Biogenesis proprietor Tony Bosch.
The nine other players suspended are Cruz, Tigers shortstop Jhonny Peralta, Mariners catcher Jesus Montero, Padres shortstop Everth Cabrera and Yankees catcher Francisco Cervelli, plus minor leaguers Fernando Martinez, Jordan Norberto, Fautino de los Santos and Cesar Puello.
Three other players have been expected to be on the suspended list, and they were confirmed Monday afternoon to be Phillies reliever Antonio Bastardo, Mets outfielder Jordany Valdespin and Astros reliever Sergio Escalona. Bartolo Colon, Melky Cabrera or Yasmani Grandal are linked to Biogenesis but considered to have served their time with their past suspensions.
Rodriguez will be eligible to play while on appeal, which could take up to three weeks according to the drug agreement. Yankees manager Joe Girardi told reporters Sunday that A-Rod was being penciled into the lineup Monday night.
"It's going to be a circus," one Yankees person predicted.
Major League Baseball's war against paying minor-leaguers a livable wage continues

Phelps is the third Mariners pitcher in the past year to suffer a serious injury soon after...

Manager Ned Yost made some comments that were misinterpreted
Or the plaque of any other Indians player going forward, for that matter

Murphy hasn't even started running on the field yet following offseason knee surgery

A closer look at the teams in the Cactus League and Grapefruit League