A-Rod sees return to Yankees as 'year of opportunity'
After staying away from the Yankees all spring, Alex Rodriguez said he's confident he'll return, and that he's not concerned about an MLB investigation into the Biogenesis clinic.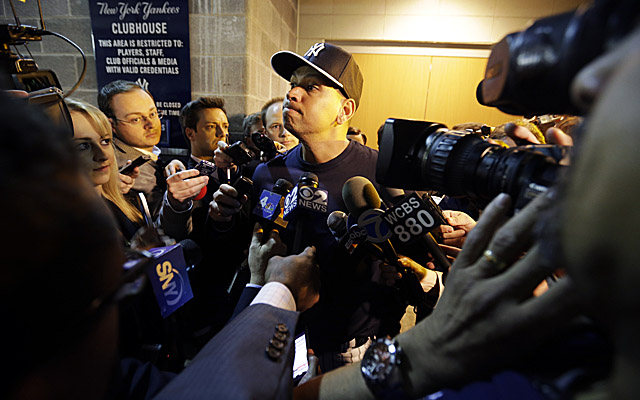 NEW YORK -- Everything will be fine, Alex Rodriguez said.
Everything will be just fine. He'll be back with the New York Yankees, playing at a high level. He's not concerned that Major League Baseball might suspend him for his involvement with the Biogenisis clinic. He'll be back at Yankee Stadium, and everything will be just fine.
Who knows if that will ever be true? Who knows if A-Rod even believes it now?
All spring, Rodriguez stayed away from the Yankees. On opening day, he returned.
You had to look carefully to see him. Unlike his injured teammate, Mark Teixeira, Rodriguez wasn't part of the pregame introductions.
"When I get introduced, I want to be on the field [playing]," Rodriguez said.
He can't play now, because of a second hip surgery. It's still far from clear when he'll be able to play and whether he'll ever play at anything near the level that he once did.
But Rodriguez remains under contract, for this season and for four more seasons after this one.
He's not going away, not yet.
"This is a year of opportunity for our team and a year of opportunity for me," he said. "I love when people say, 'You can't do this' or 'You can't do that.'"
To the media specifically, A-Rod added, "[I]t's a great challenge to prove all you guys wrong."
Actually, Alex, nobody says all that much about you at all these days. Although it is true that whatever is said isn't very kind.
Most of the time that his name does come up, it's in some relation to Biogenisis and MLB's desire to get something on him.
"At some point, I feel everything will be good," A-Rod said.
Everything will be fine, he said. You can choose to believe him or not.
Gonzalez was reportedly killed in a car crash in Cuba

Our Black Friday FA shopping guide includes a starting pitcher, slugger, super sub, and re...

Get 15 percent off any order of more than $75 at CBS Sports Shop
Need a gift for someone who loves baseball? We're here to help as the holidays approach

Several prominent Japanese-born Mariners and ex-Mariners have said they will help as well

Get your sports fans something that they'll wear all year