A wild-card sellout, but can Indians really bring their fans back?
The Indians once sold out 455 consecutive games, but attendance is a problem now. Will a wild-card appearance (and a home playoff sellout) help change that?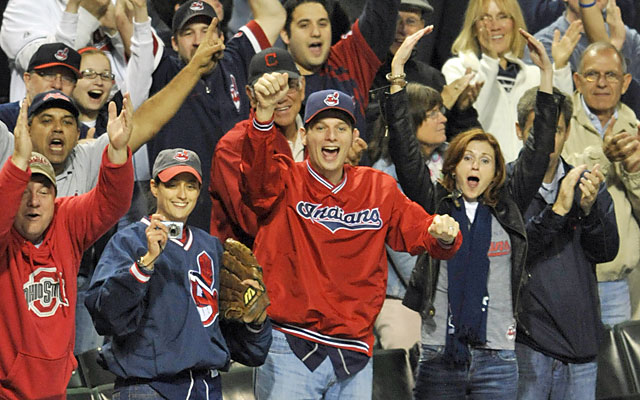 In the schedule the Indians sent out Tuesday morning, they felt a need to note that their workout Tuesday night was "not open to the public."
If it were, would anyone show up?
Sorry, that's a cheap shot.
The Indians do have plenty of fans, and they'll prove it again Wednesday when they fill every available spot in Progressive Field for the American League wild-card game against the Rays. Some of us may have been wondering if the Indians could sell out a playoff game, but the fact is that all the tickets were gone soon after the Indians clinched their spot.
The fact is that the Indians' strong and surprising season helped them lift their television ratings by almost 40 percent, and their radio ratings by a similar amount.
"Interest is not an issue," club president Mark Shapiro said.
But attendance still is.
Only the two Florida teams drew fewer fans than the Indians this year. Even in September, with the Indians fighting for a playoff spot, there were two nights where the Indians didn't crack 10,000 in announced attendance.
The Indians' full-season attendance of 1,572,926 was actually down a tick from last season.
And the streak of 455 consecutive sellouts, a major-league record at the time, feels like it ended a lot more than just 12 years ago.
The Indians led all of baseball in attendance in 2000. Just three years later, the average crowd had fallen by 50 percent, and Indians' attendance ranked 12th in the then 14-team American League.
It really hasn't recovered, even when the Indians came within one win of getting to the World Series in 2007.
There are reasons, for sure. The Browns returned to the NFL, after a four-year absence. The Ohio economy took a big hit during the recession. Cleveland has few downtown residents, and fewer large companies than even a mid-sized MLB market like Minnesota.
Still, they filled the ballpark before, for more than five years in a row. There's no reason the attendance there should be this bad.
The Indians would agree with that. When Shapiro turn general manager duties over to Chris Antonetti and took over as club president, he said that one of his big goals was to find ways to increase revenue.
The Indians actually did that this year. They cut back sharply on the number of free and heavily discounted tickets, so even with a lower announced attendance, they brought in more money. They also reestablished the value of their tickets.
The Indians also put in a variable pricing plan, giving fans discounts if they buy tickets ahead of time. The hope is that this season's success can lead to increased season-ticket sales (even on partial-season plans) this winter.
There's more hope than there is with the Rays, whose fans have already proven that they won't show up in large numbers at Tropicana Field, no matter how much the team wins and no matter what the organization does to make the experience better. The Indians don't necessarily think they can get back to selling out every game, but they do believe they can see significant improvement.
"I know where we're at in attendance, but I think it's getting better," manager Terry Francona said. "And the people there are enjoying themselves. I think one think I said when I was hired was that I hoped to make Cleveland Indians fans proud.
"I think that's what we're doing."
There's little doubt that's what they're doing. The quick sellout for the wild-card game proves not only that Indians fans still exist, but also that they're still willing to buy tickets and show up at the park.
Then again, the Cleveland fans showed up for playoff games in 2007, too. And then regular-season attendance fell in 2008.
Indians fans still show up in October. Had the Indians opened the gates for Tuesday's workout, the crowd might have been big.
Maybe bigger than for some Indians games in September.
Sorry, cheap shot.
Get your sports fans something that they'll wear all year

Get 15 percent off any order of more than $75 at CBS Sports Shop

The Twins need help in the rotation, and they may look to the trade market to find arms
Here are the bullet-points of what went down Tuesday regarding MLB and the Braves' punishm...

The owners need to ratify on the new system in place, but the takeaway here is Ohtani is coming...

A preliminary report National Transportation Safety Board has shined some light on details...