A wish list for next MLB commissioner Rob Manfred
Here are nine things we think the new MLB commissioner, Rob Manfred, should prioritize when he takes over in 2015.
More: Rob Manfred elected next MLB commissioner
Congratulations, Rob Manfred, you are soon to become the next commissioner of Major League Baseball, a job that carries a significant salary, tons of public attention and gobs of fan venom -- deserved or not.
Manfred takes over a very healthy business, as MLB is closing in on a $10 billion in annual revenues with regional TV ratings exploding and six of the 10 highest attendance seasons in history coming in the past decade.
That won't stop people far beneath Manfred's stature from telling him how to do his job. Just for fun, I'll start.
Here are my nine (because baseball!) top priorities if I were in Manfred's shoes, listed in order of importance.
1. Continue labor peace: This should be self-explanatory. Baseball has avoided major issues for almost 20 years now. The current CBA expires on Dec. 1, 2016, so we aren't far away from Manfred's first huge test.
2. Leave the salary structure as it is: It's working, guys. My buddy Dayn Perry outlined why a salary cap isn't good this past winter and it still holds true. Heading into Thursday night's action, here are the payroll rankings of the teams holding playoff spots: 14, 18, 27, 10, 4, 7, 15, 1, 13, 26. The only correlation there is that there isn't one. There's no reason to fix something that isn't broken. As for something that is broken ...
3. Rule 7.13: Unnecessary collisions at home plate were becoming increasingly more prevalent and dangerous in recent years and something needed to be done, but the application of the new rule this season has been a disaster at several different points in time. The thing is, the rule starts out pretty well. Here's a summary of the first part:
A runner attempting to score may not deviate from his direct pathway to the plate in order to initiate contact with the catcher (or other player covering home plate). If, in the judgment of the Umpire, a runner attempting to score initiates contact with the catcher (or other player covering home plate) in such a manner, the Umpire shall declare the runner out (even if the player covering home plate loses possession of the ball).
STOP! We're good now, really.
Seriously, just stop right there. Slash the second half of the rule and burn it. If the catcher is in the way with the ball or without the ball, he's taking the risk of getting bowled over. If the catcher isn't in the way and some meathead wants to try and unnecessarily crush him, said meathead is called out and it hurts his team. I would even be for an ejection and suspension. My bet is that this threat alone would cause many players to adopt the hook slide at home plate instead of trying to hit the catcher while wholly unnecessary. It also eliminates nitpicky safe calls when the player was clearly out at home and cuts down on replay times when it comes to run-of-the-mill plays at the plate. Speaking of which ... 
4. Tighten up replay system: Some of the reviews this season have been embarrassingly long. Upwards of five minutes are taken with the umpires standing there on the headsets waiting for "New York," as the replay officials have come to be dubbed, to finally make a godforsaken decision. This is far too long. The system should be in place to correct obvious missed calls, and those should only take two or three looks before a final decision is made.
Also, get rid of the manager's role in this. No more challenges. Put a replay official on the game and his sole job is to make sure that egregious calls get corrected. We don't need managers wandering out onto the field before either deciding 1) To challenge and have the umpires take another five minutes or 2) Not to challenge, meaning about two minutes were wasted for no reason. A replay official paying attention to close calls will only need around a minute to decide that play needs to be halted for another look. Think about it, when you're watching a game at home, you know when a play looks close and you want to see a slow-motion replay. You see one replay and you know whether or not the call needs to be reviewed or if you need another angle.
This isn't rocket science, but MLB seems to have made it such this season. Tighten it up.
5. Buehrle, not Beckett, please: Whether it be a pitch clock (the most extreme measure) or making the umpires strictly enforce the rule on the books (8.04) that says a pitcher has to throw a pitch within 12 seconds of the batter stepping in the box with the pitcher in possession of the ball, something needs to be done to get pitchers to work faster. There's far too much time between pitches, generally speaking. Be like Mark Buehrle, kids, and fire when ready.
6. Hitters, you aren't getting off the hook here, either: I don't know if we need batters to keep one foot in the box at all times, cap the number of times they're allowed to step a certain number of feet away from the batter's box or something in between, but it's not just the pitchers causing so much dead time between pitches. There are discussions here to be had in the name of speeding up the pace of play.
[Aside: The pace of play doesn't really bother me, personally, but I'm a baseball obsessor. The sport needs to grab the casual sports fans and keep them interested, especially in the younger demographics. Dead time doesn't work there when it comes to baseball, sadly.]
7. Universal DH or no DH: Both leagues need to play by the same rules. I've long lamented that the most important series of the year (the WORLD SERIES) pits two teams against each other who have a different roster construction, forcing the road team to be at a built-in disadvantage. Think of it from a common sense point of view. This is for the championship and you're telling an AL team it can't have one of its better hitters on the road, meantime telling an NL team it has to plug in a backup as a DH on the road. This is silly. Fix it.
With season-long interleague play this becomes even more important when we discuss the regular season, too.
8. Determine home-field advantage in the World Series by which team has the better record: Major League Baseball has the best All-Star Game in sports, in my biased opinion, but it's not because of the World Series stipulation. It is an exhibition game and is routinely treated as such by the managers and players (and fans). Yes, they are trying their best to win, but the managers are also trying to get as many players into the game as possible. Players who have been removed from the game leave before it's over (trust me, I've watched them do it). It's just an exhibition game, so tying the World Series to it is ridiculous. Fix it.
9. Shorten spring training/start the season earlier: I love the current playoff structure, because of the focus it puts on winning the division. I also wouldn't want to shorten the season from 162 games. We're used to this length. I don't like going all the way to the end of October and, depending upon series lengths and rainouts, into November, though. Weather can become too much of a factor in the most important games of the season, so let's at least buy ourselves a few weeks.
Spring training can be shortened by two weeks and still achieve its usual effect. That way the season could begin two weeks earlier and the playoffs can begin in the middle of September, ending in the middle of October. But, Matt, you mentioned bad weather and now you'll be playing for two weeks in March? Yes, there are plenty of warm-weather cities and/or teams with the ability to play indoors to accomodate a lot of these games in the first two weeks. Also, the playoffs are more important than the first two weeks of the season. Would you rather have a game marred by weather on March 27 or in Game 7 of the World Series?
---
Of course there are always going to be other things to discuss, such as Hall of Fame voting procedures, possibly reinstating people like Shoeless Joe Jackson (posthumously) and/or Pete Rose and a host of other items. Those things aren't in the top nine of my priorities, though, because the most important thing is to keep the current game as healthy as possible. Off-field issues aren't nearly as pressing.
Feel free to add to the list, readers. There's no wrong answer here.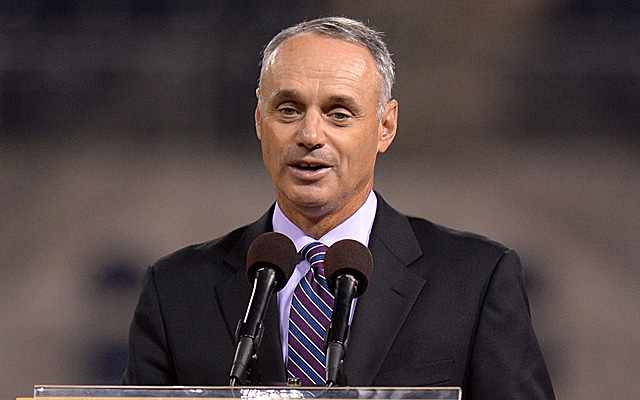 The lefty starter is coming off a terrible season

After acquiring Ian Kinsler and Zack Cozart in recent days, the Angels are trending upward

Cozart's coming off a big season as the Reds' shortstop
The veteran slugger spent the last eight seasons with Cleveland

The Padres may be poised for an active winter

Yes, Bryce Harper is going to make a lot of money next winter