Aaron Sanchez named Blue Jays' fifth starter: Four things to know
The Blue Jays named Aaron Sanchez their fifth starter on Monday. Here are four things to know about that decision.
The Blue Jays finalized their rotation Monday morning. Manager John Gibbons announced young right-hander Aaron Sanchez will be the team's fifth starter to begin the 2016 season, beating out Gavin Floyd and Drew Hutchison. Floyd will be in the bullpen and Hutchison will start 2016 in Triple-A.
"They all had really good springs but this is the way we feel it will work best right now," said Gibbons to reporters Monday, including Ken Fidlin of the Toronto Star. "We haven't decided on an order yet but just because he's the fifth man doesn't mean he's the fifth starter. Aaron has earned it and we're going to let him run with it and see what happens. We think the sky is the limit for him."
Sanchez, 23, started last season in the rotation. He went 5-4 with a 3.55 ERA in 11 starts and 66 innings, though he walked (37) nearly as many batters as he struck out (42). Sanchez missed seven weeks with a lat strain, then came back as a full-time reliever. He had a 2.39 ERA with a 19/7 K/BB in 26 1/3 innings out of the bullpen.
The Blue Jays will begin the season with a five-man rotation of Sanchez, Marcus Stroman, R.A. Dickey, J.A. Happ, and Marco Estrada in whatever order. Stroman has already been announced as the Opening Day starter, so everyone else gets in line behind him. Here are four things to know about the decision to give Sanchez another try as a starter.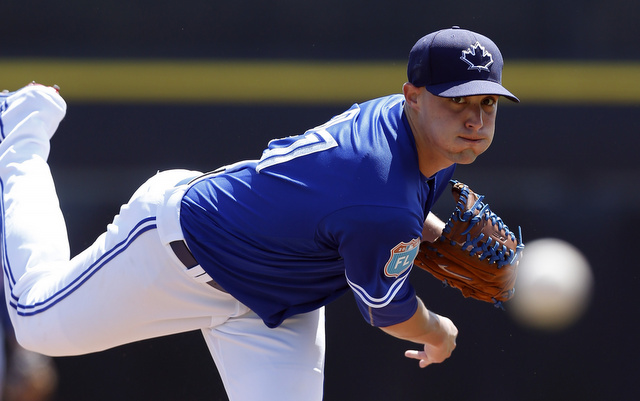 1. The development of Sanchez's changeup will be crucial.
Like most pitchers, Sanchez changed his pitch selection after moving to the bullpen last year. He is primarily a sinker/curveball/changeup pitcher -- he's also tinkered with a cutter and slider at times -- and once he moved to relief, he didn't throw his changeup at all. Not once. Check it out (via Brooks Baseball):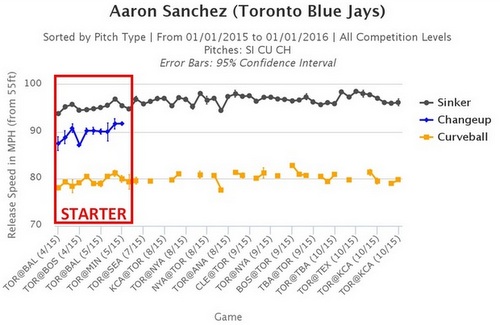 That changeup is clearly Sanchez's third best pitch. Opponents .278 with a .667 slugging percentage against it last year, so it's no wonder why he stopped throwing it in relief.
That's not going to fly in the rotation this season. There are very few two-pitch starters in baseball. Sanchez is going to be forced to use his changeup in 2016 just to give hitters another look. Something else they have to respect.
Sanchez's changeup has obvious potential. The movement can be sick (GIF via Capital Jays) ...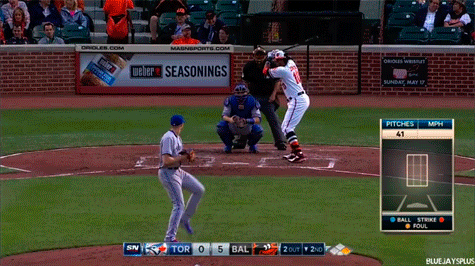 ... but it was inarguably a below-average offering last season. Opponents hit it hard and Sanchez scrapped it entirely as soon as he moved back in the bullpen.
Returning to a starting role means Sanchez will have to improve changeup to be effective long-term. It doesn't need to be a Trevor Hoffman changeup or anything like that, but it needs to be a reliable third pitch. The sooner Sanchez refines his changeup, the better.
2. Sanchez's fastball is much better when he's a reliever.
Like most pitchers, Sanchez added velocity when he moved into a relief role last season. His trademark sinker averaged 95.2 mph in his 11 starts per PitchFX, and in his 20 relief appearances, it was 97.0 mph.
That extra 1.8 mph is pretty big. Opponents hit .248 with a .356 slugging percentage against Sanchez's sinker as a starter and only .200 with a .242 slugging percentage when he was a reliever. Sanchez won't have that extra 1.8 mph this season -- I supposed he could, stranger things have happened -- which makes his changeup that much more important.
Even with that average 95.2 mph velocity, Sanchez can't overpower hitters with his sinker the same way he does as a starter. He'll have to "pitch" more as a starter, to use an old cliche. Sanchez can't simply rear back and throw a fastball by hitters whenever he's in a jam the way he can out of the bullpen.
3. The Blue Jays will give Sanchez a lot of margin for error.
Last season the Blue Jays scored 891 runs, 127 more than any other team and the most by any team since the 2009 Yankees scored 915 runs. They return largely the same lineup in 2016, except they'll have a full season of Troy Tulowitzki instead of only two months.
Even if some players do not repeat their 2015 performances -- Chris Colabello and his .411 BABIP stands out as a prime regression candidate -- the Blue Jays have offense to spare, and they'll give Sanchez some runs to work with. This is not a situation where Toronto needs Sanchez to pitch well because they have to win games 3-2. He won't feel the need to toss up zeroes every time out.
Thanks to the team's offense, Sanchez will be able to work on his changeup and learn how to get hitters out with his "slower" sinker without worrying about every little baserunner. The Blue Jays can let him take his lumps as young pitchers tend to do, because they know they'll have the offensive firepower to stay in any game.
4. Sanchez will have some sort of innings limit.
Workload limits are unavoidable these days. Sanchez will turn 24 in July and his career high is the 133 1/3 innings he threw in 2014. Last year he threw 102 innings between the rotation and bullpen, including his injury rehab stint in the minors. Toronto's not going to be able to run Sanchez out there for 200 innings in 2016.
"We won't lay out what the actual plan is, but we've got to be smart. You increase it too much, it's probably harmful, and in the end if we need to put him down there in the bullpen, we're that much stronger down there, too," said Gibbons to reporters Monday, including Sportsnet's Shi Davidi. "It's not one of those things where he's not going to pitch all year, you're going to stop him, like happened in another place a few years ago. He'll be here all year."
The Blue Jays have some rotation depth -- Floyd and Jesse Chavez will be in the bullpen and Hutchison will be in Triple-A -- so they'll be able to skip Sanchez on occasion throughout the season to give him extra rest. And if they have to put him in the bullpen come September, so be it. They have the depth to replace him.
Either way, the Blue Jays are not getting a full 33-start, 200-inning season from Sanchez in 2016. They hope to get that in 2017. For now, they'll have to give him extra rest whenever possible, and maybe even move him to the bullpen at the end of the season to avoid a Stephen Strasburg-esque shutdown.
CBS Sports HQ Daily Newsletter
Get the best highlights and stories - yeah, just the good stuff handpicked by our team to start your day.
Please check the opt-in box to acknowledge that you would like to subscribe.
Thanks for signing up!
Keep an eye on your inbox for the latest sports news.
Sorry!
There was an error processing your subscription.
Here is everything you need to know about the day in baseball

Also, watch SportsLine on CBS Sports HQ live at 6 p.m. ET for all today's best bets

This isn't good news for Wheeler, or the Mets
At least three teams have shown interest in the southpaw

SportsLine simulated Monday's Dodgers vs. Phillies game 10,000 times

The NBA's success selling advertising patches has piqued MLB's interest