About the groove thing, Wainwright said he misspoke, 'messed up'
Cardinals ace Adam Wainwright, a better pitcher than speaker, is believable in this case.
More ASG coverage: Did Wainwright groove one? | Perry: Game shouldn't count
MINNEAPOLIS -- I believe Adam Wainwright.
And here's why: He's better with pitches than words.
As he said in his own defense afterward, "I'm a knucklehead."
And, "I'm an idiot."
He was right on both scores, at least as far as his verbiage on All-Star night is concerned. The Cardinals ace and NL starting pitcher never should have said that he threw a couple of "pipe shots" to Yankees icon Derek Jeter, because "pipe shots" was translated, understandably to pitches down the pipe, which meant gimmes.
Which meant he was implying that he tried to help Jeter ... in a game that allegedly counts, no less.
But that's not what he really meant.
Too bad for him, by the time he explained himself after the game (and really, threw himself on his sword/syntax), it all exploded on social media. Folks were saying he shouldn't have purposely allowed a hit to Jeter, and if he did, he certainly shouldn't have announced it afterward.
"I messed up," Wainwright said. "I didn't mess up in that way [throwing cupcakes]. I messed up speaking."
That's believable. He's no dummy, but he isn't as good a speaker as he is a pitcher or competitor. After Clayton Kershaw, there may be no better competitor in the league.
As a pitcher, he has a 1.83 ERA. As a speaker, his record is a lot closer to the norm.
Which is to say he makes mistakes. As he pointed out, he's misspoken before, And he'll misspeak again.
"Usually I like to think before speaking," he said. "I'm an idiot. And I made a mistake."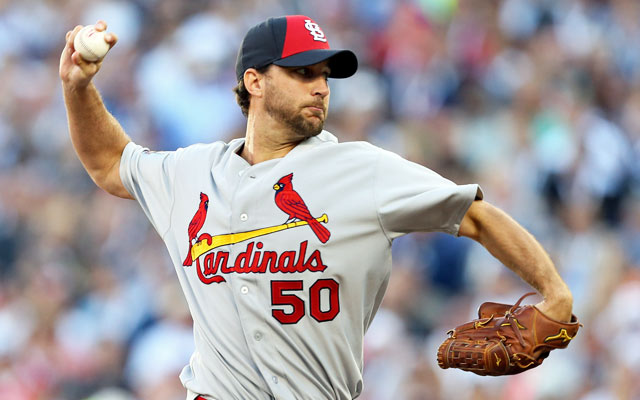 That he did.
Looking at what he said, it's easy to see how it was taken that way. But he could've meant that he was trying to throw strikes. And somehow, that he lamented Jeter getting a double got lost in the translation.
What he actually said was this, "I gave him a couple pipe shots. He deserved it. I didn't know he was going to hit a double."
What he explained later was that he was behind 1-0 and wanted to come in with a fastball for a strike. The pitch in question, a 90-mph heater, in range for him, was on the outer half. If it was intended to be a "pipe shot" (whatever that is), it wasn't a very good one.
"I tried to execute a good strike," Wainwright said afterward. "I tried get out Derek Jeter. I tried to get out Mike Trout. And I certainly tried to get out Miguel Cabrera."
Jeter doubled, Trout -- the game MVP -- tripled and Cabrera homered, making it a clean sweep for three runs in the AL's 5-3 victory that earned them home field for the World Series. It also made Wainwright a brief punching bag on twitter, among twits and others.
"People in New York already hate me," he noted.
The folks in his clubhouse still love him. Not one thought he grooved the pitch, and not one much cared if he did. This was more of a controversy for social media.
But Wainwright wasn't diminishing people's thoughts. He took the bullet, which is his way. Sometimes things are taken out of context, and sometimes not, he said, emphasizing this was not one of those times.
"Sometimes the reaction is from a dumb comment," he said. "I hate that a dumb comment came after a poor performance … If I'm going to get taken to the slaughterhouse for saying a stupid comment, then I deserve it."
But Wainwright has no lasting regrets. He knows the score.
"I'm going to sleep easy tonight," he said. "I really hope this doesn't reflect on Derek Jeter. If it does, I really regret saying that."
That's even more than he already does.
Dioner Navarro still hopes to return someday

Christian Yelich's agent says his client's relationship with Marlins is 'irretrievably bro...

The free-agent market has been slow and one player is bracing for an even longer wait
The Mets didn't want to trade a young outfielder for an older one

Josh Harrison doesn't sound pleased Gerrit Cole and Andrew McCutchen have been traded away

The team's media contracts expire following the 2019 season