ABSURD GIF: Ole Miss hits walk-off HR on attempted intentional walk
Let's pay a visit to the college ranks for something you've probably never seen before: a walk-off homer on what was supposed to be an intentional walk.
More MLB: Scoreboard | Standings | Probable Pitchers | Sortable Stats | Odds
On Friday, Auburn lost to no. 23 Ole Miss on a walk-off three-run homer in the 13th inning. That's neat and all, but here's the rub: the home run occurred as Auburn's Jay Wade was attempting to intentionally walk Mississippi third baseman Austin Anderson. 
In case you thought I was lying ...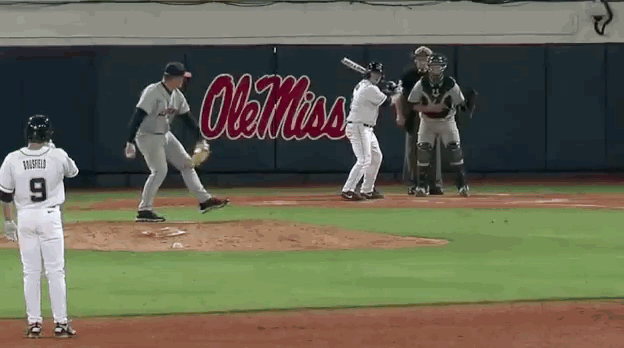 Once more, for fitting emphasis: That's a walk-off home run on what was supposed to be an intentional walk. The people are tossing beverages toward the firmament and shouting slogans! At least one of them has no further use for his shirt!
At the time of the unlikely blast, there were two men on and no outs with the score tied 5-5, so Auburn, the road team, was likely bound for defeat regardless. Even so, those bananas are smothered in coconuts! I'm not entirely sure what that made-up idiom means, but it seems to work in this instance.
Related: That would have been Anderson's third IBB of the night. It seems he was having none of it. 
Does the Jackson signing mean the Giants are out on Lorenzo Cain?

Acuna edged out Shohei Ohtani and Vladimir Guerrero Jr.

There's no reason to run over the cases for and against Bonds, so let's have fun instead
The coveted right-hander would certainly be a fit in Milwaukee

We rate the best mustaches from random baseball cards because, why not?

Colon wants to break a Dennis Martinez record