Ace Price on way out of Tampa, but farewell likely a bit premature
The nice sendoff may have come a bit soon, as baseball insiders still expect a David Price deal to occur in late July, not June.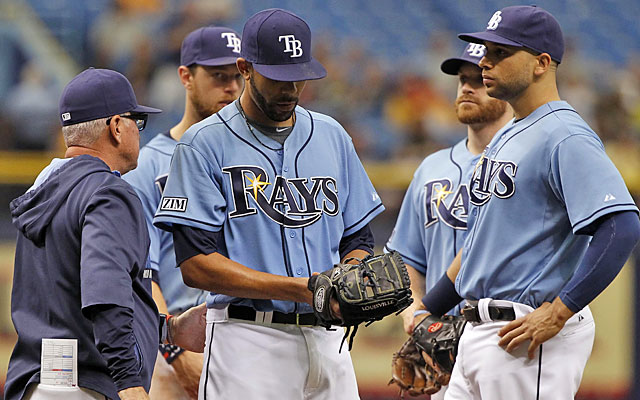 More MLB: Power Rankings | Expert Picks | Latest news & notes | Fantasy news
Rays ace David Price received a very dramatic -- even melodramatic -- sendoff during his start Wednesday at Tropicana Field.
Price responded accordingly, very kindly telling folks there, "If this is my last game here, thanks."
Of course, the reality is that a big player, especially one of that ilk, isn't all that likely to be traded in late June. Everyone was very likely just reacting to somewhat breathless earlier reports and the outside possibility that it might be over for Price in Tampa, which in reality is something of a longshot.
Stars like that often aren't traded this early. When the Brewers wisely jumped on a CC Sabathia trade early in 2008, it was July 7, and even July 7 is still two or three weeks before players like that are usually dealt.
Beyond the history of the trade deadline and when star players are dealt, the Rays' front office is a thoughtful intellectual group that's expected to take its time. Its biggest trades, like those where they dealt James Shields and Matt Garza, occurred in the winter, where there is plenty of time for thinking. Not to say that the same thing will happen here (a wintertime trade), because Tampa is realistically not going to contend this year and is least likely able to afford the price tag of Price next year, when it may approach $20 million.
That's why several executives around the game polled on this subject expect the Rays to wait until late July to pull the trigger on a Price blockbuster. A surprise deal can happen at any time, of course, but execs on teams expected to be in it say they would be stunned if it happened anytime in the next week or two. The mini sendoff was nice, but probably not necessary.
That's not to say he's staying because they almost have to deal him by the July 31 non-waiver trade deadline, and it's near unanimous they will. Price has a year and a half to go before he can become a free agent, but the time (meaning this deadline, not necessarily today) appears right for a trade. Their chances to win in 2014 are low, his value is high and his salary will be sky-high next year (by Tampa standards).
It is fair to say that the timing is starting to get better, thanks to Price himself. Scouts who saw Price's 8 1/3-inning outing in a 5-1 win over the Pirates were very impressed. One, a hard grader, said he would give it an A-minus. Price himself said he has never been throwing better, and he has reeled off five straight starts with double-digit strikeouts, which is a very rare occurrence in the big leagues.
Even better, his velocity is close to back, if not all the way back. The scout said Price was throwing 92-95 mph, up from a concerning 90-92 earlier this season for the pitcher who has led AL starters in average velocity in years past.
Price's strikeout-to-walk ratio is "sick," as one insider put it, and that's fair to say as it exceeds 10-to-1, with 144 strikeouts and 14 walks. He has allowed a surprising 121 hits in 124 innings and has a 3.63 ERA, but he's pitching much, much better than that. While he isn't quite the '08 Sabathia, he's certainly pitching like an ace lately.
Folks in Tampa observed that the Royals and Jays were the teams with not only one but two scouts in attendance, but Toronto is seen as a team that "covers all its bases" and not necessarily viewed as a player here. The belief is that the Rays would prefer to send him out of the AL altogether, and certainly out of the AL East (a Yankees person didn't think they had a chance, though they are of course interested).
KC is a curious double attendee, but the teams linked more to Price so far are NL teams, like the Cardinals, Dodgers (who have a darned good rotation as is) and Giants. St. Louis, in fact, isn't an organization that over-scouts in person and seems like a logical possibility considering the Cardinals' recent arm issues. Some folks figure the Tennessee native and Vanderbilt product wouldn't mind the Braves, though they haven't been tied much yet to him.
Anyway, it's probably early even to start listing any favorites. At least we think it is.
Boston wants to add two big bats to their lineup, not just one

Even more relievers signed on the final day of the Winter Meetings

Keep tabs on the top 50 free agents right here
The league is not happy Ohtani's medical information leaked

Kansas City and Baltimore were quite busy at the Rule 5 Draft

Piscotty's mother was diagnosed with ALS earlier this year