Adam Dunn matches last season's home run total with No. 11
Adam Dunn hit his 11th home run of the 2012 season Friday night. He only hit 11 all of last season.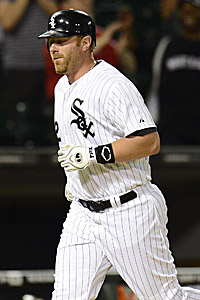 Remember this guy? The one who dropped prodigious bombs on a regular occasion since joining the majors at the tender young age of 21? Well, he's definitely back.
Adam Dunn
hit his 11th home run Friday night, matching his total from his disastrous 2011 season.
Yes, the stigma on Adam Dunn will never go away for the haters. He strikes out a lot (which is seriously
way too much an obsession for some people when it comes to power hitters
). He can't field. But good Lord, he's a great power hitter when he's on. For the overwhelming majority of his career, that has been the case. We just saw a departure last season and the worry was that he was gone for good. But he's not.
Dunn homered at least 40 times per season from 2004 through 2008. In both 2009 and 2010, he hit 38. And he's back on track this season -- on pace for more than 55.
It's doubtful Dunn keeps up such a torrid pace, but there are two things worth watching:
1. He's hitting more fly balls than ever before (53.8 percent heading into Friday).
2. More of those fly balls are leaving the yard than ever before (28.6 percent heading into Friday).
Dare we say it's a new and improved Adam Dunn? Probably not, but I'm just fine with having the old Dunn back.
For more baseball news, rumors and analysis, follow @EyeOnBaseball on Twitter, subscribe to the RSS feed and "like" us on Facebook.