Adam Dunn traded to A's
The White Sox traded Adam Dunn to the A's for minor-league pitcher Nolan Sanburn, the A's announced.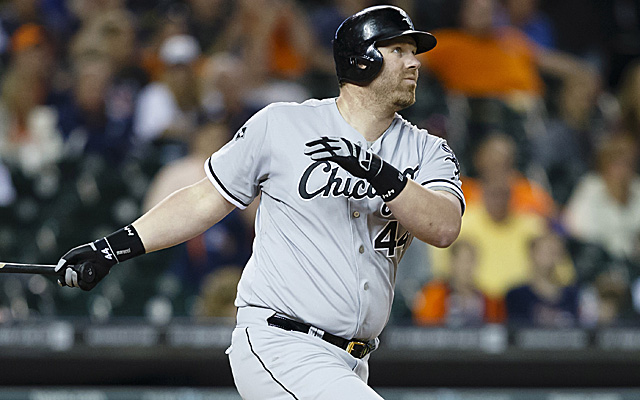 The Chicago White Sox have traded slugger Adam Dunn to the Oakland Athletics for minor-league pitcher Nolan Sanburn, the A's announced Sunday.
Dunn, 34, is hitting .220/.340/.433 (117 OPS+) with 20 homers in 435 plate appearances this season. The two-time All-Star has 460 career homers and his role with the A's seems to be pretty obvious: Go long.
After being one of the best offensive teams in baseball through July, the A's have hit .224/.304/.351 with 22 homers and 3.6 runs per game in August, when they've gone 12-16. Before that, the A's were 66-41 while hitting .253/.329/.405 with 5.0 runs per game and 112 homers in 107 games. 
Expect Dunn to slot into the middle of the A's order, probably even in the cleanup spot behind Josh Donaldson.
A side storyline here is Dunn's shot at making the playoffs for the first time in his career. He's played in 1,975 games in his career with zero postseason games. That ranks him 15th in the history of baseball (baseball-reference.com has the full list) and he's easily the active leader, with Alex Rios (1,581 games) coming next.
The A's trail the Angels by four games in the AL West, but still hold the top wild-card spot by four games and are 5.5 games away from not having a postseason spot.
As for the White Sox's return, Sanburn, 23, is 3-1 with a 3.28 ERA, 1.44 WHIP and 73 strikeouts in 71 1/3 innings for Class A (advanced) Stockton this season. He's not considered a top prospect, but was the A's second-rounder in 2012.
Dunn is in the final year of a four-year, $56 million contract.
Sunday, being Aug. 31, marks the final day that teams can make a waiver trade and still have the acquired player be eligible to be on their postseason roster.
Boston wants to add two big bats to their lineup, not just one

Even more relievers signed on the final day of the Winter Meetings

Keep tabs on the top 50 free agents right here
The league is not happy Ohtani's medical information leaked

Kansas City and Baltimore were quite busy at the Rule 5 Draft

Piscotty's mother was diagnosed with ALS earlier this year