Adam Jones has outstanding feelings on fans who run onto field
Two fans ran onto the field in Yankee Stadium Tuesday. Orioles CF Adam Jones has a few ideas as to what could be done about that.
More MLB: Scoreboard | Standings | Probable Pitchers | Sortable Stats | Odds
Two morons ran onto the field in Yankee Stadium Tuesday afternoon while the Orioles were beating the Yankees. Orioles center fielder Adam Jones, as is usually the case with him, didn't hold back in discussing the situation in post-game interviews.
Adam Jones on penalties for fans running onto field: "They should let us have a shot to kick them w/ our metal spikes on because its stupid"

— Eduardo A. Encina (@EddieInTheYard) April 8, 2014
I fully support this.
More Jones on the on-field visitors: "Anybody who does it, I wish the cops tase the living sh*t out of them. I wish that."

— Brittany Ghiroli (@Britt_Ghiroli) April 8, 2014
I fully support this, too.
The field is the domain of the player. They have no way of knowing the intent of any idiot fan who rushes the field and there have been incidents in the past where fans attacked on-field personnel. So, please, if you attend a game, just stay in the freaking stands.
Also, Jones continues to be one of the best personalities in baseball. He's one of the best interviews, always has fun, always speaks his mind and is incredibly fan friendly. I once witnessed him spend all of All-Star Game batting practice trying to get a baseball to as many different kids in the stands as humanly possible (of note, his control at throwing a ball to a kid 100-plus feet away, while making it easy to catch, was amazing). You can also pretty easily find backstories of him doing very nice things for fans, like this one. Just not for the morons who run onto the field.
Keep it up, Adam.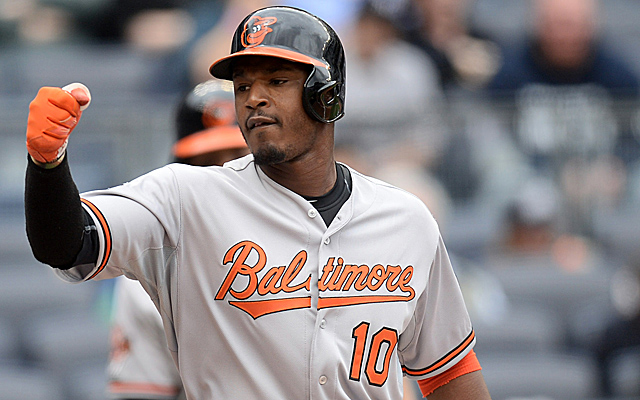 A beardless Wilson says that he tried to outrun the police on the second day he had his driver's...

The Diamondbacks outfielder was not impaired, he was just going way too fast

MLB can unilaterally implement rule changes, which will also include limits on mound visit...
If the MLBPA wants to repair MLB's salary structure, it should push for more money for young...

Fans aren't happy Gerrit Cole and Andrew McCutchen have been traded away

Acuna is arguably the best prospect in baseball