After 13 wild months, and four really bad days, Cardinals have a winter to let it all sink in
The Cardinals were beyond good for 13 months. They were beyond bad the last four days. They did great things no team has done before. Then they went ahead three games to one in the NLCS and could never close it out. The magic ran out, but the Cardinals will reflect on the good more than the bad.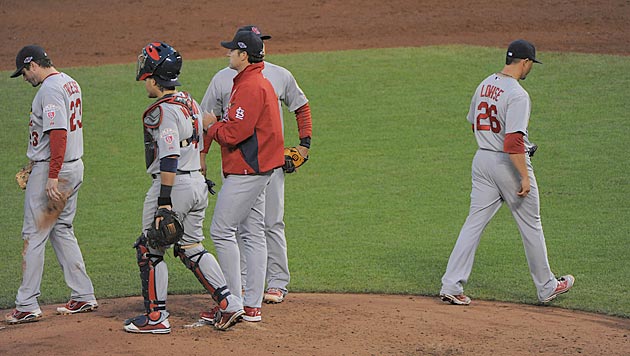 For St. Louis, the 'what if' of the past three games will turn soon into 'wow' about the previous year-plus. (US Presswire)
SAN FRANCISCO -- Has it sunk in?
We always ask that. A year ago, when the Cardinals were making their magic and David Freese was in the middle of it, we asked him.

Has it sunk in?

It hadn't. It didn't. It couldn't.

The Cardinals were champions and Freese was the World Series MVP. The winter went fast, this season went fast, and before long they were making magic in October again.



Has it sunk in?
No, it still hadn't. But now it will.

Now the Cardinals face a winter that won't be one happy blur. Now they can let it sink in, all of it -- the 13 months where they were beyond good, and these past four days that were beyond bad.

"I'm going to go home and think over what we accomplished over the last two years," Freese said Monday night, while down the hall -- finally -- another team was spraying champagne after beating the Cardinals. "To get to the point we got to, what a treat."They know that they really should have gotten a step further this October. When you lead the NLCS by three games to one, then get outscored 20-1 in the three games that remain, that's not good. When you don't pitch and you don't hit and you don't field, well, there's no magic that's going to save you.

And even if there were some fluky plays along the way -- how did Hunter Pence manage to hit a ball three times and have it make a right turn past shortstop Pete Kozma? -- no one in the Cardinals clubhouse was blaming this collapse on bad luck.

"They're better than us," Matt Holliday said simply.

The Cardinals know they missed their big opportunity when they couldn't score a run off Barry Zito and couldn't wrap this NLCS up in Game 5 at home last Friday. They knew that you don't just come back and win every time you're facing elimination, even if Cardinal teams had done exactly that in seven straight elimination games dating back to 2006.

"Eventually, if you keep putting yourself in that position, you're going to have one that doesn't go your way," Adam Wainwright said.

This was the one.

It's not fair to say that this was the payback for what happened last year against the Rangers or this year against the Nationals, or even for the way the Cardinals snuck into the playoffs last year with the help of the Braves' September collapse.

That's not fair, because what the Giants did over the final three games of this NLCS was no miracle. It wasn't even particularly exciting, except to Giants fans, because the Cardinals never really threatened to win any of the three games.

"We didn't play good defense, and they got good pitching," Lance Berkman said. "Anything over and above that is over-analysis."

Berkman didn't make many fans in the Bay Area by saying that even the injury-affected Cardinal lineup was better than the Giants' lineup, and he won't make many with his prediction that the Tigers will win the World Series over the Giants in five or six games.

Giants fans surely won't like it that he also said this NLCS was "not a compelling series." But he's right.

This was the mostly right-handed Cardinals lineup shutting down for the last two days against two good right-handed Giants pitchers who were pitching in what is without doubt a tough ballpark to hit in. This was Cardinal starting pitchers failing to do what they've done before, whether it was Chris Carpenter (usually so strong in the postseason) looking so bad in Game 6 or Kyle Lohse (who has been so good this year) looking so bad in Game 7.

"Our starting staff didn't do a good enough job," Lohse said. "I pitched poorly."

It happens. At some point, it happens to every team, even if losing an LCS after being ahead three games to one had only happened to six of the previous 33 teams that were in that spot.

The Cardinals will live with that, but it can't (and shouldn't) overshadow what this team did last October and in the first 18 days of this October.

They didn't really have time to fully appreciate what they did last year. Game 7 was barely behind them when Tony La Russa announced his retirement. La Russa was barely out the door when the negotiations with Albert Pujols got going.

Before they knew it, Pujols was gone, too

Before they knew it, they were back in spring training, with a new manager.

"Last winter was a blur," general manager John Mozeliak said, in the first moments of this Cardinal winter.

Mozeliak had just finished praising Mike Matheny, the first-time, first-year manager who has to be considered a success. Matheny could have managed Game 7 differently, but given that his hitters never produced a run, it's hard to argue that his pitching decisions hurt that much.

In the end, the Cardinals were simply the 12th straight World Series champion to fail in an attempt at a repeat, and the 10th in the last 11 years to fall short before the World Series began.

They'll remember and perhaps lament failing to close out a series they led three games to one, but this was a season that ended in disappointment and not in disarray (unlike the Rangers and the Yankees).

The Cardinals went into this winter quietly. By the time we see them again, they'll have had time to reflect on the last four awful days -- but also on the 13 great months that came before.

By the time we see them again, it will have sunk in.


Where might the Orioles third baseman land?

Kinsler will slot in at second base for the Angels

The Marlins got a better return for Ozuna than Stanton or Gordon
The two teams are going about things in very different ways

The Marlins are indeed in teardown mode under new ownership

The Marlins still have more attractive pieces