After 259 days and thousands of pitches, it comes down to this
The Red Sox and Cardinals began the journey in early February, and now it has taken them to Fenway Park in late October, with one game or maybe two to decide a champion.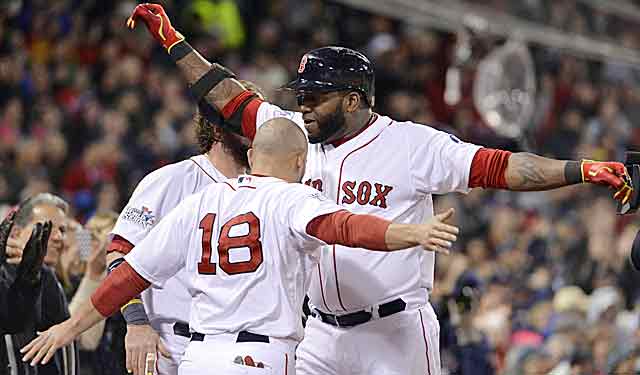 They've been together for 37 weeks now. For 8 1/2 months. For 259 days.
They've been on buses and on planes, on fields, in hotels and in clubhouses. There's absolutely no doubt that that they've spent far more time with each other than they have with their families.
When they take the field Wednesday night at Fenway Park, the Boston Red Sox will be playing their 214th game, counting spring training and regular season and postseason. The St. Louis Cardinals will be playing their 212th.
When Matt Carpenter steps in against John Lackey in the first inning, it will be his 799th plate appearance since opening day. When Dustin Pedroia bats in the bottom of the first, it will be his 790th.
They've been at this for what seems like forever, the Red Sox and Cardinals have. Jon Lester has thrown 4,084 pitches. Yadier Molina has caught 1,321 1/3 innings.
And now it's down to one day, maybe two.
It's down to Game 6 of the World Series. If the Cardinals win that, then it's down to Game 7 on Thursday.
That's it. That's how fast it will be over now. All those weeks, all those miles and all those pitches, all leading up to this.
They believed back in February, back in Fort Myers and Jupiter. They believed they could be here, that they would be here, and while to some extent 28 other teams believed, too, perhaps the Red Sox and Cardinals believed just a little bit more.
"Guys said it so adamantly," Red Sox reliever Craig Breslow said, in the aftermath of a Game 5 win that set the Sox up with a chance to clinch in Game 6. "From the start of spring training, they believed we could win the World Series."
Not many others believed in the Red Sox then. Many, many more believe they'll do it now. They need just one win in two potential home games, at the end of a year in which they've gone 58-30 at Fenway Park, including 5-2 this postseason. They've lost back-to-back home games to the same team only once since May.
But the Cardinals believe, too, the belief that comes from playing in an organization that has institutionalized winning, one that has won two of the last seven World Series, has been at least as far as the NLCS three straight years and has won 106 times already this year, playoffs included.
"I think we have just the team to go in there and win two tough games," Cardinals starter Adam Wainwright said late Monday night.
Barring a day or two of rain (not in the forecast, as of now), Wainwright has started his final game of this World Series and this long season. The Cardinals' Game 6 starter will be Michael Wacha , who was a dazzling unknown in spring training and has been a dazzling kid this October.
The Red Sox starter will be Lackey, who all those months ago in Florida was just beginning to prove that he could make a successful recovery from Tommy John surgery.
Lackey has thrown more than 3,000 pitches since then, and whether he'll admit it or not, you'd better believe he's tired. They all are, the Red Sox, the Cardinals and everyone who has had a part in either of their seasons.
"We've got three months to recover," Lester said after his Game 5 win. "The time is now. We've got to win now. And that's all you can really do. That's all you can really focus on."
The long season takes its toll. We've watched Clay Buchholz wear down (but also watched him give the Red Sox four significant innings in their Game 4 win, and heard that he told them he could give them some more out of the bullpen this week). We've watched Carlos Beltran head to the hospital, and Shane Victorino get scratched from the lineup.
We've watched bats seem to drag, and arms seem to weaken. But we've also watched stars step up (and some non-stars, too).
Does David Ortiz look tired?
These players and these teams worked all year to get to this point. They know they only need one more day, maybe two, and we know that some of them will find a way to perform at a level that seems impossible.
We've seen it before in late October, seen it from Chris Carpenter in a Cardinals win, or from Derek Lowe for a Red Sox championship. We've seen it from Ortiz this week.
And 22 years ago, at the end of a season that had seen him throw 200 more pitches than Lester has this year, Jack Morris turned another Game 7 into his own. His Twins had trailed the World Series, three games to two, as the Cardinals do now, but they were at home, as the Red Sox are.
It had been a great series, a crazy series, and in Game 6 Kirby Puckett homered in the 11th inning to give the Twins a win and set up Game 7. And in one of the most memorable Game 7's ever, Morris throw a 10-inning complete-game for a 1-0 Twins win.
"If you think about it being pitch number 1,000, or 2,000, or 4,000, then you're done," Morris said. "I just tried to keep the frame of mind, 'I can beat that team. I'm going to beat that team.' You just try to be so positive."
Wainwright was trying, on behalf of his whole Cardinals team, after Monday's Game 5 loss.
"This'll be legendary, if we go into Boston and win two games," he said.
This'll be legendary, for one team or the other. By Wednesday night, or Thursday night, the Cardinals or the Red Sox will look back on the journey, a journey made longer this year because the World Baseball Classic forced spring training to start earlier, a journey longer than in the past because baseball has added rounds to the playoffs.
"It's like being an Olympian," Morris said. "You train your whole life for one chance at one event. You have to have trained for that event half a million times."
Their seasons have led to this, and in some cases their careers have led to this.
The journey is almost over. But in some ways, it's still just beginning.