After coming up big in a big game, Strasburg says (hint?) 'there's a lot more in the tank'
Stephen Strasburg probably pitched his biggest game of the year Tuesday night. He came up big, too, with 10 strikeouts in six innings in a 4-1 Nationals win over the Braves. With his much-discussed shutdown looming, he also said "there's a lot left in the tank." A message, perhaps?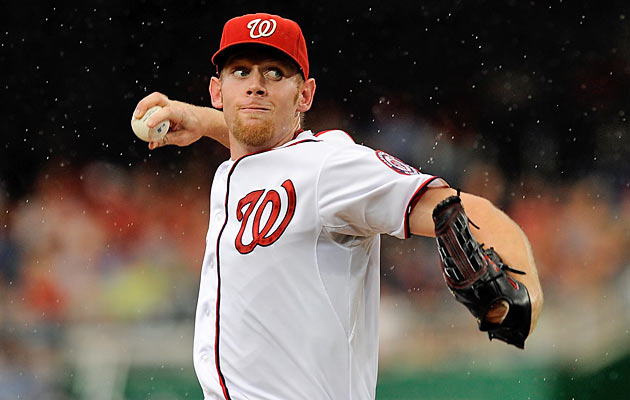 'It's great to be playing for something,' says Strasburg after pitching in a big game against the second-place Braves. (AP)
WASHINGTON -- I don't know if Stephen Strasburg was trying to send a message, either with the way he pitched Tuesday night or with his final postgame comment.

"I feel great," said Strasburg, on the night his inning total topped 145, his win total reached 15, his strikeout total leaped to 183 and the Nationals' lead in the National League East jumped to a season-high seven games over the second-place Braves. "I feel like there's a lot more left in the tank."

Judge for yourself whether he meant it as a helpful suggestion, as veiled criticism or simply as a statement of fact. But on the night when it became even more likely that this Nationals season will extend into October (their playoff chances increased to a major-league high 99.7 percent after Tuesday's 4-1 win over the Braves, according to the computers at coolstandings.com), the issue of no Strasburg in October became all the more real.


More on Stephen Strasburg
Related links
This isn't about whether the Nationals are doing the right thing with their long-planned Strasburg shutdown. This isn't a suggestion that they should rethink, rework or redo anything.

It's just that on this night in late August, Strasburg gave us all a hint of what he might look like on a night in October. With a big crowd, a big opponent and a big stage, he came up big.

"Much better tempo," pitching coach Steve McCatty said. "He was fired up for this game."

Strasburg shot down any suggestion that this was "his playoffs."

"They're regular-season [games]," he said, after allowing one run on four hits in six innings, with 10 strikeouts.

But this may have been the biggest game -- regular-season or otherwise -- that Strasburg will be allowed to pitch this year. By the time the first-place Nationals and second-place Braves meet again, on Sept. 14-16 in Atlanta, Strasburg may already have been shut down, or the Nationals may already have an imposing lead.

By the time the truly big games come up in October, he'll definitely have been shut down, barring a complete and totally unexpected about-face by Nationals management.

The shutdown remains enough of a topic that it was fair to wonder whether it would play into manager Davey Johnson's decision on whether to leave Strasburg in the game after Tuesday's 51-minute third-inning rain delay. Pull Strasburg at that point, and perhaps Johnson would buy him an extra start in September.

Instead, Johnson stuck to his usual one-hour cutoff. If the delay lasted less than an hour, Strasburg would continue.

It was a reasonable decision, given the importance of the game, the way Strasburg was pitching and the fact that the Nationals had used every reliever they had in Monday's 13-inning win. Given that it was Strasburg, even the Nationals players knew it wasn't an obvious decision.

"I know Stephen, and he wants to pitch all the time," said shortstop Ian Desmond, whose second home run in as many nights had given Strasburg a 1-0 lead heading into the delay. "The organization, on the other hand, I didn't know how careful they'd be."

They are being careful, and it's hard to get too upset with them for that. But even the Nationals themselves can get tempted to stretch things a little, as Johnson did when he allowed Strasburg to pitch the sixth inning after he struck out the side in the fifth.

"I think the whole stadium might have strung me up if I'd pulled him after the fifth," Johnson said.

The fifth inning was electric, with one strikeout on Strasburg's devastating changeup and then two more on his fastball. He had 10 strikeouts in all, two on the curveball, four on the changeup and four on the fastball.

The combination of pitches has led to comparisons with Justin Verlander, but as Chipper Jones said Monday and as McCatty repeated Tuesday, the 91 mph changeup actually makes Strasburg unique. No one else, not even Verlander, features the same assortment of devastating pitches that Strasburg does.

That doesn't mean Strasburg is already the best pitcher in baseball, not at age 24 and in his first full big-league season. But it's why he stands above the other outstanding pitchers in his own rotation, why there's a little more buzz about Strasburg starts than even starts by Gio Gonzalez and Jordan Zimmermann.

The Nationals say, "Why can't we win without him?" as Ryan Zimmerman said Tuesday afternoon. And they could.

But if Tuesday night reminded us of anything, it's that Strasburg can be even more special than usual when the stage gets bigger. He compared Tuesday's atmosphere to the one at his June 2010 debut, the night he introduced himself to the big leagues by striking out 14 Pirates.

"It's great to be playing for something," Strasburg said Tuesday.

The Nationals are playing for something now, for the first time in their history. Barring a collapse that would be as bad as any in baseball history (worse even than the 2011 Red Sox, according to the computers), they'll be playing for even more in October.

Who knows if Strasburg was trying to send a message with his "lot more left in the tank" comment? If he was, who could blame him?

Of course he wants to pitch in the playoffs. Of course we would want to watch him pitch in the playoffs.

That's not to say it would be the right move. That's not to suggest there's any realistic chance it would happen.

So we can just watch games like Tuesday and think about what it would be like. He can just pitch games like Tuesday's and wonder about it, too.

I'm guessing he thinks it would be great.

And I'm guessing it would be.
Dioner Navarro still hopes to return someday

Christian Yelich's agent says his client's relationship with Marlins is 'irretrievably bro...

The free-agent market has been slow and one player is bracing for an even longer wait
The Mets didn't want to trade a young outfielder for an older one

Josh Harrison doesn't sound pleased Gerrit Cole and Andrew McCutchen have been traded away

The team's media contracts expire following the 2019 season